There's growing concern that Trump's war with CNN could escalate beyond insults and Twitter posts, with sources close to the president musing about opening a new front aimed at CNN's parent company, Time Warner ― and Trump himself speculating about CNN President Jeff Zucker losing his job in a shake-up.
The New York Times, citing an unnamed senior administration official, reported Wednesday night that White House advisers have discussed AT&T's proposed $85 billion acquisition of Time Warner as a "potential point of leverage" over CNN. Media analysts have expected Trump's Justice Department to approve the deal, but the Times reports that "the president's animus toward CNN remains a wild card."
On Thursday, The Daily Caller, citing "a source familiar with President Trump's thinking," reported that the White House won't support the mega-media deal if Zucker remains atop the news network.
The anonymous threats may turn out to be bluster. But the idea of a president abusing his power to financially punish companies over news coverage he doesn't like is nonetheless disturbing.
Trump has demonized the press as a candidate and as president, at times straying beyond verbal attacks to suggest the government could exert more financial pressure on media owners. In a tweet last week blasting The Washington Post, which is owned by Amazon chief Jeff Bezos, Trump complained that Amazon doesn't pay (nonexistent) "internet taxes." He has also talked about changing libel laws to make it easier to successfully sue news organizations, although that appears to be outside the scope of his powers.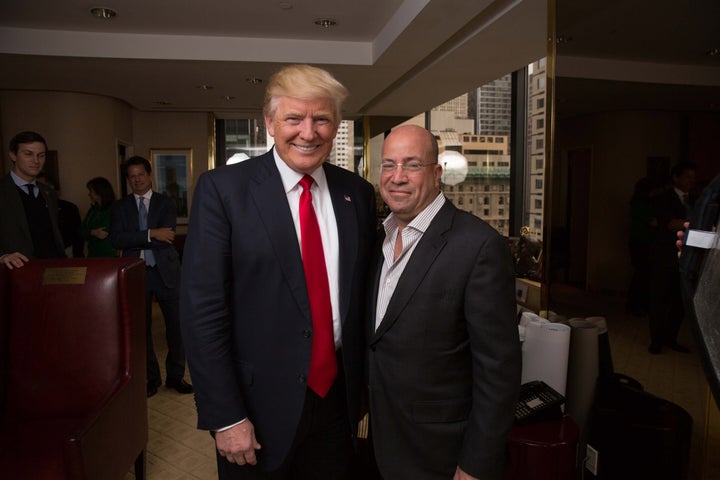 When AT&T announced its plan in October to buy Time Warner, Trump expressed opposition. The deal, he said, would put "too much concentration of power in the hands of too few" ― a view that departed from Republican orthodoxy but fit with his populist campaign message.
AT&T CEO Randall Stephenson and Time Warner CEO Jeffrey Bewkes said in December that they were hopeful the deal would be approved under the new administration. Stephenson acknowledged that Trump's displeasure with CNN could have factored into his original opposition to the deal, and met with the president-elect at Trump Tower in mid-January.
The Hollywood Reporter's Michael Wolff wrote in March that Trump may try scuttling the AT&T-Time Warner deal to keep that campaign pledge or perhaps try extracting concessions, such as CNN getting spun off in the deal or Zucker being out of a job. "The surprise would not be if President Trump, with ham hand and big foot, jumped into the middle of this deal," Wolff wrote, "but if he didn't keep the promise he made to do exactly that."
Trump isn't the only politician opposed to the deal. A number of Democratic senators urged the Justice Department last month to reject the merger, arguing that further media consolidation would be bad for consumers. In addition to CNN, the telecommunications giant would acquire Time Warner's major entertainment assets like HBO, TBS, TNT and Warner Bros.
Spokespeople for Time Warner and CNN declined to comment for this story. An AT&T spokesman did not respond to a request for comment. The White House also did not respond.
Despite the recent chatter about Trump possibly interfering out of anger toward CNN, the acquisition is expected to proceed as planned. On Thursday, CNBC reported that the deal could close within 60 days.
Inside CNN, the consensus is that the deal is likely on track, according to a network source who was not authorized to speak publicly.
Still, Trump has publicly suggested that Zucker's days at the company are numbered. Zucker has also been the subject of unflattering coverage on Fox News and in the New York Post, both owned by Rupert Murdoch ― a close Trump ally whose 21st Century Fox competes with Time Warner.
On June 26, Fox News host Sean Hannity ripped Zucker in a TV segment and tweeted that the CNN chief was "soon to be fired."
"Fake News CNN is looking at big management changes now that they got caught falsely pushing their phony Russian stories," Trump tweeted the next day. "Ratings way down!"
That evening, the Post reported that CNN faced a $100 million lawsuit over a bungled Russia story, and quoted a source suggesting Zucker and Time Warner executives were "anxious about if they will survive the merger."
Trump said at a fundraiser on June 28 that he'd heard Zucker was "going to resign at some point pretty soon." That night, the Post reported that AT&T executives planned to "neutralize" Zucker upon taking control of Time Warner.
This week, Hannity wondered on Twitter if AT&T would fire Zucker.
Trump was once close with Zucker, who launched "The Apprentice" while head of NBC Entertainment and gave the now-president a disproportionate amount of airtime during the Republican primary. Their relationship soured amid the network's more aggressive coverage of then-candidate Trump, who hasn't sat down for an interview on CNN in about a year.
CNN's coverage of investigations into ties between Trump associates and Russia has further strained the relationship. Zucker recently told reporters that he hasn't spoken to Trump at all this year.
Popular in the Community