WASHINGTON ― President Donald Trump this week gave a Russian propaganda arm exclusive access to the Oval Office, admitted he fired the FBI director over the bureau's probe into him and refused to say whether he is recording White House conversations.
Yet even as outrage rained down on Trump and his administration, there has been largely silence from one quarter: fellow Republicans, particularly members of Congress.
"Most members are running like scalded apes from this," said John Weaver, who ran Ohio Gov. John Kasich's GOP presidential primary campaign last year. He added that Trump deserves all the criticism he is getting. "All of it is crazy and not sustainable, and the country can't take it 24-7. ... It's like Nixon with an open mic. It's just unbelievable."
Nevertheless, the silence from most elected Republicans is likely to continue, Weaver and other GOP political operatives said, until Trump's behavior starts affecting the prospects of individual officeholders to keep their jobs.
"I don't think that's going to occur until they sit down with their pollsters in the latter part of the year ― when the 'there's no-interest-like-self-interest-rule' takes effect," Weaver said.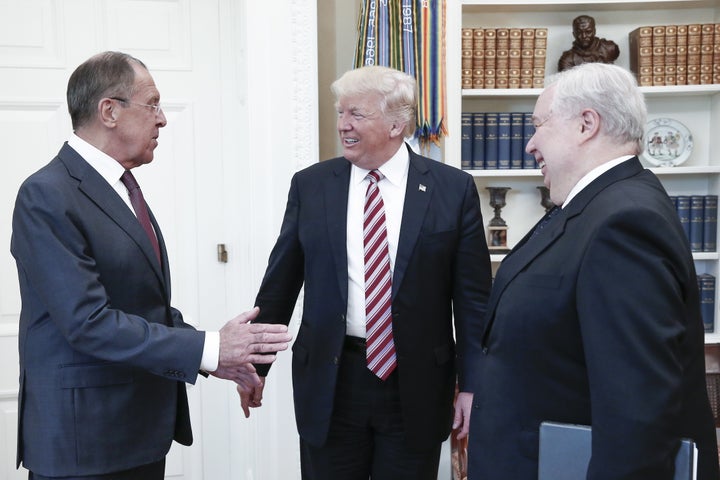 Trump's personal approval numbers are already historically low for such an early point in a first term, with a majority of Americans believing he is doing a bad job on every major issue. And Trump's unpopularity is already affecting "generic" congressional ballot polling, in which voters are asked whether they prefer a Democratic or Republican member of Congress. Republicans currently hold a 45-seat majority in the House, but Democrats hold a 6-point edge in the generic polling.
"It will take the generic ballot and individual members realizing they're upside down in their own polls," said Rick Tyler, who worked on Texas Sen. Ted Cruz's campaign last year.
Tyler and Weaver, of course, are in the relatively small minority of Republicans who have opposed Trump continuously from the time of the Republican presidential primary. Most other Republicans who were against Trump during the primary came around to back him by the general election.
That group includes most members of the Republican National Committee, which Trump essentially now leads as president.
"The left keeps underestimating the man who is now president," said one longtime member, who spoke to HuffPost on the condition he not be named. He added that Trump "clearly enjoys organized chaos."
But even within the RNC, Trump's latest controversies are starting to sow disquiet. "Sure," said another longstanding member who asked not to be identified, when asked whether Trump's actions and remarks about ex-FBI director James Comey are worrisome.
He, nevertheless, is comforted that the midterm elections are a long way off, and that Trump's poll numbers, despite everything, haven't fallen off a cliff.
"Tension will, however, increase in direct proportion to the proximity to the 2018 election," he said. "Thirty-five (percent approval) in July of 2017 is different than 35 in July of 2018."
Weaver, though, said Republicans should remember that Trump's current job-approval numbers of around 40 percent don't have much room to fall. "Richard Nixon still had the support of 28 percent of the American people the day he resigned," Weaver said.
Popular in the Community