But the United Nations Population Fund doesn't actually fund, support or administer abortions or sterilization procedures, said Sarah Craven, the program's director. The core mission of UNFPA is to ensure that marginalized women get adequate access to maternal health care so that they can deliver healthy babies in a dignified way. The U.S. helped found the organization in 1969.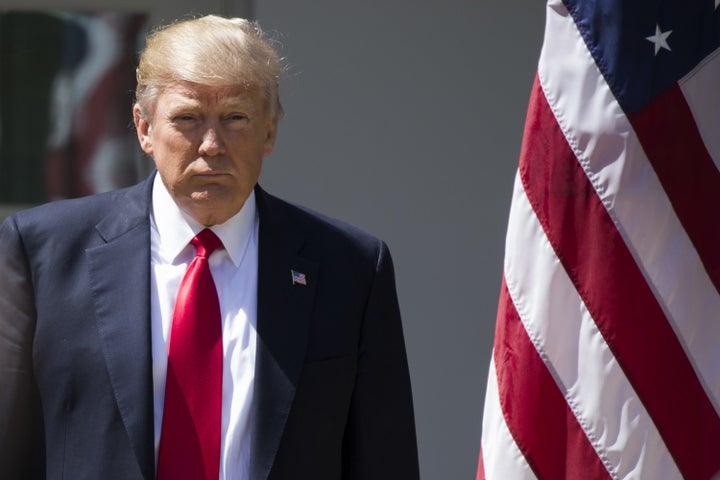 If the Trump administration follows through with its plan to pull $76 million from UNFPA, the organization would lose about 7 percent of its budget and be forced to shutter some maternal health clinics and stop offering certain health care services in areas facing humanitarian crises ― something that could put the lives of thousands of women and unborn children at risk. This is particularly of concern in Syria, which is reeling from both a deadly chemical attack earlier this week and a U.S. airstrike that was waged in response to it. 
"If you look at what's happened in the past week, in terms of Syrians fleeing from the most horrific and unimaginable violence ― the Syrian situation is not going away. It's only increasing in scale," Craven said. "Pregnancy continues even in conflict and natural disaster."
Pregnancy continues even in conflict and natural disaster.

Sara Craven, UNFPA
UNFPA, which operates programs in 150 countries, is still in an early stage of assessing which initiatives it will have to axe. But the organization released a number of devastating figures to demonstrate where the cuts will be felt most. 
Trump slashing UNFPA's budget would result in about 48,000 pregnant women in Syria losing access to safe deliveries, the group said in a release.
The organization supports pregnant women in the country in a variety of ways, including by providing delivery kits containing a plastic sheet, a razor blade, a bar of soap, a rope and string. This is the most "rudimentary" way to ensure a safe delivery, Craven said.  
UNFPA runs the only maternal health clinic at the Zaatari refugee camp in Jordan, and Craven said the funding cuts will hurt Syrian women who are "lucky" enough to make it there. About 7,100 babies have been born at the ward without a single maternal death. 
The cuts will also likely lead to about 50,000 people in Yemen losing access to reproductive health services. Nearly 120 midwives stand to lose their home-based clinics, which could also lead to more women dying in childbirth. Home births play a critical role in remote conflict zones where women can't access hospitals.
"This is, yet again, another attack on sexual and reproductive health and those key services that are really essential," said Jonathan Rucks, advocacy director of Population Action International, a group that works with UNFPA to champion women's reproductive rights. "Another attack on women's health without any regard for the implications for this decision."
They literally sat at a desk and Googled, and did a desk review and made a determination.

Jonathan Rucks, advocacy director of PAI
Rucks said he found it particularly frustrating that the U.S. State Department didn't even visit China before deciding to cut funding to UNFPA. 
"They've made this decision without doing any research in country," Rucks said. "They literally sat at a desk and Googled, and did a desk review and made a determination. They are now moving to defund, which is going to have an incredible impact on humanitarian settings around the world."
The State Department said in a statement to The Huffington Post that there is no evidence that UNFPA directly engages in coercive abortions or involuntary sterilizations in China. But the U.N. group partners with the Chinese government agency responsible for implementing the country's two-child policy, which the State Department said it considered enough of a reason to defund the group.
But UNFPA's connection doesn't signify much, Craven said.
The National Health and Family Planning Commission in China is the equivalent of a Ministry of Health, she said, adding that it's standard for any human rights organization operating in China to work with it.
"If you look at any group working in China, that's the entity everyone has to engage with," Craven said. "It's no different than what we do in every country where we work."
The UNFPA's programs in China focus on advancing reproductive rights, so individuals can choose when and how many children to have. 
In the past, the State Department found no fault in UNFPA's programs in China. Department members lauded the UNFPA's efforts in China in 2015, after visiting the country with the U.S. Agency for International Development.
"During its recent visit, the U.S. delegation observed the positive impact of UNFPA's rights-based programming in China," the organizations said in a statement at the time. "We commend [UNFPA's] adherence to demonstrating the advantages of a voluntary approach to family planning and were pleased to see ... increased provider emphasis on patient rights, especially with regard to privacy and confidentiality."
Former President George W. Bush also defunded UNFPA between 2002 and 2008. That decision was disappointing at the time, but the world wasn't facing the number of humanitarian crises that it is now. Also, the Bush administration conducted a two-week visit to China before making that decision and also didn't find any evidence to suggest that UNFPA knowingly supported or participated in coercive abortion or involuntary sterilization. 
"At the end of the day, they both did the same thing," Rucks said of Bush and Trump. "At least [the Bush] administration sent someone to China. … At least they went."  
This article has been updated with comment from the State Department and with more information about how UNFPA works with the Chinese government. 
How will Trump's first 100 days impact you? Sign up for our weekly newsletter and get breaking updates on Trump's presidency by messaging us here.
Calling all HuffPost superfans!
Sign up for membership to become a founding member and help shape HuffPost's next chapter
BEFORE YOU GO
PHOTO GALLERY
Dozens Dead After Gas Attack In Rebel-Held Syrian Town