WASHINGTON — While South Korea, Japan and 100,000 North Korean political prisoners may not be crazy about the outcome of his Singapore summit, President Donald Trump can take solace in at least two big fans: dictator Kim Jong Un and the Republican National Committee.
Kim headed home Tuesday after winning what his father and grandfather, the previous two dictators, could not: the pomp and pageantry of a meeting with an American president, affording him new status both domestically and around the world.
On top of that, Trump agreed to end joint military exercises with South Korea, calling them expensive and "provocative" — a declaration that came without warning to the South Korean and Japanese governments, who rely on the United States for maintaining peace in the region. Kim, for his part, promised nothing beyond continuing to discuss "denuclearization," a term of art that does not even have an agreed-upon definition between the two countries.
"It's a joke. There's nothing in that agreement that North Korea hasn't agreed to 10 times before," said Jeffrey Lewis, director of the East Asia program at the James Martin Center for Nonproliferation Studies. "You did not need to get Kim Jong Un to agree to the language that he just agreed to two months ago."
Eliot Cohen, a top State Department official in the George W. Bush presidency, said the summit was everything he has come to expect from Trump. "He's a huckster and a fantasist. This is all the fast talk of a New York grifter. You can't believe any of it," he said, but then added: "The thing is, unserious people can still do a tremendous amount of damage."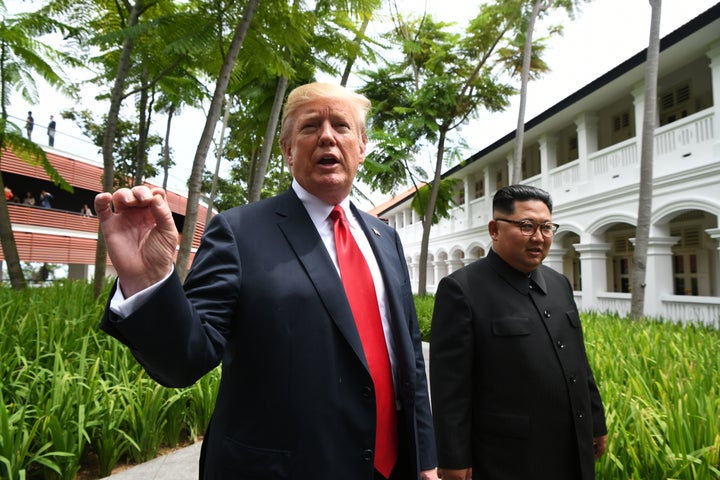 Nevertheless, in Washington, many of Cohen's fellow Republicans were already crowing about Trump's great achievement and how it would help GOP candidates this November as they work to keep control of Congress.
"A great day for those people interested in peace," said Rudy Giuliani, Trump's lawyer and adviser. "The president has just made himself a historic president."
"The president got here because he was tough," RNC chairwoman Ronna McDaniel told Fox News. "We should all be applauding President Trump."
Ron Kaufman, an RNC member from Massachusetts and once a top adviser to 2012 GOP nominee Mitt Romney, said Trump's ability to get a meeting with Kim would play well with voters. "In real America? Absolutely," he said. "It will help the president's numbers, and it will help to some degree in the midterms."
Arms control experts, however, said getting Kim to agree to a meeting was no accomplishment at all. Kim's father, Kim Jong Il, and grandfather, Kim Il Sung, had both wanted to meet with a U.S. president as a way to consolidate their power at home as well as increase their stature abroad.
"This is about Trump's domestic needs and Kim's domestic needs," Lewis said.
He added that he can understand why Trump was so eager for even a meaningless joint statement and a photograph heading into the midterm elections, given that he will now sell it as a great victory. "His base is truly willing to believe anything. Although, in a moment of honesty, he admitted that if none of this works, he'll just lie about it."
Tim Miller, a GOP consultant who worked on the 2016 presidential campaign of former Florida Gov. Jeb Bush, said he doubts that North Korea will matter much to voters. "I'm pretty skeptical that foreign policy has any impact on domestic elections," he said, but added that he does understand the RNC's contortions to defend a deal they would have blistered had it been proposed by former Democratic President Barack Obama. "Trump has a complete stranglehold over the political apparatus of the party. Anyone who has current political aspirations is pretty much handcuffed into offering overwhelming praise, regardless of the realities."
Human rights advocates, meanwhile, blanched at the image of the president of the United States glad-handing and praising a dictator who has had his uncle and stepbrother murdered, used mass starvation as a tool for control and continues to imprison 100,000 political prisoners in forced labor camps.
Trump, over a period of just a few hours, said he "trusted" Kim, felt "a very special bond" with him, that Kim was "very talented," had a "great personality," and was both "very smart" and a "very worthy negotiator."
"It was an abomination," said John Sifton, Asia Advocacy director at Human Rights Watch. "You don't need to compliment and flatter. You just need to negotiate."
The U.S. State Department's 2017 human rights' report on North Korea details a long litany of abuses, including: "extrajudicial killings; disappearances; arbitrary arrests and detentions; torture; political prison camps in which conditions were often harsh, life threatening, and included forced and compulsory labor."
Trump, when asked about the political prisoners being held by Kim, said the agreement would actually help them. "I think, ultimately, they're going to be one of the great winners as a group," he said during a news conference prior to boarding Air Force One for the flight home.
"The hundreds of thousands of people being brutalized in the labor camps are not, quote, great winners today. And they won't be great winners tomorrow or anytime soon."
Sifton said that remark in particular was appalling. "The hundreds of thousands of people being brutalized in the labor camps are not, quote, great winners today. And they won't be great winners tomorrow or anytime soon," Sifton said, adding that he doubts Trump has much interest in the issue at all. "He wasn't even able to win a passing mention to human rights in a non-binding communique."
Lewis agreed that Trump had ignored the "serious" problem of human rights violations in his rush for a deal, but said the much greater danger ahead is how Trump will react if he comes to realize that Kim is just playing him along.
Trump's angry reaction to Canadian Prime Minister Justin Trudeau's comments that he would not let Trump push Canada around should be worrisome, Lewis said, given that North Korea possesses nuclear warheads as well as ballistic missiles capable of delivering them across thousands of miles.
"Does he freak out on Kim?" Lewis wondered of Trump. "Except instead of freaking out on a nice progressive leader who does yoga, he's freaking out on a vicious, repressive dictator with nuclear weapons?"
Popular in the Community