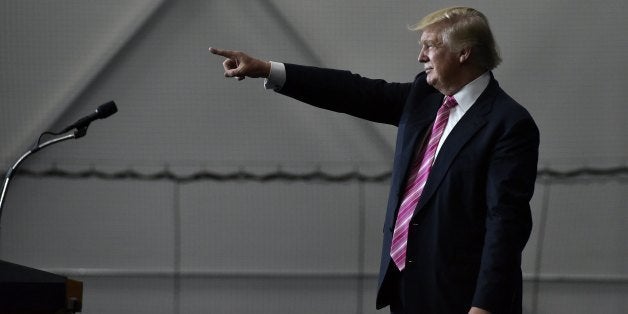 Donald Trump will prove to be the "genius" his supporters say he is if the worst story of his presidential campaign  --  about a legacy of legal avoidance of income taxes  --  becomes one of his greatest assets.
Or the worst week of Trump's campaign could prove to be the undoing of his candidacy  --  a week that started with a widely panned debate performance against Hillary Clinton and concluded with a story about potentially evading 18 years of income taxes, punctuated with pre-dawn Trump tweeting about an overweight beauty queen and then, at a rally, an unsupported allegation that Clinton is unfaithful to the husband who cheated on her.
The suspicion of tax avoidance got its first largest audience with Clinton's allegation in their premiere debate viewed by 84 million  --  Trump suggesting it "makes me smart"  --  and found confirmation in the New York Times' weekend report of tax returns showing that Trump reported $916 million of business losses in 1995, enough to earn him credit for 18 years of carried-forward losses potentially preventing him from paying any taxes.
Only to be enshrined in the lockbox of political parody, a Saturday Night Live opening: Actor Alec Baldwin's Trump interrupting Kate McKinnon's Clinton with repeated utterances of "wrong... wrong," offered this on the suggestion of tax evasion: "Warmer."
Eleven swing-state opinion polls have proved more promising for Clinton since the first of the debates. Clinton's incredibly bad post-Labor Day episode of pneumonia and commentary on Trump's "deplorable" supporters was quickly overtaken by one debate triumph. Americans rated Clinton winner of the debate by "a near-record margin" in ABC News/Washington Post post-debate polling, with "nearly half saying Trump got his facts wrong and one in three saying he outright lied." Fifty-four percent of those surveyed said Clinton "mainly got her facts right in Monday's debate" while just 29 percent said Trump "mainly stuck to the facts."
"Why won't he release his tax returns?" Clinton asked in that debate  --  facing the first major party nominee since Richard Nixon who has refused to reveal his returns. "Maybe he is not as rich as he says he is," she said. "Maybe he is not as charitable as he claims to be... Maybe he doesn't want the American people to know that he has paid nothing in federal taxes." Pressing the idea that "There is something he is hiding," she pointed to known evidence from old filings with casino gambling regulators that he had paid no taxes in some years. "That makes me smart," Trump replied.

But it was the response of the Trump campaign to the Times report based on tax returns mailed to the paper anonymously and confirmed by the accountant who'd filed them that laid the story bare. No denials, only defenses: Neither Trump nor his campaign rebutted the contention that reporting $916 million of losses in 1995 could prevent him from paying any taxes for 18 years. Instead, they spoke of how many local and state property taxes and "federal taxes" he's paid  --  payroll taxes, for instance.
Trump was an "absolute genius" for reporting the loss on his personal tax returns, Rudy Giuliani, the former New York mayor and former U.S. attorney for the Southern District of New York, said of the candidate who may have dodged the Internal Revenue Service for close to a generation. "This is a perfectly legal application of the tax code, and he would've been a fool not to take advantage of it," Giuliani said on ABC News' "This Week."
Proving that he, too, had gotten the morning memo, New Jersey Gov. Chris Christie  --  another former federal prosecutor, said of the Times report on the Republican nominee's tax avoidance: "This is actually a very, very good story for Donald Trump."
"What it shows is what an absolute mess the federal tax code is and that's why Donald Trump is the best person to fix it,'' Christie said on Fox News.
There is no one who has shown more genius in their way to maneuver around the tax code... The early 1990s was a difficult time for lots of folks... Donald Trump wrote the book, The Art of the Comeback ... He fought and clawed back to build another fortune."

In the days between the first debate and its focus on questions of Trump's taxes and the report about how he'd avoided them, Trump spent considerable time confronting the other arrow Clinton hurled at him on the debate stage: His comments about the Miss Universe who'd gained too much weight. Clinton had gotten under Trump's thin skin with her talk of Alicia Machado, a.k.a. in Trump's parlance as "Miss Piggy."

"Did Crooked Hillary help disgusting (check out sex tape and past) Alicia M become a U.S. citizen so she could use her in the debate?" Trump tweeted in a pre-dawn Twitter tirade.
That sex tape had no more support in reality than what Trump had to say personally about Clinton on stage Saturday night at a campaign rally in Pennsylvania  --  as news of his tax dodging was breaking in New York. "Hillary Clinton's only loyalty is to her financial contributors and to herself. I don't even think she's loyal to Bill, if you want to know the truth," Trump told his audience in Manheim, Pennsylvania. ""And really, folks, why should she be, why should she be?"

This, from a candidate whose first marriage dissolved during an affair with his second wife-to-be. "I don't talk about that," Trump told the Times in an interview before the tax story broke. "I wasn't president of the United States." (Giuliani, asked about his own experience, said: "Everbody does.")
Pure genius, the way Giuliani and Christie see the Trump tax line. The worst week of Trump's campaign for president, the way polling is portraying it.
"National polls conducted since Monday's presidential debate have shown Hillary Clinton ahead of Donald Trump by an average of about 4 percentage points  - - a meaningful improvement from her position before the debate, when she led by just 1 or 2 points," FiveThirtyEight's Nate Silver writes. "Now, it's becoming clearer that battleground state polls are moving toward Clinton as well."

It's difficult to see how the revelation of Trump's taxes and the Trump campaign's justification of them will prove to be "a very, very good story."
Though maybe a better story than Alicia Machado's.
REAL LIFE. REAL NEWS. REAL VOICES.
Help us tell more of the stories that matter from voices that too often remain unheard.