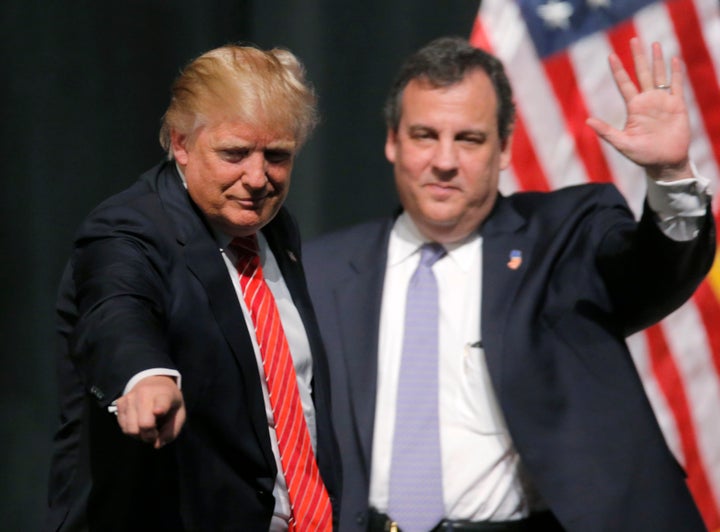 After building his campaign on promises to erect a wall along the Mexican border and immediately deport 11 million undocumented immigrants, Donald Trump suggested recently that he might be open to letting some of those people stay ― before suggesting he is not. Whatever his actual position, it's been left to Trump's surrogates to explain the candidate's apparent softening on his signature issue.
On Sunday, Martha Raddatz, co-host of ABC's "This Week" asked New Jersey Gov. Chris Christie (R) if Trump still planned on deporting everyone or what. Christie, who was the first of Trump's vanquished primary foes to back him, said Trump would get bad apples out of the country first and then "deal with people in a humane way."
So, Raddatz asked, does that not mean getting all 11 million undocumented immigrants out of the country?
Christie responded that there are going to be "some decisions [Trump]'s going to have to make as president regarding those folks," referencing Trump's good apples. Christie did not directly acknowledge that Trump might be abandoning one of his core policy positions. But he basically said that, if Trump did so, it would show he's thoughtful and presidential.
"Quite frankly, you know, I think this is the kind of thing people expect from a president of the United States," Christie said. "That they all approach these things thoughtfully and smartly and I'm confident that that's exactly what a President Trump will do."
"Would you acknowledge then that does sound like a softening from his original statements about getting everyone, 11 million undocumented workers, out of the country with a deportation force?" Raddatz asked.
Christie said Trump has been "completely consistent" on building a border wall and not offering undocumented immigrants amnesty. But as for the deportation force, "I think what you expect of every candidate and ultimately of a president is to listen to the facts and to deal with things in a way that's smart and direct," Christie reiterated. "I'm confident that's exactly what President Trump will do."
Since launching his White House bid, Trump hasn't exactly cultivated a reputation for pensiveness. Quite the opposite: His image is all about gut instincts and firm beliefs. Now, if he pulls an about-face on deportations, Christie and other allies will have to make the argument that Trump is listening to all sides and re-evaluating himself.
Popular in the Community