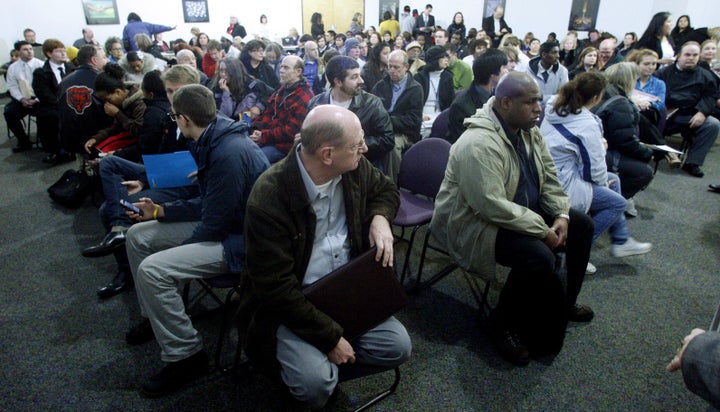 COLUMBIA, S.C. -- Republicans in South Carolina, including the presidential candidates campaigning there this week, think Thomas Ritter should have to pee in a cup to prove he won't waste his unemployment insurance money on drugs.
Ritter, a single dad with two kids, said he doesn't use illegal substances and didn't lose his job because of them. He doesn't think unemployed people should have to put up with drug testing "unless you can show where it has affected their ability to perform on their job."
Ritter, 45, said he used to work as a mechanic for the Air Force and served in Desert Storm. He's been drawing $273 a week in unemployment insurance since June 2011, when he said a knee injury cost him his job as a maintenance technician for the Postal Service.
"Just to arbitrarily invade someone's personal life to any degree should be a constitutional violation," Ritter said after filing his weekly claim at the Midlands Workforce Center here on Wednesday. "Unless they have them in a program already, showing that drugs or whatever they took affected their performance on the job, then it's not proper."
The politicians pushing drug testing disagree. In South Carolina, where the unemployment rate is is 9.9 percent, well above the national average of 8.5 percent, Republicans want the nation's toughest requirements: blanket drug testing of every applicant for unemployment benefits and compulsory volunteer work for the long-term jobless.
"I think we have a responsibility to be very conscientious on how we spend the dollars we take out of the taxpayer's pocket," state Sen. Kevin Bryant (R-Anderson), a leading proponent of drug testing, said in an interview.
The Republican presidential candidates also support drug testing. Newt Gingrich said he favors it for any type of government assistance. So does Rick Perry, who dropped out of the race on Thursday and endorsed the former House speaker. While former Massachusetts Gov. Mitt Romney hasn't talked about drug testing, he does advocate radical changes to the unemployment insurance system. And a Romney spokeswoman sent The Huffington Post a 1994 news clip that said Romney supported drug testing for people on welfare.
Legislators in several states have proposed or discussed drug testing of jobless people in the past year. The proposals sprouted up alongside a surge in legislation to drug test welfare applicants in no fewer than 30 states.
"It's clearly part of this overall trend to welfarize unemployment," said Elizabeth Lower-Basch, a senior analyst with the Center for Law and Social Policy, a left-leaning Washington think tank. "It's part of this continuing attempt to blame unemployment recipients for being unemployed, as if it's because of their personal failings instead of an unemployment rate above 8 percent. If they can pin the blame on the individual there's no societal responsibility to help out."
In other words, if people drawing unemployment compensation can be stigmatized like welfare recipients were in the 1980s and '90s, the unemployment insurance system could one day be reformed and made much stingier, just like welfare in 1996.
Studies have shown the rate of drug abuse among welfare recipients ranges from about 5 percent to 10 percent -- slightly more than the general population, according to the U.S. Department of Health and Human Services. But the department's October 2011 survey of past efforts to weed out welfare drug abusers found no evidence the policies saved money, improved the well-being of children, or helped their poverty-stricken parents get back to work.
Florida is the only state to follow through with full-blown testing of every single welfare applicant, with each person required to pay for the test. The policy lasted four months last year until a federal judge put a stop to it, citing the Constitution's ban on unreasonable search and seizure. Before the injunction, just 2.5 percent of applicants tested positive for drug use. The policy's supporters put forward no credible evidence that the screening saved money for the state, which had to reimburse everyone who passed. Yet several Republicans, including Sen. Bryant in South Carolina and Rep. Jack Kingston (R-Ga.), cite the Florida law when pushing for jobless drug testing. They don't cite any data on drug use among the jobless.
Nevermind that people on welfare differ greatly from people on unemployment, in terms of income. To qualify for welfare, families must be needy, with income levels typically well below the poverty line -- currently $22,350 for a family of four. To be eligible for unemployment, a worker has to have earned sufficient wages prior to being laid off, and the layoff generally can't be a firing for misconduct or a voluntary resignation. The median income of households that received unemployment compensation in 2010 was $55,000 the prior year, and unemployment insurance kept more than 3 million people out of poverty in 2010.
No state currently requires drug testing for unemployment insurance. That's because federal law actually prohibits states from disqualifying workers from receiving benefits for reasons other than on-the-job misconduct, fraud in the claims process, or for making too much money from part-time work.
But state lawmakers itching to test the jobless are in luck, because Republicans in the U.S. Congress want to change the law. They nearly succeeded in December, when the GOP-controlled House of Representatives passed a bill that would have allowed states to do all the testing they want. The bill didn't clear the Senate, but the measure will probably return next month when Congress must once again reauthorize federal unemployment insurance programs.
While polling is scarce, a few surveys suggest that drug testing for welfare recipients, at least, is a popular idea. A 2011 Rasmussen survey found 53 percent of likely voters and 61 percent of Republicans support automatic drug testing for welfare recipients. Seventy-one percent of likely voters in nearby North Carolina support drug testing for public assistance, according to a separate poll by a conservative think tank. And 71 percent of Florida voters said they supported requiring drug tests for welfare.
But there's no survey data on proposals to test the unemployed, and no drug testing surveys of likely voters who don't have jobs. The Huffington Post, in conjunction with Patch.com, sought opinions of unemployed people at employment offices in Columbia and Charleston on Wednesday. For the most part, they said they're not fond of the policy.
At a workforce center in downtown Charleston, Terri Mack, 59, said Wednesday she's been out of work for nearly two years since losing her cashier job. She said she wouldn't have a problem with taking a drug test, but only if she doesn't have to pay for it.
"I don't take no drugs," Mack says. "But I don't have insurance or anything to pay for the tests."
Joseph Richardson, who's been out of work since he lost his job busing tables in August, said he dislikes the proposal: "There are people with jobs that do drugs too, so I really don't see a need for it."
Sabretta Fulton, 31, of Columbia, a mother of one child who was born premature, said her last job as a nursing assistant at a nursing home and has been unemployed since September 2011.
"You shouldn't have to pay for your own drug test to get your own money," Fulton said. "That's your money and you worked for it."
Alphonzo Major, 33, also said he opposes drug testing in an interview at the Columbia workforce center. The single father of two said he's been out of work since losing his job as a prep cook at the University of South Carolina-Beaufort four months ago.
"I don't believe that's fair for anybody," he said of the testing. "They worked hard for it, so why stop them if they have a habit? Why try to cut them off if they pass or fail? It's their money. It's not right."
It is their money, in a sense. While unemployment insurance is funded with taxes on business payrolls -- so it's technically not the workers' money -- many economists say workers would receive that money in wages absent the taxes.
Major doesn't want to pee for his benefits. "I think that's bullshit," he said.
Popular in the Community