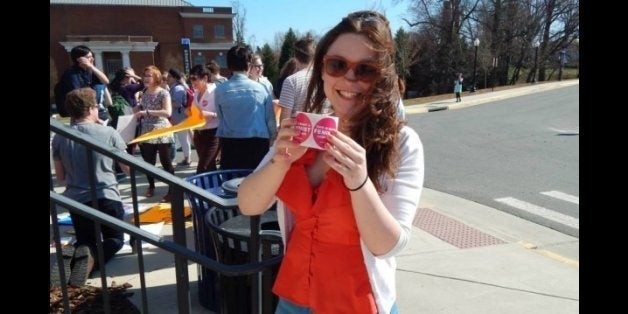 Editor's note: This story contains graphic language that some readers may find disturbing.
The University of Mary Washington's campus in Fredericksburg, Virginia, was hit by a spate of violent threats against a feminist student group for months leading up to the alleged murder of a group member in April. Documents provided to The Huffington Post show the administration was keenly aware of the continued harassment, which was posted on the anonymous messaging app Yik Yak, but a federal complaint filed Thursday alleges the public university failed to act on this knowledge and permitted a hostile environment against female students.
Police have not revealed a possible motive for student's killing and the complaint does not state the school is responsible for her death, nor does it explicitly connect the threats to her killing.
The online harassment started in November 2014, the complaint says, after Feminists United Club president Paige McKinsey spoke at a student senate meeting and criticized fraternities and the university's response to sexual assault. The harassment continued and escalated in the spring, when complaints from club led the university to suspend its club rugby team over a sexist chant some of its members had performed at a party.
Grace Mann, a Feminists United Club member who had been subject to Yik Yak threats of physical and sexual violence, was killed on April 17 by asphyxia by strangulation. Steven Vander Briel, Mann's roommate and a former member of the rugby team, was arrested later that day and charged with first-degree murder in connection with her death.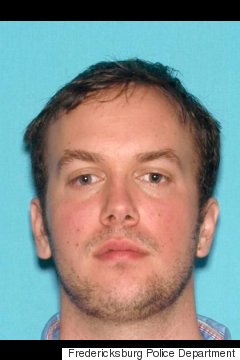 The complaint filed Thursday with the U.S. Department of Education's Office for Civil Rights alleges UMW permitted a sexually hostile environment. It was filed by attorneys Debra S. Katz and Lisa J. Banks on behalf of students in the Feminists United Club, which is a chapter of the national group Feminist Majority Foundation.
"All we are in a position to say at this point is that to the University's knowledge, no known reports of direct threats of violence and/or sexual assault have gone unheeded," UMW spokesperson Anna B. Billingsley said in a statement. "The University of Mary Washington's No. 1 priority has been and continues to be the creation and maintenance of a safe environment where all students can learn and grow."
There are currently 110 colleges and universities under Title IX investigations for sexual violence. However, this complaint alleges a different category of violation: that the school violated the gender equity law Title IX over sexual harassment. The Education Department has so far declined to name the schools under Title IX reviews for sexual harassment, but confirmed to The Huffington Post last month that 137 colleges and universities are under such investigations.
The complaint references a chant performed by some rugby club members that joked about rape and necrophilia. It was performed at a Nov. 23, 2014, party hosted by rugby players, but only eight were in attendance, according to a lengthy story by Erin Ryan at Jezebel, which included audio of the chant:
Also at the Nov. 23 party, the complaint alleges, a member of the rugby team shouted he wanted to hit a woman. A male who told the rugby member that was not an appropriate joke allegedly was then bullied by rugby team members who called him a "pussy," according to the complaint. A copy of the complaint and dozens of related emails and screenshots were shared with The Huffington Post.
Feminists United provided a copy of the audio to the administration in late November, emails show. Frustrated the school still hadn't done anything two months later, McKinsey published an op-ed, "Why UMW Is Not a Feminist-Friendly Campus," on Jan. 29 of this year alluding to chant publicly for the first time. This opened the floodgates for an onslaught of harassment, largely on Yik Yak and in the student newspaper's comment sections, the complaint said.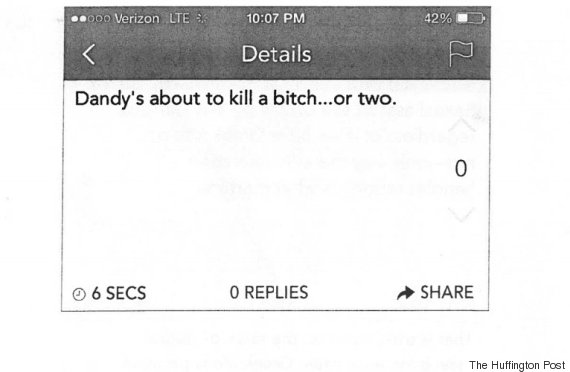 Yik Yak is an app where users within a 1.5 mile radius can post brief text messages anonymously. The app is the latest in a series of anonymous gossip forums that have plagued college campuses for the past decade, prompting a debate over how a school can address vitriolic content published by students while maintaining First Amendment freedom of speech rights.
McKinsey emailed the university on Feb. 20 explaining that the president of the men's rugby team approached her and said he'd be happy to speak with her. When McKinsey replied that all she wanted was for the team to stop using the song, she said, he walked away.
You said that while you might not have expelled the students like Oklahoma's administration did, but that you would have quickly suspended them and then decided on any further action, in the even that such an incident occurred here at Mary Washington. But President Hurley, what happened at the University of Oklahoma has happened here, and yet, months later, not only has no one been suspended, but most of the student body does not even know about the incident, and certainly not what is being done, either punitively or constructively.
A day later, Hurley emailed the campus and referred to "recent situations in which our own students (groups and individuals) have engaged in behaviors that I find repugnant and highly offensive." He didn't say anything about the rugby team, Hurley told the FUC members, because he thought he was not allowed to share what punishment they would receive. After the group leaked audio to several news outlets on March 18 and a UMW alumna posted the lyrics to the chant on Facebook, Hurley publicly said the entire club team had been suspended.
There is no timestamp on the Yik Yak posts included in the filing to the federal government, but the complaint says they are largely from March, around the same time the rugby team was on the verge of being punished for its sexist chant. Posts on Yik Yak said that if that the team were to be punished, "there will be no survivors" and everyone would "burn" with them.
On the app, students also joked that McKinsey "makes her boyfriend sleep in a dog crate," feeds him pepperonis through the wires, and that she does meth. Yik Yak bans certain keywords that are typically assumed to be offensive, but posters found a way around that to threaten to rape members of the Feminist United Club: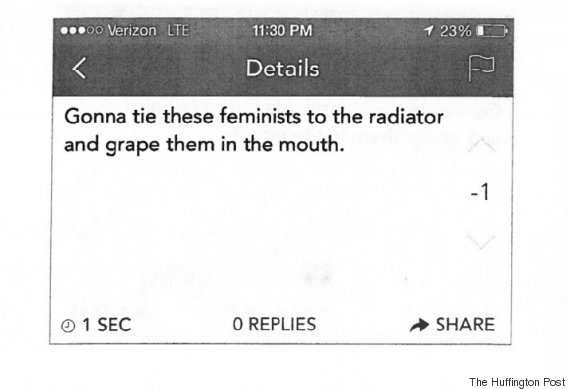 Julia Michels, a club member, emailed the UMW administration on March 25 to explain how members were threatened "with both physical and sexual violence, and have had countless derogatory and misogynistic slurs directed at us." The club had collected 200 examples of violent posts on Yik Yak directed at them, Michels said. A week later, that number grew to 700.
On March 27, the campus received an email noting the university "has no recourse for such cyber bullying," but urging students to report direct threats. One student sent a response on March 30 stating, "We have evidence of these posts and have showed them to administrators, and your response is to 'report them to yik yak'? an app that was created by two fraternity guys? We have been trying to do this for months and this approach clearly has not worked in the slightest."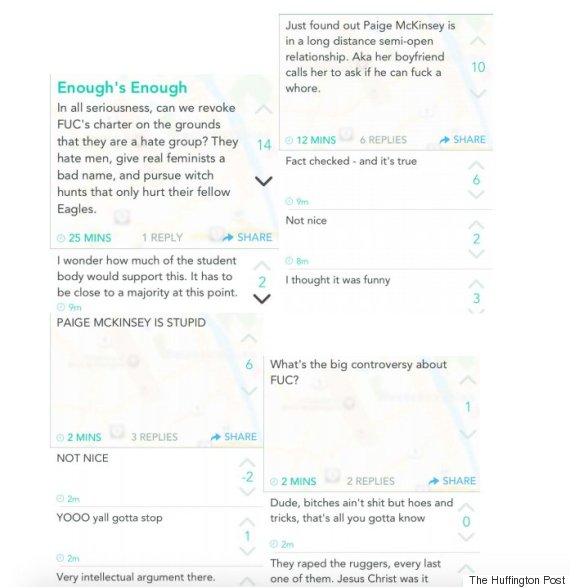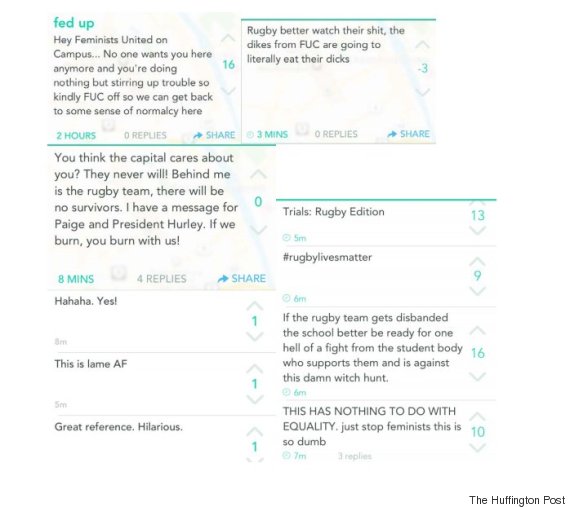 In an emailed statement, a Yik Yak representative told HuffPost that "guarding against misuse" is something the company takes "incredibly seriously." "Such instances are disappointing and don't represent what Yik Yak is about," the statement said. "We've put a number of safeguards in place like filters, pop-up warnings, reporting, and moderation within the app, and we're constantly working to enhance these measures, for example by incorporating natural language processing and machine learning."
The students argued in emails to administrators that the threats rose to a level not experienced on other campuses due to the sheer volume of posts and the numerous direct references to them, including threats using their names.
Hurley told the group members on April 1 he was speaking with experts for advice. He cautioned that because the university is a public institution, it has to respect the First Amendment, but he "certainly understands concerns about threats and feelings of safety on campus."
But students said online bullying continued. The group participated in discussions with the administration, according to the complaint, but there was still no movement to intervene with the Yik Yak.
The UMW rugby club team did not return a request for comment.
Related
Popular in the Community