Vote Protectors, an anti-voter-fraud group loyal to Republican presidential nominee Donald Trump, released a new script Wednesday for its so-called "citizen journalists" to use when they approach voters at the polls.
The new script was released less than 24 hours after a Huffington Post investigation revealed that Vote Protectors plans to issue fake ID badges to its volunteers, who intend to travel to cities with large minority populations and conduct phony "exit polls" on Election Day.
The interview guide, below, appears to be scripted like a TV news segment, in which a Vote Protectors volunteer would approach citizens and open with, "This is [volunteer's name] reporting for Vote Protectors."
The questioner would then ask about "election fraud," a conspiracy theory promoted by Trump and his campaign surrogates in order to cast doubt on the outcome of the Nov. 8 election. As Trump has fallen further behind Democratic nominee Hillary Clinton in recent weeks, his doomsday predictions of widespread "election fraud" have grown more urgent.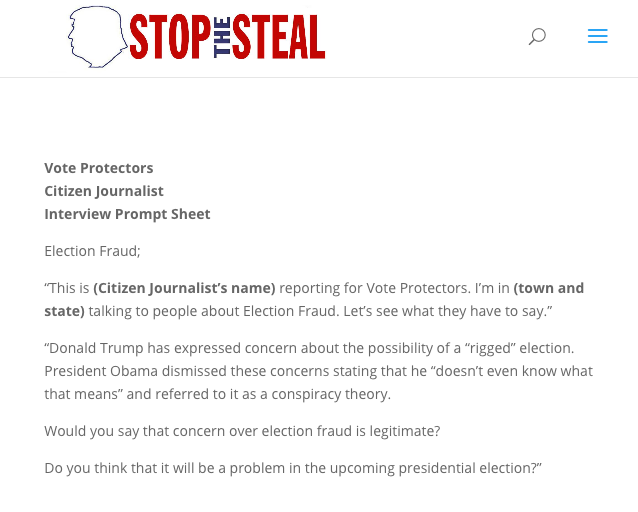 The "Interview Prompt Sheet" instructs Vote Protectors volunteers to contrast Trump's theories about a "rigged election" with President Barack Obama's refusal to entertain the fantasy of voter fraud as a serious idea. Scores of political scientists, academics and voting rights advocates have all dismissed this kind of "election fraud" as a myth.
The interview questions also appear to be aimed more at promoting a false narrative of election fraud than at gathering newsworthy information. This is similar to Vote Protectors' other tactics, like creating fake ID badges and filming voters as they approach the polls.
Notably absent from the Vote Protectors site Wednesday afternoon was any sign of Trump's confidante Roger Stone, whose nonprofit, Stop The Steal, hosts Vote Protectors as a collaborator. On Tuesday, Stone had a prominent "Defend The Donald" blog segment on the Vote Protectors website. On Wednesday, it was gone.
This is what the site's menu looked like on Tuesday:

On Wednesday, after HuffPost revealed Stone's role in the Vote Protectors group, his column, called "Defend the Donald Blogger," was removed without explanation. This is how the new menu bar appeared:

Stone told HuffPost he didn't write the new script, adding, "In fact, I have never seen it before." He also said his website, Stopthesteal.org, was hit with a DDOS attack Wednesday, but that the site "is back up and is now secure."
Stone initially denied the existence Tuesday of Vote Protectors' plans to have volunteers wear phony ID badges, or to film voters at the polls. But when confronted with evidence of both, Stone said he had been unaware of them and would never have endorsed such obvious voter intimidation tactics.
But as of Wednesday evening, Vote Protectors was still creating fake ID badges and still registering new volunteers using Stone's "Stop The Steal" banner. HuffPost on Wednesday used their software to create two new ID badges, one for each of the presidential nominees.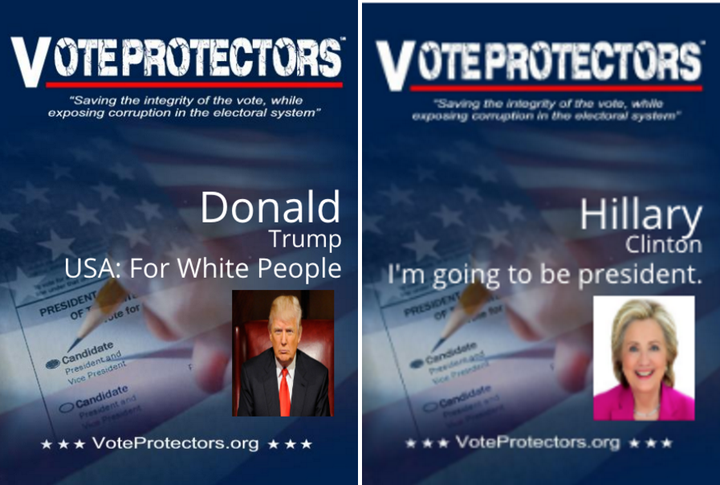 As Election Day nears, voting rights experts agree that education is key to pushing back against voter intimidation efforts like those planned by Vote Protectors.
"It's important for voters to understand that they should not automatically trust that everyone who walks up to them at a polling station is an official election worker," said Danielle Lang, deputy director of voting rights at the nonprofit Campaign Legal Center. "On the contrary, I would counsel voters to maintain a healthy skepticism at all times."
That said, Lang emphasized that "not even poll workers have a right to determine your eligibility to vote. All they can do is run your name against a list of registered voters. If you are told you're not on the list, you should ask to cast a provisional ballot."
"The bottom line," Lang told HuffPost, "is that no one should have to leave their polling place without casting some kind of ballot."
This story has been updated to include Stone's comments on the script.
Popular in the Community