This article is part of HuffPost's "Reclaim" campaign, an ongoing project spotlighting the world's waste crisis and how we can begin to solve it.
UPDATE: 10/28 ― After an investigation into Walmart Canada's disposal of unsold food spurred an online outcry, Walmart has admitted "there are mistakes being made," according to CBC News.
The news outlet previously found Walmart was trashing large amounts of food, which appeared to still be fresh, behind its stores on a regular basis. 
The company has committed to taking new steps to curb its waste further, both by reviewing its in-store processes and by introducing a new "customer value program," which would discount the prices on certain items nearing their "best-before" dates. 
A number of Walmart stores in Canada toss large amounts of food in the trash before they've expired, sometimes merely because the items don't look perfect, according to an in-depth investigation by Canada's CBC News. 
Reporters from CBC's "Marketplace" dug through garbage containers at two Walmart stores near Toronto, on more than 12 occasions, and consistently found a variety of food items, from fruits and vegetables to baked goods and frozen foods. Most of the items were still in their packaging ― notably not separated for composting ― and in many cases, the food was "well before its best-before date and appeared to be fresh," according to CBC.
Walmart told CBC it believed the food found was "unsafe for consumption," and said it has "many initiatives to decrease food waste, including giving unsold food to food banks."
However former Walmart worker Daniel Schoeler, who worked at almost a dozen Walmart stores around Vancouver, told CBC for a separate article this week that "on every shift at almost every store, he saw loads of what appeared to be perfectly good food dumped in the trash."
"It bothers me a tremendous amount," Schoeler told CBC. "So many low-income people shop at Walmart. They're scraping to buy this stuff, yet Walmart is just throwing it out the back door."
Earlier this year, The Huffington Post reported on Walmart's food disposal practices in the United States: David Alvarez, a former Walmart worker in Tampa, Florida, said he regularly chucked unsold tomatoes, potatoes and bananas into compost bins behind the store. Meanwhile, in his own home, the only food he could afford with his Walmart earnings was of a lower quality than what he threw out at work, he said. 
It's important to note, however, that Alvarez said he was throwing uneaten food in the compost bin ― and not the trash. Walmart U.S. says that it makes a concerted effort to divert unsold food from landfills.
In its latest fiscal year, the company donated 611 million pounds of food to food pantries, Walmart spokesperson Kevin Gardner told HuffPost in June. And since 2009, the company has turned 25,000 tractor-trailers worth of food into compost, animal feed and biofuel.
But activists maintain that Walmart U.S., the nation's largest grocer, can do more to curb the country's massive food waste problem by agreeing to sell so-called "ugly" produce at its stores nationwide.
Walmart has begun small trial programs to sell fruits and vegetables that do not meet high standards for ideal size, shape or appearance. The chain has brought "less than perfect" potatoes to at least 400 stores around Texas, and "ugly apples" to around 300 stores in Florida. But those efforts are merely a drop in the bucket, given the company's massive network of more than 5,000 stores. 
"We don't have any current nationwide plans at this time," Walmart spokesperson John Forrest Ales told HuffPost in July. "We do not have specific goals for ugly produce."
In the CBC's investigation, Walmart Canada "insiders" told the outlet they were instructed to toss food for a variety of reasons, and looking imperfect was one of them. Walmart Canada reportedly "could not address [these] reports," according to the CBC. 
This story has been updated to reflect Walmart Canada's most recent response to the CBC's investigation.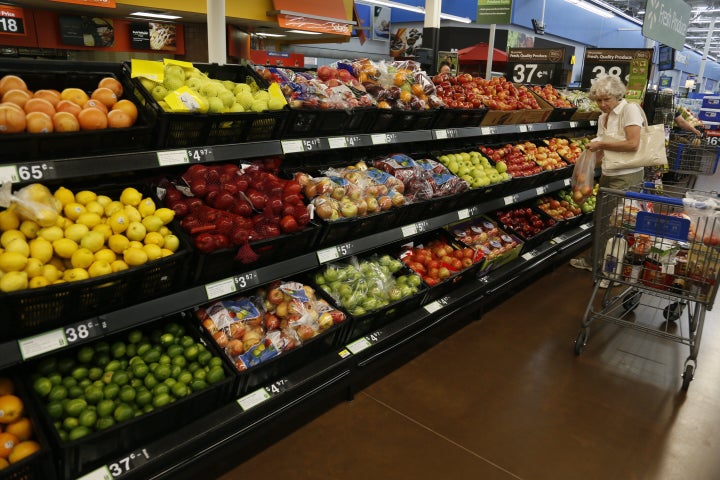 Calling all HuffPost superfans!
Sign up for membership to become a founding member and help shape HuffPost's next chapter
BEFORE YOU GO
PHOTO GALLERY
Companies That Fight Food Waste