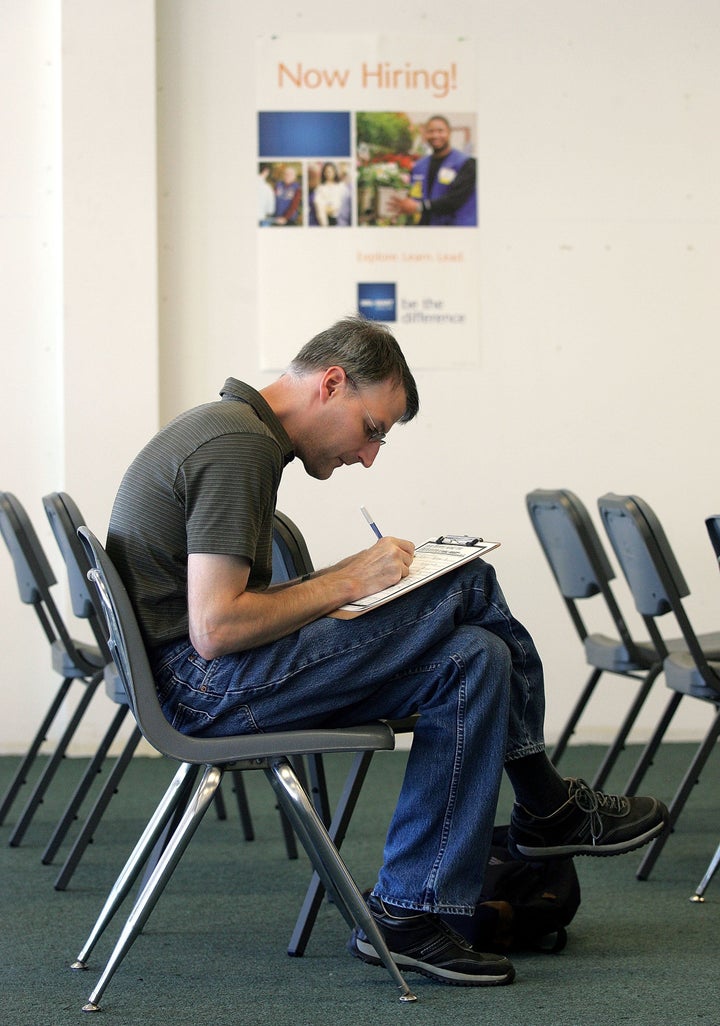 SPRINGFIELD, Penn. -- Among those here in the parking lot of the Masonic Hall, there's an abiding sense that the economic recovery has stalled, if it was ever there to begin with.
Young and old, well educated and uneducated, they're all coming here for the same thing: a job at the new area Walmart, which has set up a hiring center inside the hall; and most of them don't care how many hours the store can give them, what they'll have to do, or even how much they'll be paid. They just want a job.
First requirement: Humility.
"I'll take anything," many say.
In less than two weeks, managers have fielded well over 1,000 applications for just 300 jobs. On Wednesday, one of those applications was filled out by Andrea Parella, another by Tee Dempsey. The two women just met here, and outside in the parking lot they give each other words of encouragement after long, brutal spells without work.
"It will get better. It has to," says Dempsey.
Parella, a graphic designer with an associate's degree, has been out of work for the two-and-a-half years since her company went under. She long ago exhausted her 99 weeks of unemployment, and she now finds herself filling out up to 25 online applications a day, many of them well outside her chosen field. The search is like a full-time job, punctuated with disappointment, and she says it's tougher than any paying gig she's ever had. The biggest challenge is staying positive.
"It's hard to keep up the smile," says Parella. "I worry that they can read in my face how I really feel."
Dempsey, who lives in nearby Havertown, has her own business hanging wallpaper, but the work has ground to a halt during the prolonged downturn.
"They're afraid to spend the money," Dempsey says of homeowners. "The painters aren't getting any work, either."
Since she is technically self-employed, Dempsey hasn't had any unemployment benefits to help her make ends meet. Recently she started selling off her jewelry.
"I'm borrowing money from my mother to pay my mortgage," says Dempsey.
"I just want to work," says Parella.
Such desperation is evident in the jobs numbers. Although the unemployment rate fell slightly last month to a still-dismal 9.1 percent, the small dip was primarily due to discouraged workers dropping out of the workforce. Meanwhile, many of the job gains we've recently seen in health care and retail -- these Walmart positions are a good example -- have been obliterated by public-sector losses as state and municipal governments pare back.
So aspiring workers have come here to the hall to scrap for a job that's become shorthand for "low-wage," despite the fact that most of them realize they won't get a position. Another troubling sign of the present downturn: many of the workers interviewed by The Huffington Post don't factor into that 9.1 percent figure. They already have jobs. They just aren't getting enough hours or a wage high enough to survive. They're the more nebulous "underemployed," those who want full-time work but still can't find it.
"It's bad -- really bad -- and I'm blessed to be working at all," says J, a father of three who's applying for a job with his teenager in tow.
J didn't want to give his full name because he already has a job at Home Depot. He's technically a part-timer there, though he works more or less full-time hours. He receives no health insurance through the job, and the pay isn't enough to support his family. His goal is to work night shifts at Walmart on top of his hours at Home Depot, for more than 70 hours total. He's hoping the Walmart gig will even pay a tad more than the Home Depot position.
"It's very necessary," says J. "I'll take anything."
"It's hard," says Tara Durnell, a 37-year-old mother looking for work at Walmart. She gets just one day a week at a Yankee Candle store in the mall, and a few more hours cleaning up a doctor's office.
"I love to work. I don't like sitting at home. This isn't me," she says.
"It doesn't really matter what it is: overnight, during the day, anything," says Robert Lee, another worker in search of more hours. He has a part-time job at an AMC theater, where his schedule has been unpredictable. He worked only 17 hours last week.
One man, when asked about his job situation, starts shaking his head and pacing. He hasn't found anything in seven months. Even the summer, which he finds ripe for construction work, has been fallow.
"I'm applying for a job at Walmart," he says, sounding defeated and not wanting to give his name. "I don't want to work at Walmart."
A red-headed woman says she's been out of work since she lost her job earlier this year. "I'll take anything. I just want to work, and work legally," she says.
"If everybody feels like things will get better," she goes on, as if asking a question, "then maybe they will?"
The last applicant to leave for the day is Rob Ernst, 54. Ernst been looking for work for more than a year. He spent a long time inside the hall trying to nail the Walmart application.
"It's been one hell of a battle," he says of his unemployment. "I've been living off my savings, which is almost gone."
In 2008, outsourcing to India cost him the quality job he had had for ten years, doing graphics work for telephone books. With help from the federal Trade Adjustment Assistance program, which helps people whose jobs go overseas, Ernst went back to school and earned an associate's degree in computer-aided design. An honors student, he wound up with his picture in the local paper when he finished last spring. But the jobs weren't there.
"They were having jobs fairs at school, and some of the companies weren't even showing up," he says.
He's applied for around 50 jobs in his new field, to no avail. "I've given up on the specialty work," he says.
In addition to Walmart, he's put in applications at Staples, Kohl's and Target. He says he's had to get used to not wearing a suit to certain job interviews, lest he feel overdressed and awkward at the more blue-collar workplaces.
Ernst's hope is that some kind of job will come through, even if it's part-time, to tide him over until things rebound. He hopes his new degree will be of some use in the future, but for now he isn't picky.
"Now, I'll take general work. That's what brought me here," he says, just before hopping into his Toyota. "It's getting to the point where you're just looking for a life raft."