SAN FRANCISCO -- Three years on, not a single Wall Street banker has been prosecuted after a financial crisis rooted in rampant fraud brought the global economy to its knees. President Obama's Department of Justice has more dangerous miscreants to worry about: medical marijuana shop owners.
The DOJ has launched an assault on medical pot dispensaries, vowing to shut down establishments licensed and regulated by state and local governments, in a reversal of an earlier policy, based on an Obama campaign promise to leave the shops alone as long as they followed state law.
And while major corporations have managed to get their federal tax bills down to zero, the IRS has determined that pot clinics can't deduct salaries, rent, the cost of bud or other operating expenses on their tax returns. If a business can't deduct those expenses, its tax bill almost always winds up exceeding even its profits.
Despite a previous DOJ memo that targeting medical marijuana is an inefficient use of time and resources, this past Friday morning, four California-based U.S. Attorneys and their staffs gathered in front of Sacramento's capitol building to announce an aggressive new crackdown on medical marijuana operations throughout the state -- this one aimed at the landlords who manage buildings in which dispensaries operate.
Detailing an industry that has "swelled to include numerous drug-trafficking enterprises," the federal officials warned they would be taking action against dozens of dispensaries they accused of abusing California's medical marijuana laws.
"The California marijuana industry is not about providing medicine to the sick," said U.S. Attorney Laura E. Duffy. "It's a pervasive for-profit industry that violates federal law."
Meanwhile, medical marijuana in California is experiencing a renaissance. While the U.S. attorneys held their press conference, the West Coast Cannabis Expo had just opened its doors in San Francisco, drawing pot enthusiasts from across the state for the ultimate celebration of all things weed.
The contrast between the ominous warning in Sacramento and the joyous mood at the festival couldn't have been more stark. Glass artists showcased rows of handcrafted pipes. The Oaksterdam Bakery handed out samples of medicinal banana walnut bread. Managers at companies like Weed Maps and California Earth Supply collected resumes from job-seekers. A small line of patients waited to meet with the on-site doctor to see if they qualified for a state-sanctioned medical recommendation.
As news of the government's latest anti-marijuana efforts reached the expo, attendees remained unfazed. "I've been doing this for a long time," Dennis Rogers, the CEO of CannaKing, a roving dispensary he operates out of his van, told The Huffington Post. "We're in a state where it's legal, and you can't have federal agents everywhere. That's the bottom line."
"Everybody in this industry understands the playing field," added Alec Dixon, the director of client relations for SC Laboratories, a company that tests different strains of cannabis for potency and contamination. "All this really does is give us something to rally behind."
Medical marijuana has been legal for approved patients in California since voters passed Proposition 215 in 1996. Since then, it's grown into a flourishing above-ground industry, creating a host of "green" jobs that run the gamut from farmers and dispensary owners to public relations executives and insurance agents who specialize in pot cultivation.
But the plant remains illegal at the federal level. In the early years of the Obama administration, targeting medical marijuana operations did not appear to be high on the list of government priorities. A month after Obama's inauguration, Attorney General Eric Holder said that federal prosecutors would not enforce action against patients or providers that adhered to state law. Six months later, the new policy was officially articulated in the landmark Ogden memo: "[P]rosecution of individuals with cancer or other serious illnesses who use marijuana as part of a recommended treatment regimen consistent with applicable state law, or those caregivers in clear and unambiguous compliance with existing state law who provide such individuals with marijuana, is unlikely to be an efficient use of limited federal resources."
The DOJ reversed course earlier this year, issuing a memo in June that redefined "caregiver," and the department threatened to take action against pot dispensaries even in states that had legalized medicinal pot. Since that announcement, federal officials have engaged in a slew of intimidation tactics specifically aimed at California's industry.
Last Tuesday, the IRS sent a $2.4-million tax bill to Oakland's Harborside Health Center, the nation's largest medical marijuana dispensary, citing a portion of the tax code that prohibits drug-trafficking organizations from cost deductions. "We will be taxed out of existence," said Steve De Angelo, the center's executive director.
Two days later, a handful of San Francisco-based landlords who rent space to pot clubs received letters from federal officials warning them that the government could seize their property at any time for operating too close to local schools. Similar notes were sent to other dispensaries throughout the state.
The DOJ insists the latest crackdown is somehow in accordance with Obama's policy of leaving the issue to the states. "The actions taken today in California by our U.S. Attorneys and their law enforcement partners are consistent with the Department's commitment to enforcing existing federal laws, including the Controlled Substances Act, in all states," said Deputy Attorney General James Cole in a statement.
The U.S. Attorneys involved in Friday's press conference justified their actions by accusing numerous dispensaries of acting as fronts for large-scale, for-profit drug trafficking enterprises. "This is not what the California voters intended or authorized," said U.S. Attorney Andre Birotte Jr.
But industry advocates are skeptical. "I don't see the benefit for cartels setting up a storefront operation in a dispensary," said Tom Angell, a spokesman for Law Enforcement Against Prohibition, a coalition of active and retired police officers, prosecutors and judges who've soured on the drug war. "Why would they go and pay taxes when the law enforcement apparatus hasn't proven effective in shutting down the underground trade? Shutting down these operations will only give more money to the underground cartels and gangs."
And California lawmakers think federal officials should focus their energy elsewhere. "They're wasting money they don't have," said State Sen. Mark Leno (D-San Francisco). "This is not the issue of the day. This doesn't create jobs. This does not keep the security of the nation intact. It doesn't clean the environment."
For now, the DOJ is concentrating its efforts on California, but pot shop owners throughout the country are concerned. Rep. Jared Polis (D-Colo.) has introduced legislation in Congress, backed by California Rep. Pete Stark (D) and Rep. Barney Frank (D-Mass.), that would require the IRS to allow all businesses, including dispensaries, to deduct expenses.
Polis lashed out at the uptick in aggression against marijuana. "There are more pressing issues facing federal law enforcement, so it makes no sense for them to waste time and taxpayer money interfering with state-legal businesses that voters have approved, that are well regulated, and that generate jobs and economic activity," he said. "Colorado has the nation's strictest regulatory system, which means our dispensaries operate transparently and legitimately. I should hope that the federal government would focus its resources on keeping Americans safe from crime rather than interfering with a legal business that benefits Colorado's economy."
The Obama administration has remained mum as to why the DOJ has decided to flex its muscle at this particular moment, referring questions to the California-based attorneys. "A lot of people are confused, especially since he's up for re-election," said Angell, noting that polls consistently show that at least 70 percent of voters nationwide support the legalization of medical marijuana.
For many California cities, the medical marijuana industry remains business as usual in the face of fresh threats. But a few local jurisdictions have buckled under the increased federal pressure. Redwood City Patch, reported Tuesday that the city council unanimously voted to ban pot shops until the conflict between federal and California laws could be reconciled. "Cities are in untenable dilemma between state law and federal law," City Attorney Pamela Thomspon told Patch.
Still, industry insiders believe that the latest crackdown will have little lasting effect. "We've come too far. Any legislation that represses us is only going to fuel the movement," said Dixon as he showcased his company's latest potency testing tool to expo passersby. "Too many people have been affected to not fight back. The cat's out of the bag. We're part of the true green revolution."
Ryan Grim is the author of "This is Your Country on Drugs: The Secret History of Getting High in America," available on Amazon.
Take a look at images from the expo and video from Harborside Health Center below: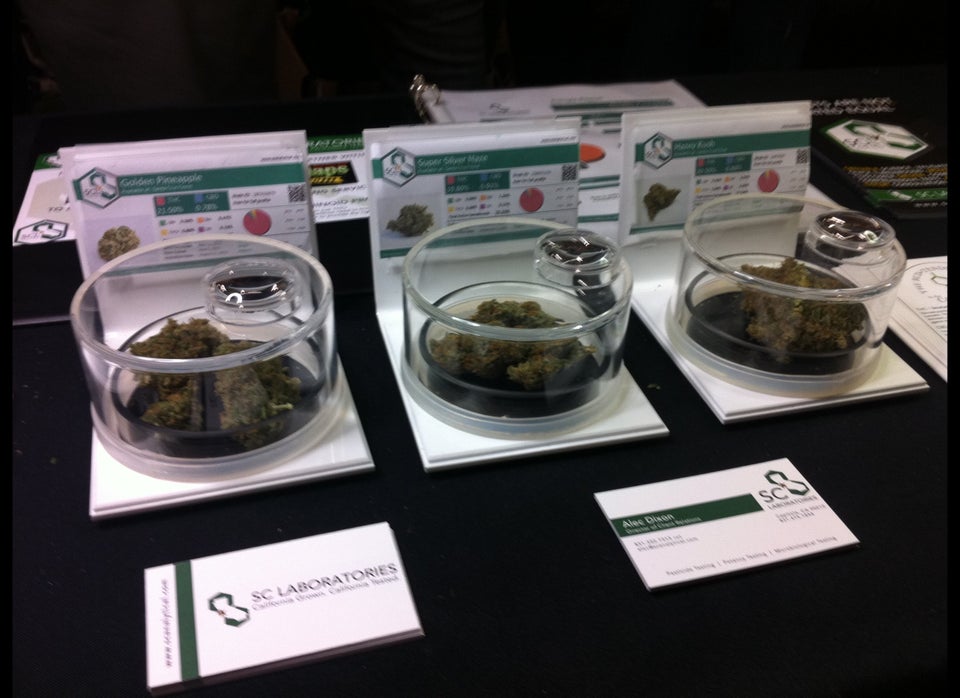 pot fair
Related
Popular in the Community