The sheer brilliance of Golden State's offense is undeniable. No team recorded a better offensive efficiency rating, scored more points or dominated the fast-break more than the Warriors all year. When you have a quartet like Stephen Curry, Kevin Durant, Draymond Green and Klay Thompson, it certainly makes sense.
Meanwhile, Golden State's defensive excellence has been well-documented, but is perhaps not fully understood. How the team goes about it is just as impressive. The Warriors don't simply guard teams ― they overwhelm them; suffocate them, even.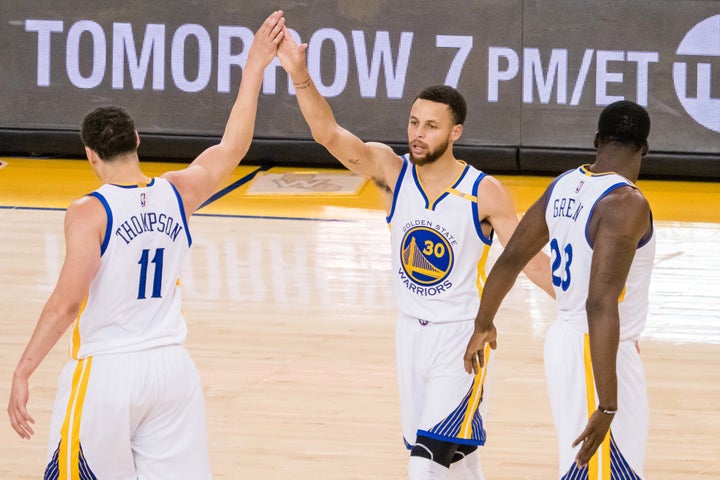 To hamstring an NBA opponent is a tall task. It requires all five players' commitment. It also requires versatility, and that's where the Dubs separate themselves. How many guys can switch ball screens? How many wing players can guard the low post? How many can protect the rim? Interchangeable pieces and versatility are crucial.
In the Warriors' first-round series against the Portland Trail Blazers, we saw Head Coach Steve Kerr employ a hybrid lineup. Remember the so-called "death lineup" last year? With Durant's rare 1-through-5 defensive ability, this is a modified version of that, only even more effective.
Green, Thompson, Andre Iguodala, Ian Clark and David West blitzed Portland, coaxing the Blazers into a 1-12 stretch with four turnovers to start the fourth quarter. What had been a close, hard-fought battle turned into a double-digit victory.
This happened once again in Golden State's Game 1 victory over the Utah Jazz. The quintet started the fourth and blitzed the Jazz with a 10-0 run that essentially sealed the game ― a game in which the Dubs connected on just 24 percent of their threes.
Through their eight games this postseason ― all wins ― the Warriors have amassed a postseason best 96.9 defensive rating that's nearly four points better than any other team's. They have also outscored opponents by 16.5 points per game, one of the best marks ever compiled.
Interim Head Coach Mike Brown, who is filling in for the injured Kerr, keeps a simple approach: "Defensively, let's be locked in and try to limit the mistakes," he said after his club's 121-95 victory in Game 4 to close out the Jazz.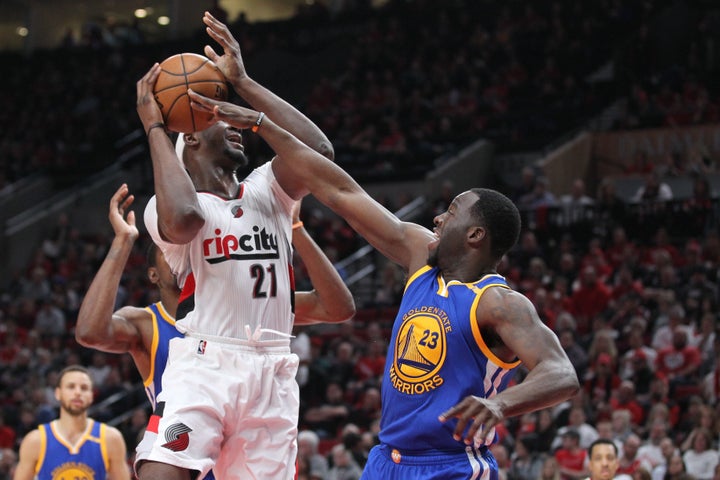 Green is the linchpin of it all. The 27-year-old ― who will soon earn his third straight First-Team All-NBA Defense selection ― isn't so much a stopper as he is a finely tuned Swiss army knife. He blocks shots, drives point guards insane, and as always, sets the tone as only he can.
"Draymond was amazing," Kerr said after a 121-109 Game 1 win over the Blazers. "He made some tremendous defensive plays. He made threes. He rebounded the ball. He had nine assists. He played a game that I'm not sure anyone else in the league is capable [of], honestly. He's so unique, and so important to us. He's phenomenal."
Green's unique ability was once again on display during Game 1 of a second-round series versus the Jazz. Not only did he check All-Star wing Gordon Hayward; he also guarded the red-hot Joe Johnson and even 7-foot-1-inch center Rudy Gobert. Hayward and Johnson ― the team's top two offensive threats in the playoffs ― combined for a measly 23 points on 8-25 shooting in the loss.
With Green as dominant defensively as he's ever been, the real boon to the Warriors has been Durant. He's not only one of the truly great scorers in league history, but also one of today's most versatile defensive weapons. At 7 feet tall, he's a legitimate rim protector even though he's often guarding wings. His length and dexterity allow him to cover different types of players.
This year, he averaged a career-best 1.6 blocks per game while holding opponents to 44.8 percent shooting, per NBA.com. Additionally, he ranked sixth in the league in defensive win shares (Green was first), ahead of known lockdown defenders like Kawhi Leonard, Jimmy Butler and Andre Roberson.
"Very unusual defensive player," Ron Adams ― the Warriors' defensive guru ― told The Mercury News in February. "He's a great helper, very good at making passes difficult. ... He's added a lot to our defensive scheme."
Popular in the Community