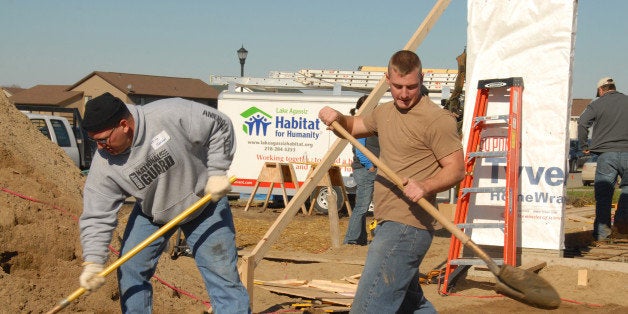 Each year as Veteran's Day approaches, I take time to reflect on my service over the years and how it has shaped who I have become. I come from a state that serves -- Montana produces more AmeriCorps members per capita than any other state and ranks third in the nation for veterans per capita. I've been fortunate to serve in both capacities.
Following the three generations before me, I enlisted in the military immediately upon graduating high school. Six years in the U.S. Navy allowed me to grow as an individual and a member of my community. Above all, it taught me that service is a responsibility. My first group service project in the Navy was a Habitat for Humanity project. I joined dozens of my fellow sailors from the USS Carl Vinson (CVN-70) and countless members of my community to fully paint the exterior of an elderly man's home in Bremerton, Washington. I left that project with a better understanding of how service is not exclusive to the military. As a team of military personnel and citizens we were able to lift the burden from one of our community members.
Whether it is military service, national service, or simply helping a neighbor in need, if one has the capacity to serve their community, it should be considered a mandate to do so. My military service was arguably the most impactful time of my life. The level of camaraderie experienced in the military is virtually impossible to put into words and even more difficult to replicate. However, on my first day of Pre-Service Orientation as an AmeriCorps VISTA, I walked into a room filled with national service members and immediately felt the same bond I felt on my first day in boot camp. While my service as an active duty sailor was certainly different than my service as an AmeriCorps VISTA, I can say without reservation they were both profoundly important events in shaping my understanding of service and determination to continue to serve.
Ironically, the group service project I participated in at Pre-Service Orientation was a Habitat for Humanity clean up event. Similar to my experience in Bremerton, we descended on a service site and made short work of a large project. After orientation, we all went our separate ways to serve at our respective AmeriCorps service sites. But we left with a greater sense of community and better understanding of the impact a group of people can have through service.
The benefits of a full-time, stipended service opportunity for individuals and the communities they serve are not easily quantified. We can count how many meals were distributed, homes were built, or jackets provided to the homeless. But we cannot quantify the value to the service member who sees critical issues in a community being addressed, nor the value received by the recipients of that service. I chose to become a Franklin Project Ambassador because I want to help others experience the transformative nature of service that I have experienced as a former active duty member of the Navy and a former AmeriCorps VISTA. I want young people in this country to have the opportunity to identify their capacity to serve and act on their ability to make positive and lasting changes across the country. This, in a nutshell, is what the Franklin Project is trying to accomplish.
In Montana, the Franklin Project is working to solidify existing relationships throughout the education system in order to institutionalize the ethos that national service is a cultural expectation and civic rite of passage, which is the goal of the Franklin Project. Service simply cannot be something one does to improve their resume. Rather, it needs to be an expected segment of our individual histories that speaks to our ability to care for our communities and our willingness to act when we see someone in need. Service gives us an opportunity to reflect on our own experiences in order to care for our family, friends, and community members.
Whether it be military service or national service, we are responsible for our nation and our communities. We need our educators, our politicians, and our community leaders to join forces in a unified effort to create service opportunities throughout this country that will actively address critical issues specific to our towns and states. This Veteran's Day I will celebrate the service of my fellow veterans. But not everybody has the capacity to serve in the military. Expanding national service opportunities will give everyone the chance to fully commit to something greater than themselves. In doing so, we will greatly impact critical issues facing our communities while simultaneously offering young Americans the chance to give back to a nation that has given so much. In the end, service should be expected of those who are able. And those who are able should actively seek to serve.
This post is part of a series produced by The Huffington Post and the Aspen Institute's Franklin Project in conjunction with Giving Tuesday. The series, which will run for the month of November, features pieces written by Franklin Project Ambassadors, local leaders who are working with community stakeholders in 25 states toward the Franklin Project's vision of making a year of national service -- a service year -- a cultural expectation, common opportunity, and civic rite of passage for every young American. For more on service year opportunities and organizations, visit https://serviceyr.org.
REAL LIFE. REAL NEWS. REAL VOICES.
Help us tell more of the stories that matter from voices that too often remain unheard.