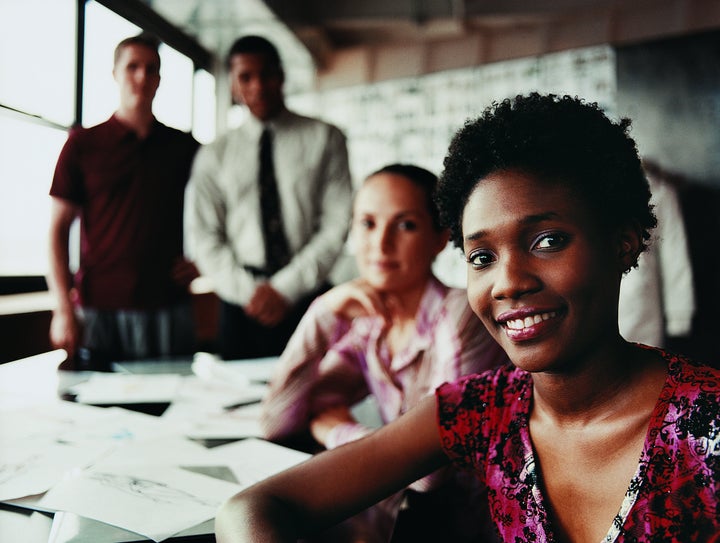 When we launched our "Opportunity: What Is Working" initiative last July, we envisioned the section as a place to showcase inspiring examples of our country's surpluses of creativity, ingenuity and compassion in the midst of a devastating jobs crisis. But we also saw it as an expression of a deeper truth -- a truth that is especially relevant for those of us in the media -- that by focusing exclusively on what is not working, we are missing out on spotlighting the opportunities that do exist around job creation.
So today, we add to HuffPost's family of sections dedicated to telling the stories of these opportunities a new section called "What Is Working: Small Businesses." Sponsored by Goldman Sachs' 10,000 Small Businesses initiative, the section will tap into one of the most robust and promising sectors of our economy, offering small business owners tips and tools for success. By bringing together a multitude of voices -- from HuffPost's business reporters and editors to our vibrant community of bloggers and commenters -- "What Is Working: Small Businesses" will open up the conversation on topics such as business education, support and financial capital, and reflect the state of American small business and its vital role in the economy at large.
10,000 Small Businesses is a program designed to help small businesses -- in operation for at least two years, with at least four employees -- grow. Founded in 2009 -- one year after Goldman Sachs' program 10,000 Women began investing in women entrepreneurs around the world -- 10,000 Small Businesses is investing $500 million in small businesses, in 11 cities so far. Warren Buffett is a co-chair of the advisory council. The program taps into the potential of small businesses through partnerships with community colleges, with curriculums guiding participants through every aspect of running and expanding a business, from the idea stage to funding, accounting, financial management, operations and marketing.
It's the stories of the graduates of 10,000 Small Businesses that best testify to the program's success. There's Maria Rios, who in 1997 founded Nation Waste Inc., a waste removal company with 22 employees, in Houston. "In the everyday business, I wasn't really focused on the idea of taking my business to the next level," she said. Then she heard about 10,000 Small Businesses through a local organization, and got involved through Houston Community College. Since graduating, she has bought new land and equipment, and plans to expand Nation Waste to Austin, Texas. There's Michael DiMarino of Brooklyn, whose family business Linda Tool manufactures machine parts. Through LaGuardia Community College, he implemented a growth plan that has allowed him to secure new certifications and contracts -- including one through 2015 -- and hire three new employees (and hopefully two more this year). And Fred Johring, president of Golden State Express, a green trucking company. "I applied for the program because I spent years being a stagnant company and needed help," he said. Since graduating from the program at Long Beach City College, he has hired 17 new employees and increased his revenue by 28 percent.
In the coming months, we'll be starting conversations around small business from many angles -- highlighting the role of community colleges, sharing tips from successful entrepreneurs, asking what the federal and local governments can do to support businesses, and inviting successful business owners to share tips and financial advice. We begin with inspiring profiles of women in small business, with stories about issues ranging from equal pay and maternity leave to how women can empower themselves in the boy's club atmosphere that dominates many offices. And we're kicking off our "What Is Working" Spotlight Series with a focus on women entrepreneurs, starting with blog posts from women like Miki Agrawal, a semi-pro soccer player turned serial social entrepreneur who founded an organic pizzeria in New York City and, more recently, a company that makes women's underwear, with a percentage of the proceeds going toward products for women in the developing world.
Tonight, along with Valerie Jarrett, Tory Burch, Mika Brzezinski, Dina Powell and Gary Cohn, we'll be celebrating 10,000 Small Businesses' latest graduates and discussing ways we can provide more support and encouragement to women entrepreneurs.
The 18 graduates include Malene Barnett, founder of a Brooklyn custom carpet company specializing carpets for homes and businesses; Patricia Brett, founder of Julia Ansboro LLC, a luxury swimwear collection for breast cancer survivors; and Jennie Ripps, founder of The Teaologist, which creates custom tea blends and tea cocktail programs for cafes and markets.
HuffPost's original launch day coverage includes Joe Van Brussel's profile of Classtivity.com CEO Payal Kadakia, who speaks about the role of passion in business; and a Q & A with the National Association of Women Business Owners' Diane Leneghan Tomb, who has advice on how women can increase their presence in business. Our launch day bloggers include Tory Burch on empowering women through entrepreneurial education; Rivet & Sway CEO John Lusk on how small business owners can get back to basics with customer service; Microsoft's Cindy Bates on celebrating women entrepreneurs; Startup America's Scott Case on how America's ability to remain competitive depends on corporations doing more to support startups; former Kauffman Foundation head Carl Schramm on how cities can -- and must -- attract young talented entrepreneurs; and a slideshow featuring the success stories of nine small business owners.
We hope "What Is Working: Small Businesses" allows small business owners to connect, engage and learn from one another. If you are a small business owner and would like us to feature your business, please write to us at whatisworking@huffingtonpost.com. And to all our readers, as always, use the comments section to let us know what you think.
Calling all HuffPost superfans!
Sign up for membership to become a founding member and help shape HuffPost's next chapter