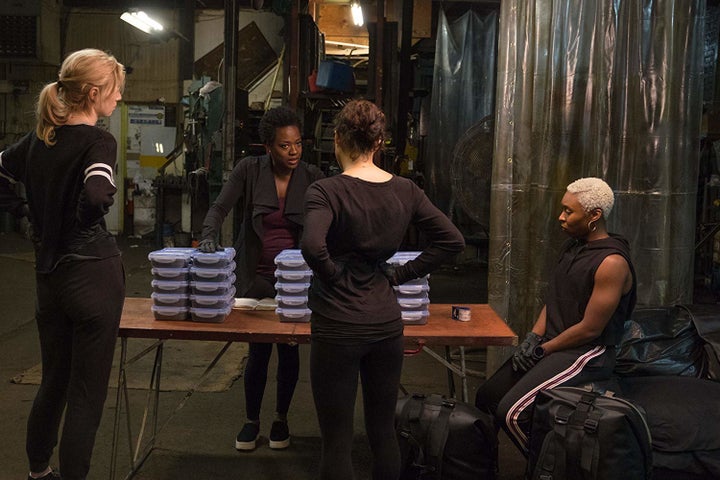 Steve McQueen, the British filmmaker behind "12 Years a Slave," "Shame" and "Hunger," knows that directing a big-budget heist thriller about a group of women teaming up to finish their dead husbands' last big score might not seem like his schtick.
"These women have been judged by their appearance and [...] were deemed as not being capable," he recently told The Hollywood Reporter of the female characters of color in his new movie "Widows." He added: "I was having the same sort of gaze put on me."
McQueen also insists the movie isn't a departure from his previous work. Rather, it's a continuation, borne of a desire "to engage with a wider, broader public" and "to engage with the people you're making films about."
"I'm not lowering my political, intellectual engagement," he said, seemingly anticipating criticism. "I'm rising toward something, not lowering."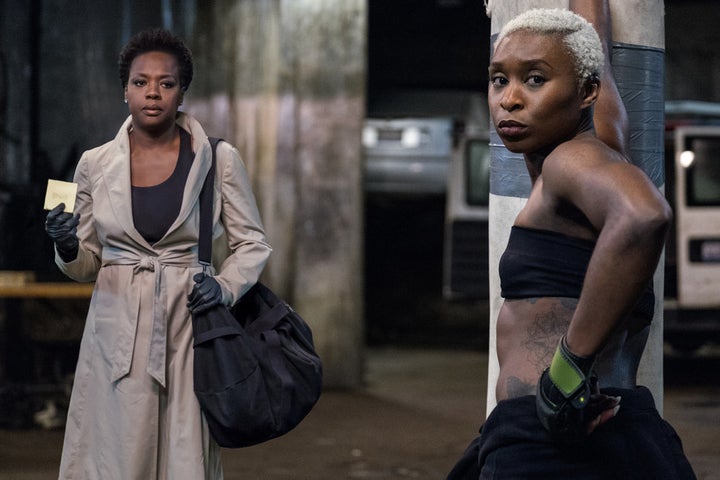 To be sure, the film does mark a new path for McQueen, who trades his arthouse vehicles for an action juggernaut starring Viola Davis, Michelle Rodriguez, Elizabeth Debicki and Cynthia Erivo. But "Widows" perfectly folds in McQueen's signature visual and auteur directing sensibilities, easily demonstrating that mainstream, commercial success and artistic elegance don't have to be mutually exclusive.
Awash in rich colors and somber light, mixing kinetic, edge-of-your-seat twists with scenes of quiet intensity and character close-ups, "Widows" continues the tradition of several stylish action thrillers that came before it.
These movies are highbrow meets lowbrow, bringing together a sense of grandeur and an acute attention to detail in order to elevate the standard car chases and explosions of conventional action movies. And like "Widows" ― which has much to say about race, class, gender and power in America ― they are often about more than just spectacle and escapism.
Here are seven other stylish action thrillers that might serve as cinematic companions to McQueen's latest:
This classic of the heist genre revolutionized Hollywood. Drawing heavily from the individuality and expressionism of the French New Wave, the film is notable for the quick cuts of its action sequences, juxtaposed with Warren Beatty and Faye Dunaway's languorous road-tripping as bank-robbing lovers on the run during the Depression. A rarity at the time, the jarring and unflinching violence of the film's famous ending — with bullets flying through the melee — helped usher in a new era of American filmmaking.
"Widows" takes a similarly economical approach to its scenes of action and bloodshed. Mostly occurring at the movie's climax, they are unsparing in their brutality — without being gratuitous.
Steven Soderbergh's caper, starring George Clooney as a serial bank robber and Jennifer Lopez as the U.S. marshal chasing him (and who becomes both his sparring partner and love interest), crackles with energy and oozes with sexiness. Clooney is marvelous in a role that marked his transition from "ER" star to box-office titan, and Lopez's terrific performance is still of the best of her career.
The key ingredient in the movie's overall slickness ― the seamless pacing and editing ― creates a breezy rhythm that the more incremental and methodical "Widows" doesn't quite pull off.
"Crouching Tiger, Hidden Dragon" (2000)  
Ang Lee's martial-arts epic hits so many high notes for an action thriller: the intricate choreography of its fight scenes, the sweeping cinematography, the bold and vibrant colors. Both a commercial and critical success as the highest-grossing foreign language movie ever in the U.S. and a major Oscar contender, "Crouching Tiger, Hidden Dragon," features several impressive set pieces.
But like "Widows," it also spends a lot of time building its narrative arcs and character relationships, chronicling the rise of young warrior Jen (Zhang Ziyi) and the fraught romance of seasoned warrior Yu Shu Lien (Michelle Yeoh) and master swordsman Li Mu Bai (Chow Yun-Fat). At various times, Jen battles each of them or her mentor Jade Fox (Cheng Pei-Pei), allowing the movie to balance craft with story by using the frenzied fight scenes to stand in for broader explorations of power and identity. 
"Drive" (2011)
Containing limited dialogue, much of this neo-noir starring Ryan Gosling as a taciturn stunt driver moonlighting as a getaway driver is a meditation on solitude. There are long scenes of near silence, punctuated by dizzying chase sequences, like in its jolting opening scene. 
The movie draws from a stylish visual palette, from its fluorescent colors to its '80s-inspired costumes, like Gosling's custom-made bomber jacket with a scorpion emblazoned on the back. The dim lights and looming shadows give the movie its moody ambience.
Similar to the way "Widows" makes its Chicago setting integral to the movie, "Drive" makes distinctive use of its locale. Gosling meanders through empty Los Angeles streets, past strip malls and urban sprawl, showing a different side of a glossy city usually drenched in sun.
"Mad Max: Fury Road" (2015)
A stylish reboot of its scrappier predecessors in the "Mad Max" series, director George Miller's latest depiction of a post-apocalyptic wasteland and the battles for scarce natural resources is a visual and aural feast. With head-spinning car chases set against rolling deserts, the movie's rich earth tones make every scene look practically like a painting. It's no surprise that "Mad Max: Fury Road" dominated the technical categories at that year's Oscars, winning awards for its production design, editing, sound mixing and sound editing, among others.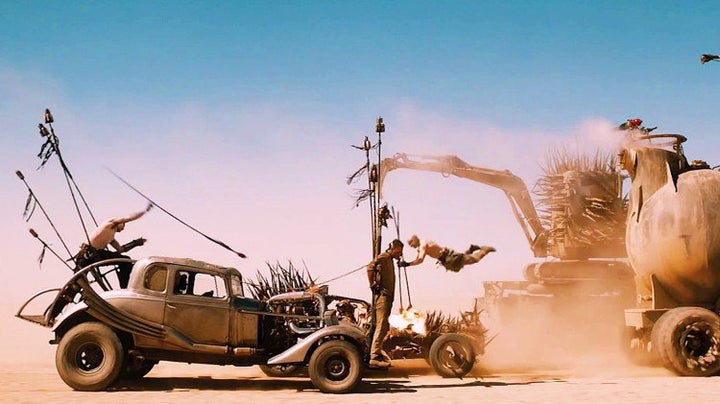 Like "Widows" and many of the other movies on this list, "Mad Max: Fury Road" doesn't shirk the substance, particularly by making Charlize Theron's Furiosa its unabashedly feminist heroine.
In "Atomic Blonde," Theron plays Lorraine Broughton, an MI-6 agent in 1980s Berlin tasked with beating the Soviets in a race to locate a top-secret British intelligence document. Her cool demeanor and stylish wardrobe, as well as the movie's neon lights and muted gray-and-blue color palette, elevate the movie beyond the typical spy thriller, despite its flawed plot.
Similar to some of the action scenes in "Widows," the movie's ass-kicking brawls are realistic, demonstrating the physical exertion and effort required of the actress. Instead of pretending that taking down your male enemies is a piece of cake, Theron-as-Broughton gets pummeled, visibly in pain while engaged in a seven-minute fight-and-shootout scene, spanning from stairwell, to apartment, to corridor and back again.
No list of stylish heist movies would be complete without the Ocean's franchise, particularly Steven Soderbergh's sleek 2001 remake of "Ocean's Eleven" and its two sequels. This summer's "Ocean's 8," produced by Soderbergh but directed by Gary Ross, turned the franchise on its head by featuring an all-female cast, led by Sandra Bullock and Cate Blanchett. By situating its central heist at the Met Gala, the film is a fun, splashy romp, with spectacular costumes and wry wit.
Unfortunately, "Ocean's 8" gets saddled with unwieldy exposition and not enough character development, depriving the audience of standout moments from its murderers' row of actresses who are criminally underutilized — save for an unexpectedly juicy turn from a never better Anne Hathaway. But like as with "Widows," it feels cathartic to watch a team of women conquer the world.
REAL LIFE. REAL NEWS. REAL VOICES.
Help us tell more of the stories that matter from voices that too often remain unheard.