Souvenir vendors around the world are capitalizing on the global excitement surrounding Barack Obama's inauguration by selling Obama memorabilia.
Reuters reports that a factory in Japan is creating Obama face masks that have been a huge hit.
The Ogawa Rubber Inc factory, north of Tokyo, said it had produced and sold more than 2,500 Obama face masks since December, and 1,000 more are being manufactured, making it their fastest selling product.

....

"I believe that unlike Japanese politicians' masks, Obama's mask radiates something that grabs people's hearts. I think many people do feel that energy," said executive director Takahiro Yagihara. The mask is sold for some 2,200 yen ($24) at toy and costume shops across Japan.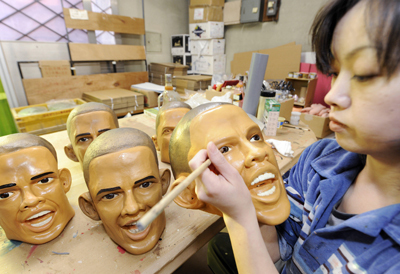 Japan's toy manufacturer Ogawa Rubber employee Yuka Nomura paints an eye on a rubber mask of US President elect Barack Obama at the company's factory in Saitama city, suburban Tokyo on January 7, 2009. Credit: AFP/Getty Images
Obama fans can also drink Kenya's Obama Beer, which BBC News reports was made by East African Breweries Limited (EABL).
Senator Keg beer, [is] known simply by drinkers as "Obama".

The beer became an instant hit when it was launched in 2004 at about the same time as Barack Obama was elected as senator of Illinois.
And in Russia, one can buy traditional nesting dolls painted with Obama's face on them.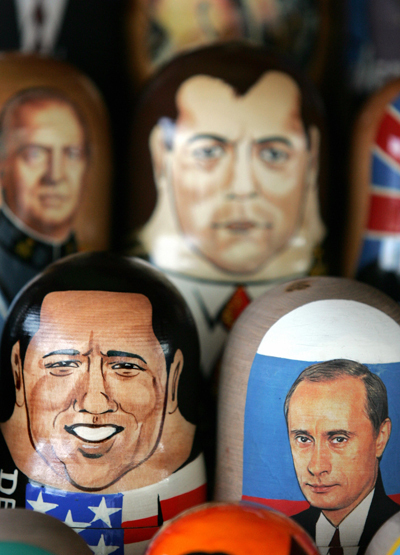 Traditional Russian wooden Matryoshka dolls with a picture of US Democratic presidential candidate Senator Barack Obama and Russian Prime Minister Vladimir Putin are displayed for sale in central Moscow on November 5, 2008. AFP/Getty Images
The Obama dolls are sold out at the RussianShop.com, but Bush dolls appear to be available.
Related
Popular in the Community