Melania Trump is the wife of GOP presidential nominee Donald Trump, mother of young Barron Trump, and our country's potential next first lady. But before all of that, Melania Trump was a model ― and during her modeling career she posed in several nude photos.
One of those photos, taken in 1995 when she was just 25 years old, is plastered across the Sunday cover of the New York Post.
The image, which features Mrs. Trump's bare breasts censored with stars, is accompanied by the charming headline: THE OGLE OFFICE.
Over the course of Donald Trump's campaign for the presidency, Melania Trump's past has consistently been used as ammunition against him, by liberals and conservatives alike. In March, a conservative anti-Trump Super PAC ran ads attempting to convince Mormons not to vote for him ― by trotting out nude photos Mrs. Trump took in 2000 for British GQ.
The ad featured an image of Mrs. Trump lying nude on a bed, and read, "Meet Melania Trump, your next first lady. Or, you could support Ted Cruz..."
But it's not just Republicans who are guilty of this kind of rhetoric. People who would describe themselves as liberal have also taken shots at Melania's modeling career. They've used her nude shots to dismiss her as a dumb trophy-wife, and to compare her to the "classy," current FLOTUS, Michelle Obama:
Misogyny is misogyny, and it manifests itself on both sides, as does the hypocrisy. In response to the Ted Cruz attack ad on his wife, Donald Trump tweeted an image meant to ridicule the appearance of Mrs. Cruz as compared to the seemingly more beautiful Mrs. Trump. And responding to the New York Post's sensationalized cover of Melania Trump this week, Trump advisor Jason Miller told CNN on Sunday: "There's nothing to be embarrassed about. She's a beautiful woman."
Why is Melania Trump being discussed by the media, by both liberal and conservative anti-Trumpers, and by her husband himself as if she is an object? Why is it that her former career and her looks are being used to attack her husband, when his politics, his blatant racism, and his dangerous, fear-mongering rhetoric should really be all the material one needs to call him out?
What this speaks to is how the first lady (or potential first lady) is still viewed as an extension of her husband, rather than as an individual in her own right. Even though first ladies throughout history have done amazing things while in the White House, the Jackie O effect persists: We remain more obsessed with their clothes and their hair, than their passions and their projects.
Defending Melania Trump from being slut-shamed and reduced to a "thing" rather than a person, doesn't mean having to defend Donald Trump if you disagree deeply with his message. He himself, after all, seems to be pushing her body and her beauty as a selling-point.
Ultimately, the nude photos are irrelevant. They tell nothing about Melania Trump's character or her ethics, and they certainly tell us nothing of Donald Trump's.
Related
Before You Go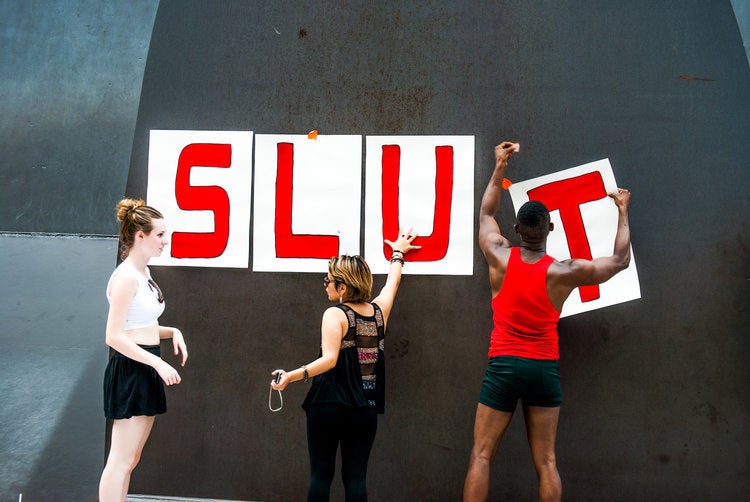 SlutWalk 2013 In Chicago
Popular in the Community