At the end of every calendar year, publications are filled with surveys of the past year's news and accomplishments, trends and surprises. And along with the reviews, there are often predictions of events or trends which might happen in the next 12 months.
So in that spirit, I want to review some of last year's events, particularly related to urban green issues, preview the administrations of new mayors in some of the nation's largest cities, and make my predictions for 2014. And I want to hear your ideas.
For the most used, perhaps overused, word in the green world last year, "sustainable" is a narrow winner over "resilient" and its close relative "resilience." These words left the world of the environment and urban design for the more general vocabulary and were used so often they have become devalued. Type the word "sustainable" in the Google search box and you come up with more than 62 million entries, primary among them a news report about McDonald's pursuit of "sustainable beef." If the source of the beef loses its life, is that sustainable?
"Resilience" gets a mere 9.3 million results, and one of the most highly-ranked is a link to www.resilience.org, a pretty terrific website that also contains a solid, brief definition of the word.
Looking back, several 'green' mayors of large cities left office left office after long and distinguished tenures which included significant accomplishments in making their cities more livable, especially though the revitalization of defunct waterfronts and the transformation of brownfields into spectacular new parks.
The honor list includes New York and Michael Bloomberg, whose expansion and improvement of the city's park system was the most remarkable since the great public works of the Franklin Roosevelt years, and whose administration made solid progress across the board in their ambitious "PlaNYC 2030" sustainable development agenda (including adding 800,000 new trees). Ditto for Thomas Menino, who made Boston a cleaner, greener and, economically vibrant city. Across the country, Antonio Villaraigosa left the Los Angeles mayor's office, leaving behind new efforts to revive the Los Angeles River, a nascent bike share system, and a big new green space, Grand Park (see page 90) in the center of the city.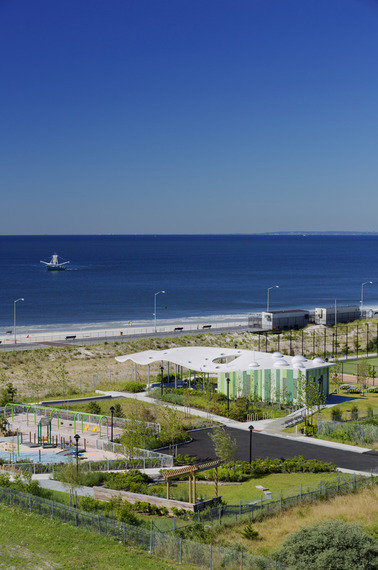 Far Rockaway Park, New York City, part of PlaNYC regional parks initiative. Image by Albert Vecerka/ESTO (original here)
Minneapolis Mayor R.T. Rybak also left office, only months after his city was honored as having the nation's best city park system, according to The Trust for Public Land's ParkScore index. Minneapolis was also selected as the nation's fittest city, with several major park projects about to get started. In New Jersey, Newark Mayor Cory Booker was elected to the U.S. Senate, leaving behind a suite of new parks and playgrounds, including the new Newark Riverfront Park, built in partnership with the Trust for Public Land and Essex County.
Also moving toward a conclusion to his tenure is Philadelphia Mayor Michael Nutter, who has presided over one of the nation's most ambitious plans to make a city "green." It includes a major commitment to utilize green infrastructure to clean the city's storm water runoff, by using existing parks and new green spaces to capture and clean storm water -- allowing it to infiltrate the ground rather than run into the sewer system, which can cause it to overflow.
So who will be the next "Green Mayor" of a major US city? There are several compelling candidates, including Chicago Mayor Rahm Emanuel. In 2012, he unveiled "Sustainable Chicago 2015" to make the city greener and more environmentally sustainable, with new parks and cleaner air and water. Last summer Emanuel broke ground for a major project to turn an abandoned elevated freight rail line into a linear park and greenway called "The 606", and Chicago's bike share system is now one of the largest in the nation.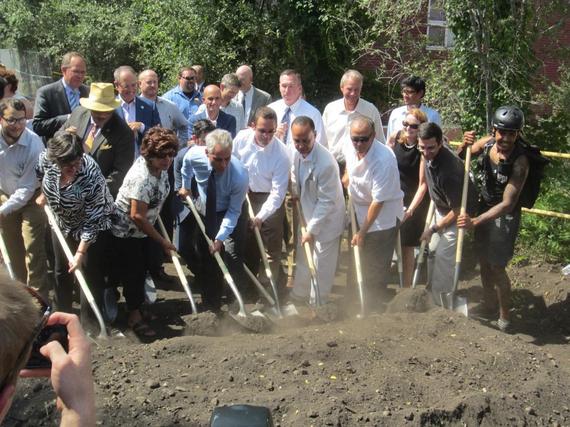 Chicago Mayor Rahm Emanuel leads groundbreaking for the 606 greenway project.
In San Francisco, Mayor Edwin Lee, and his and his creative parks general manager Phil Ginsburg are busy building parks and converting waterfront brownfields into major new developments with significant parks and open space amenities. Further south, in Los Angeles, new mayor Eric Garcetti has already announced ambitious goals with "some very specific metrics -- 20,000 green jobs and a program to do that by cleaning the water, by installing solar power, and by making buildings more energy efficient." Garcetti has also been named to President Obama's Task Force on Climate Preparedness and Resilience, along with 15 other mayors and eight governors.
Both Garcetti and Bill de Blasio, the new mayor of New York, need to appoint parks directors. De Blasio has yet to spell out his "green agenda," though he has pledged to banish horse-drawn carriages from Central Park, and during his campaign he endorsed an idea to take away and redistribute 20 percent of the charitable income from the more successful non-profit park conservancies.
Other new mayors to watch are Boston Mayor Marty Walsh, who reappointed environment and energy chief Kevin Swett and environment commissioner Nancy Girard. New Minneapolis Mayor Betsy Hodges, like de Blasio, has pledged to focus on trying to eliminate income inequality, particularly between white and black residents. In her inaugural speech, she called for continued development of mass transit and "green, walkable neighborhoods."
Aside from city halls, there are other urban green trends to keep an eye on. If 2013 was the "year of the bike share," will 2014 see continued growth in both the number of bikes and riders? Or will the novelty wear off and costs go up?
Green infrastructure will likely continue to be a major trend, as the 770+ cities with combined sewer systems (10 percent of which must comply with consent decrees by the Environmental Protection Agency to clean their water) find new ways to channel and mitigate storm water runoff, often by using renovated or new parks and green spaces. Finally, 2014 may be the "year of the urban greenway," as Chicago opens the first phase of The 606, and New Orleans, the greater Seattle area, Los Angeles and New York all explore plans to convert abandoned rail lines into linear parks and trails.
Let's hear from the readers about green urban accomplishments of last year, mayors I may not have mentioned, and trends that you see developing for green cities this year.