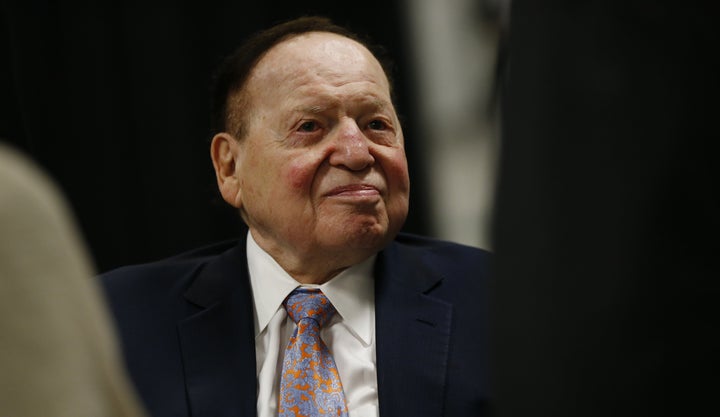 WASHINGTON ― Unprecedented spending by super PACs, dark money nonprofits and other outside groups is swamping Senate races as the battle to control the chamber that votes on Supreme Court nominees enters its final days.
Outside group spending has surged past $490 million with four days still to go, surpassing the $400 million dropped on Senate races in 2014. The huge sums have overwhelmed candidates' efforts, leaving them practically bit players in their own campaigns.
In the seven races expected to decide control of the Senate, outside groups have already poured in more money than the candidates, according to a report by the campaign finance reform group Democracy 21. The key contests are being run in Florida, Indiana, Missouri, Nevada, New Hampshire, North Carolina and Pennsylvania.
This is the new normal for campaigns in the post-Citizens United world. In 2010, the Supreme Court opened the door to unlimited electoral spending by corporations and unions so long as they remain ostensibly independent from the candidates they support. A subsequent lower-court ruling extended this decision to individuals, and afterward super PACs were created to serve as vehicles for these unlimited contributions.
A system of barely independent unlimited-money groups soon emerged to process giant contributions from billionaires, corporations and unions aiming to influence elections. In this electoral cycle, the biggest actors in the Senate races are two super PACs directly connected to party leaders.
Outside Group Spending On Senate Races (2010-2016)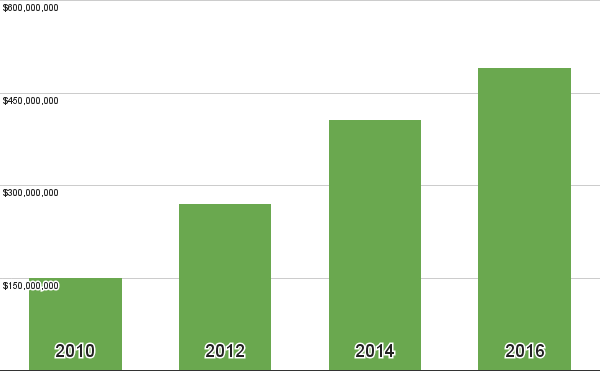 Senate Majority PAC is a Democratic entity that was formed by close aides to Senate Minority Leader Harry Reid (D-Nev.) in 2010. It is slowly being taken over by former aides to Sen. Chuck Schumer (D-N.Y.), who is expected to replace the retiring Reid as the next Democratic leader. The super PAC is the fourth most active outside group, having spent more than $74 million on the 2016 races.
The Senate Leadership Fund, recently founded by former aides to Senate Majority Leader Mitch McConnell (R-Ky.), is even busier. It's run by Steven Law, who also heads the Karl Rove-founded super PAC American Crossroads and the affiliated nonprofit Crossroads GPS. The Senate Leadership Fund is the third highest spending super PAC in 2016, with $85 million already pumped into the effort to save the Republican majority. (Its nonprofit arm, One Nation, dropped additional tens of millions of dollars on issue ads attacking Democratic Senate candidates from 2015 into the spring of 2016. That spending is not included in the totals mentioned here.)
The two opposing Senate super PACs rely on massive donations from a small pool of mega-donors. So far, donors giving more than $500,000 to super PACs in the 2016 election have combined to contribute over $1 billion. That's a record that will only increase when final donation totals are revealed after the election.
The biggest donor paying to elect Senate Republicans is casino oligarch Sheldon Adelson. The billionaire and his wife Miriam have donated at least $20 million to the Senate Leadership Fund; $1.5 million to Granite State Solutions, a super PAC that only supports Sen. Kelly Ayotte (R-N.H.); and $1.2 million to Arizona Grassroots Action, a super PAC that only supports Sen. John McCain (R-Ariz.). Adelson backs Israel's current right-wing government, opposes the Iran nuclear deal and has casually mused about using nuclear weapons as a means of applying pressure on Iran. He is also a major proponent of banning online gambling, which would presumably help his business's bottom line. Republicans in both the House and Senate have introduced exactly the legislation against online gambling that he would like.
There are other major donors who have their own issues before Congress.
Hedge fund billionaire Paul Singer has given $4 million to the Senate Leadership Fund. He has also pumped money into the parade of super PACs supporting individual candidates. These donations include $750,000 to the Fighting for Ohio Fund, which backs Sen. Rob Portman (R-Ohio); $400,000 to Independent Voice for Illinois, which supports Sen. Mark Kirk (R-Ill.); and $350,000 to Arizona Grassroots Action for McCain.
In May, Singer and a handful of his fellow billionaires launched a new lobbying group called CIRCA to further entrench their power in the nation's capital. The group is designed to fight on behalf of wealthy activist investors like Singer, Carl Icahn, Dan Loeb and Bill Ackman.
McConnell's super PAC has also received large contributions from fossil fuel energy corporations fighting to roll back environmental regulations and forestall any new effort to tackle the threat of climate change. Chevron, the oil and gas giant that ranks 14th on the Fortune 500, donated $2 million. Coal company Devon Energy gave $750,000, electric utility company NextEra Energy gave $750,000 and fracking giant Continental Resources gave $250,000. All have lobbyists working to influence Congress as well.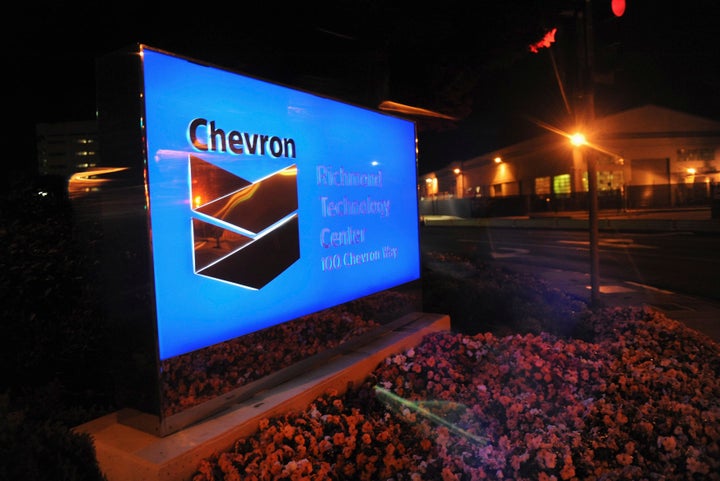 Zuffa LLC, the parent company of Ultimate Fighting Championship, is another donor with lobbying interests. Zuffa donated $500,000 to the Senate Leadership Fund, while owners Frank and Lorenzo Fertitta gave $250,000 each. Another $500,000 came from the Fertitta brothers' company Station Casinos. Zuffa is currently lobbying against extending to individual mixed martial arts competitors certain protections that Congress gave to boxers in 2000.
The largest donation to the Senate Leadership Fund was $11 million from its sister nonprofit, One Nation. That's the single biggest contribution ever from a dark money group to a super PAC. The ultimate source of the money, the entity that gave it to One Nation, remains undisclosed.
On the smaller end of contributions, the tobacco company Altria donated $75,000 to the Senate Leadership Fund ― even as it has worked with lawmakers to pass legislation exempting e-cigarettes from Food and Drug Administration oversight.
Senate Republicans have also been boosted by Freedom Partners Action Fund, a super PAC run by the billionaire brothers Charles and David Koch. Charles Koch is the top donor to Freedom Partners Action Fund at $6 million.
The biggest donor to the Democrats' Senate Majority PAC is NewsWeb Corporation chairman Fred Eychaner, who has given $11 million so far. He's a big supporter of the LGBTQ community.
Other mega-donors to the Democratic group include some familiar names. James Simons, a New York-based hedge fund billionaire, gave $5 million. Billionaire and GOP bête noire George Soros pitched in $1.5 million, while his son Alexander Soros gave $2.25 million. Thomas Murphy, the father of Florida Senate candidate Patrick Murphy (D), gave $2 million. Laurene Powell Jobs, the widow of Apple CEO Steve Jobs and a major proponent of charter schools, donated $1.5 million. And perhaps the largest collective contribution from a group with a Washington agenda is the $17.9 million given by labor unions to Senate Majority PAC.
Like its Republican counterpart, the Democratic group has also received contributions from corporations with interests in Washington. There was $175,000 from U.S. Sugar Corporation and $100,000 from Florida Crystals Company, both of which lobby to maintain their government subsidies and fight back against negative stories about the health effects of sugar. There was also $150,000 from the food and beverage company Delaware North, which lobbies on tax issues. The Entertainment Software Association, the lobbying arm of the video game industry, donated $100,000 to endorse a hang-out space at the Democratic National Convention.
For the most part, Democratic Senate candidates have centralized their super PAC funding through Senate Majority PAC. But Republican candidates also boast their own personal super PACs, often run by their former aides.
The pro-Ayotte Granite State Solutions is the only one of these groups to receive most of its money ― $19.6 million ― from the Senate Leadership Fund. The others rely on their own sets of donors.
The second best-financed personal super PAC among Senate Republicans is the pro-Portman Fighting for Ohio Fund. But its largest donor is shrouded in mystery.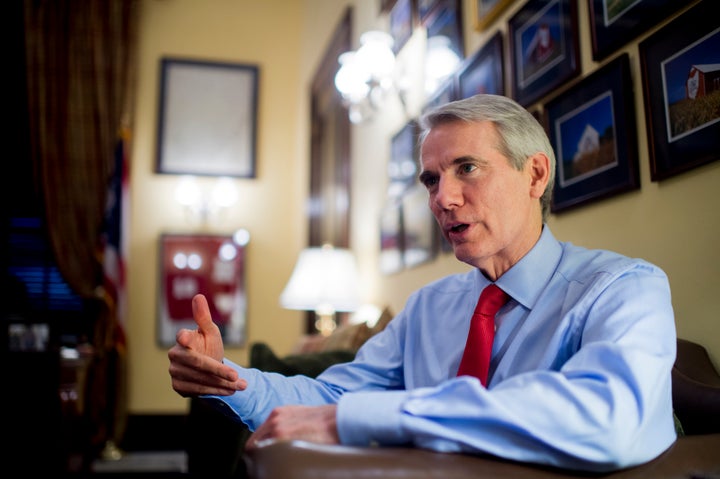 One dark money group, FreedomVote Inc., has given the Portman super PAC nearly $2 million. Other dark money donations include $135,000 from Citizens for a Working America, $90,000 from The Government Integrity Fund, $75,000 from the American Policy Coalition, and $80,000 from Americans United for Values, a super PAC funded entirely by the American Policy Coalition.
All of these dark money groups are connected to the same Ohio-based consultant: David Langdon. The secretive Langdon was described in Politico as a rock-ribbed social conservative. His groups have also given $175,000 to the pro-McCain Arizona Grassroots Action.
Another major supporter of the Portman super PAC is controversial venture capitalist Peter Thiel. The Donald Trump supporter gave $1 million.
In Wisconsin, Sen. Ron Johnson (R) is backed by two super PACs, Reform America Fund and Let America Work. The top donor to Reform America Fund is Diane Hendricks, the richest person in the state, who gave $5.4 million. She is also a staunch supporter of Gov. Scott Walker (R), who advocates the traditional conservative agenda of lower taxation, less regulation and no more collective bargaining rights for unions.
Reform America Fund received another $100,000 from tobacco giant Reynolds American. Like Altria, Reynolds has lobbied Congress to pass legislation ensuring that e-cigarettes avoid regulation. The North Carolina-based company has also contributed $100,000 to Grow NC Strong, a super PAC supporting Sen. Richard Burr (R-N.C.).
Prosperity for Pennsylvania is the super PAC supporting Sen. Pat Toomey (R-Pa.) in his challenging bid for re-election. The coal companies Murray Energy and Consol Energy, both with hired lobbyists in Washington, have given $110,000 and $100,000, respectively, to the group.
There is currently only one super PAC backing a single Democratic Senate candidate. Floridians for a Strong Middle Class supports Patrick Murphy. Its top donors are his father with $450,000 and his father's company, Coastal Construction, with $300,000.
HUFFPOST READERS: What's happening in your state or district? The Huffington Post wants to know about all the campaign ads, mailers, robocalls, candidate appearances and other interesting campaign news happening by you. Email any tips, videos, audio files or photos to scoops@huffingtonpost.com.
Popular in the Community