Welcome to New Orleans, 5,000 reporters, bloggers, Instagrammers, Pinteresters, Facebookers and Tweeters here to cover Super Bowl 47. Our streetcar lines are expanded, convention center renovated and rooms are entirely booked. Assuming you get here Monday, here are some tips for a week's worth of NOLA: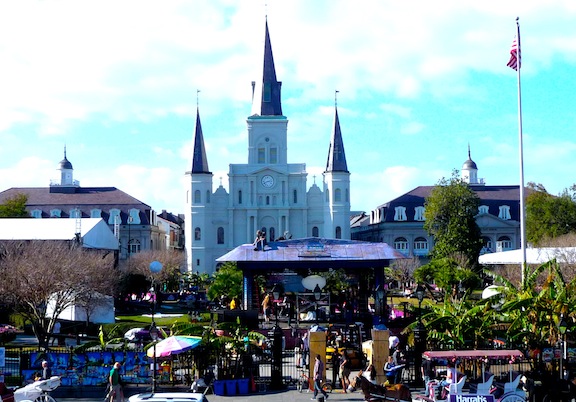 Four new hotels you'd be lucky to book are the W French Quarter, Hotel Mazarin, Hyatt Regency and The Saint. Hopefully your news outlet booked early so you don't end up out on Airline Drive with fallen televangelists. With room secured, take in the Big Easy along with thousands of Baltimore Ravens and San Francisco 49ers fans. Mayor Mitch Landrieu has vowed that every orange construction cone will be off the street by Monday, pointing out that the state of New Orleans is notable "for a city that seven years ago was 15 feet under water." Super Bowl-related renovations are everywhere, including boosted phone signals according to the larger carriers. Towers have been added so you won't need a microcell booster to Tweet #sb47 from within the Mercedes Benz Superdome
Over at CBS Super Bowl Park at Jackson Square, formerly known as Jackson Square, CBS has signage in place for visiting hosts of The Talk, The Late Show and the Late Late Show. WDSU reports that the NFL's Clean Zone sign restrictions are limited to the Mercedes Benz Superdome area and no longer affect the French Quarter and Central Business District.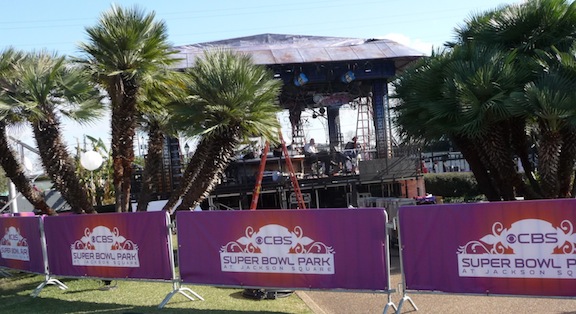 Tuesday: Media Day
It's Media Day, as indicated by the 47-foot po-boy in the Media Center. If you're Perez Hilton, and someone has to be, the city will be riddled with celebrity sightings. In the Hollywood of the South it's hard not to make a loop without seeing stars. We've run into the Jolie - Pitt family noshing at Verti Marte and I don't know what a sandwich photo is worth, but with all the photographers huddled outside the deli there's clearly a market for it.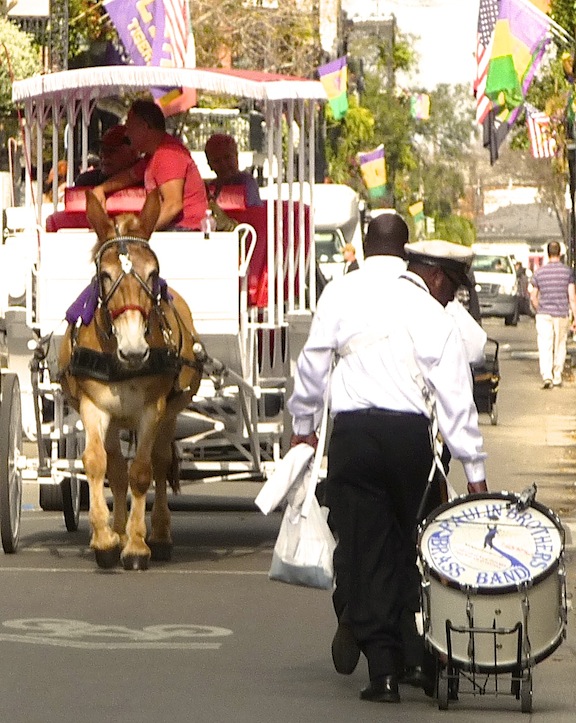 Speaking of sandwiches, Adam Richman has been in town all week shooting a Tailgate Takeover to air Wednesday on the Travel Channel. Adam's another regular likely to have a French Quarter pied-à-terre sooner or later. Once here, celebrities tend to flee when an influx arrives. As Midwestern transplant Tennessee Williams was known to complain: "Too many goddamn tourists." To see tourists up close, this is as good a day as any to check out Bourbon Street. Bringing a full-body sized container of hand sanitizer couldn't hurt. If, despite your best efforts, if you find yourself with a party rash stop by the New Orleans Pharmacy Museum. They don't sell ointments but it will give them a good laugh.
For a mental cleanse, buy some heavy reading at Faulkner House Books and take it for a spin in one of Tennessee's favorite haunts, Hotel Monteleone's Carousel Bar. Visit Congo Square then walk cross the street for photos of legendary recording engineer Cosimo Matassa in his former studio, now a laundromat. Another way to pay homage is to tip the hell out of New Orleans musicians including the Paulin Brothers (pictured above). Visit Palm Court where the 101 year old Lionel Ferbos still gigs on occasion. The philanthropically inclined can check out the Musicians Village, former home of the late, great Bob French. You could be lucky enough to run into Musicians Village resident Smokey Johnson, godfather of the second line beat, holding court. And back to sports, the NFL Experience kicks off at Ernest N. Morial Convention Center.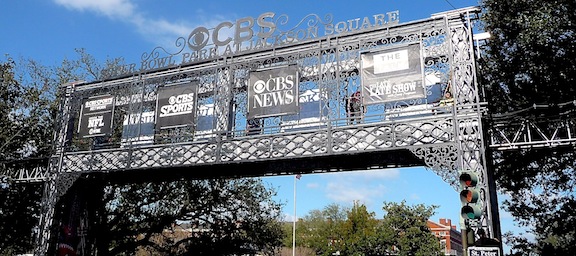 The Home Stretch: Some of the following events are invitation only with media registration still being accepted. Others, like the riverfront concert series, are free.
Thursday: The Big Easy Super Lounge with Willie Roaf at the US Mint; Woldenberg Park concert series kickoff; Madden Bowl with Lil Wayne at Bud Light Hotel; Micah McKee and Little Maker CD Release at the Blue Nile.

Friday: Super Bowl Breakfast at The Hyatt Regency honoring Jason Witten of the Dallas Cowboys; Pitbull and Flo Rida at the Rolling Stone LIVE party at the Bud Light Hotel; Drew Brees Hurricane Sandy benefit at the House of Blues with Nelly and Swizz Beatz; VH1 Best Super Bowl Party Ever featuring Train at the Sugar Mill; Ice Cube and Rebirth Coors Light Party at Howlin Wolf; Playboy Party at Jax Brewery; Jenny McCarthy and Cirque de Soleil at Leather and Laces in the Superdome; ESPN's Next Big Weekend Party at Tad Gormley Stadium.

Saturday: Justin Timberlake and Questlove at Mark Cuban DirectTV Beach Vollyball benefit for Shriner's Hospital at Mardi Gras World; Lil Wayne at GQ Party The Elms Mansion; Stevie Wonder at the Bud Light Hotel bash; Brooklyn Decker hosting Leather and Laces in the Superdome; Miss America Mallory Hagan at Taste of the NFL benefit for national food banks at the Ernest N. Morial Convention Center.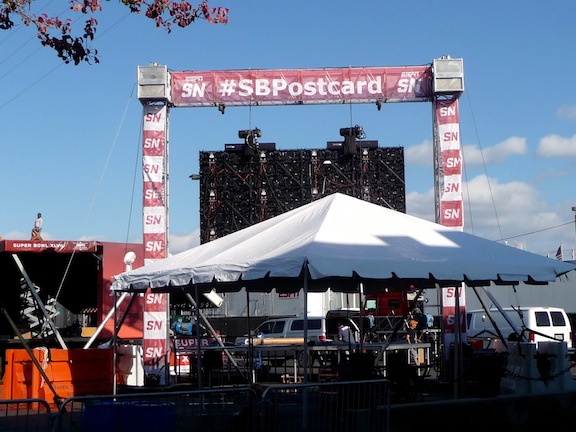 Super Bowl Sunday:
You made it.
Popular in the Community