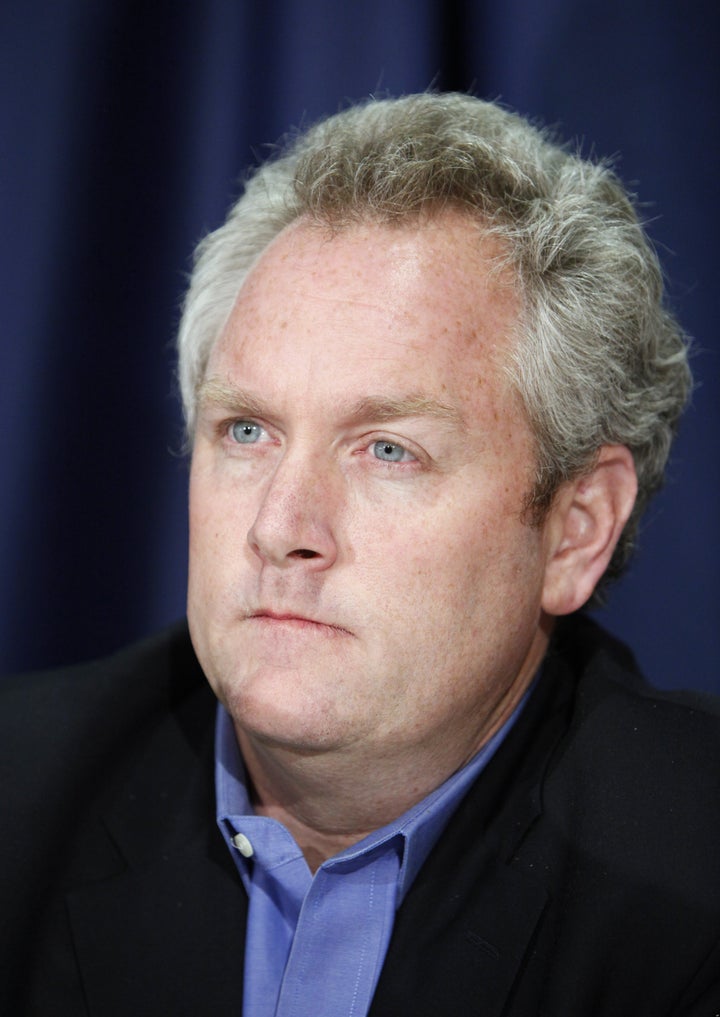 **UPDATE 10/30/10*** Greg Sargent reports that ABC's newsroom is upset over the network's decision to tap Andrew Breitbart for election-night analysis:
It looks like lefty bloggers aren't the only ones irked by ABC News's decision to tap Andrew Breitbart for election-night analysis: People in ABC's newsroom were also caught completely off guard by the news, a newsroom source tells me.

"This blindsided a good portion of the team here," the source emails. "And not in a good way."
Andrew Morse, executive producer of ABC News digital, released a statement defending the move:
Since conservative commentator Andrew Breitbart announced on his website that he was going to be a participant in ABC's Town Hall meeting at Arizona State University, there has been considerable consternation and misinformation regarding my decision to ask him to participate in an election night Town Hall event on ABC News Digital. I want to explain what Mr. Breitbart's role has always been -- as one of our guests at our digital town hall event:


Mr. Breitbart is not an ABC News analyst.
He is not an ABC News consultant.
He is not, in any way, affiliated with ABC News.
He is not being paid by ABC News.
He has not been asked to analyze the results of the election for ABC News.

Mr. Breitbart will not be a part of the ABC News broadcast coverage, anchored by Diane Sawyer and George Stephanopoulos. For the broadcast coverage, David Muir and Facebook's Randi Zuckerberg will contribute reaction and response gathered from the students and faculty of Arizona State University at an ABC News/Facebook town hall.

He has been invited as one of several guests, from a variety of different political persuasions, to engage with a live, studio audience that will be closely following the election results and participating in an online-only discussion and debate to be moderated by David Muir and Facebook's Randi Zuckerberg on ABCNews.com and Facebook. We will have other guests, as well as a live studio audience and a large audience on ABCNews.com and Facebook, who can question the guests' and the audience's opinions.
Media Matters confirms that ABC News has recruited Andrew Breitbart, the conservative blogger whose out-of-context video footage of Shirley Sherrod got the Agriculture Department official fired back in July, to provide commentary for the network's election-night newscast.
The news was first reported by Breitbart's own website, BigJournalism, whose editor Dana Loesch is on tap to provide live analysis in the ABC News studio on Election Night. Breitbart is slated appear live from a town hall meeting anchored by ABC's David Muir and Facebook consumer marketing head Randi Zuckerberg.
ABC News spokesman David Ford told Media Matters -- which, in the wake of Sherrod's firing, unveiled a video entitled "The End of Andrew Breitbart's Credibility", and which maintains detailed files on him -- that Breitbart will not have license to lie during the broadcast. "He will be one of many voices on our air, including Bill Adair of Politifact," Ford said. "If Andrew Breitbart says something that is incorrect, we have other voices to call him on it."
For his part, Breitbart seems to be enjoying the backlash that has quickly followed the news; writing on Twitter, he's taking on all comers. A typical Tweet: "You mean Left going to boycott ABC because I'm on election night panel? Proving my main point: Leftists are PC totalitarians. #juanwilliams"
Earlier, in response to Media Matters editor Eric Boehlert decrying his hiring by ABC, Breitbart challenged Boehlert and his "PC smear mill" to debate him. "If @mmfa is so convinced of my 'lies', I will publicly debate these cowards on each & every one," Breitbart wrote. "Anytime, anywhere."
Related
Popular in the Community