Supporters of Michigan Democratic gubernatorial candidate Abdul El-Sayed are attacking reports questioning his eligibility to run as the work of racially motivated party insiders threatened by his progressive politics.
The uproar exposes deep-seated suspicions between warring Democratic Party factions, and threatens to turn Michigan's gubernatorial primary into an internecine battleground of the kind party leaders hope to avoid in November.
"It is pretty obvious to me that this is a racist attack masquerading as a legal concern," said Betsey Coffia, a Traverse City-based progressive activist, said of a magazine article that raises legal questions about El-Sayed's eligibility to be a candidate.
"Nobody can come out and say something blatantly racist, but I do think there is underlying racism and xenophobia with this kind of attack," said Kelly Collison, chair of the Michigan Democratic Party's progressive caucus.
The controversy burst into the open with an article that appeared Wednesday on the website of Michigan's Bridge magazine: "Abdul El-Sayed's stint in NYC may derail bid for Michigan governor." It cited an obscure state law requiring any candidate for state office to be a "registered elector," or voter, in the state for the four years preceding a run for office.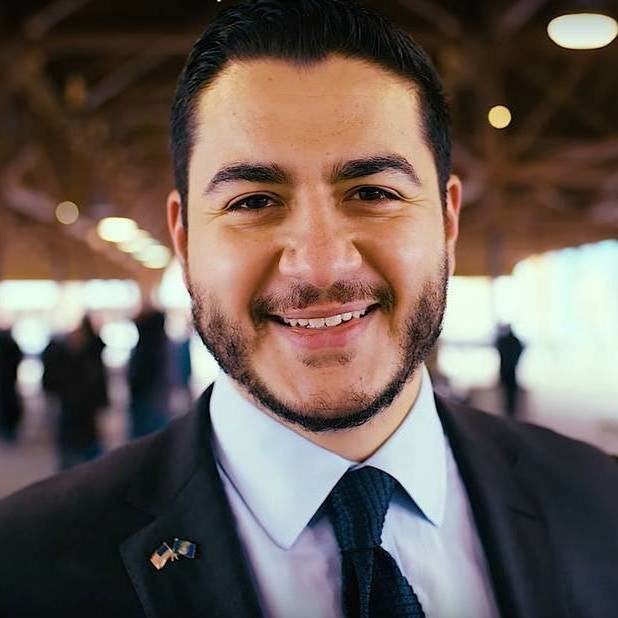 El-Sayed, a 33-year-old physician who led Detroit's Health Department from 2015 to 2017, has maintained continuous voter registration in Michigan, where he was born and raised, since 2003.
But Bridge noted that when El-Sayed went to medical school in New York City in 2012, he registered to vote in New York. El-Sayed's New York registration from 2013 to 2015 made him ineligible to vote in Michigan during that time, according to five out of six anonymous lawyers Bridge said it consulted.
Those attorneys told the magazine El-Sayed's opponents would have strong grounds for a legal challenge to his eligibility to appear on the ballot.
"There will be a court case, guaranteed," an anonymous Democratic official assured Bridge. "The only question is who is going to step up to take him out." Another nameless Democrat warned of a "nightmare scenario" in which El-Sayed prevails in the primary only to have Republicans successfully challenge his status on the ballot in the general election.
The Bridge article also implied that El-Sayed was dishonest when he claimed he tried to vote for Sen. Bernie Sanders (I-Vt.) during the March 2016 Michigan primary, where Sanders upset Hillary Clinton, but the lines at his polling place in Detroit were too long. El-Sayed was actually registered to vote elsewhere in the state at the time, and only registered in Detroit weeks after the primary, Bridge reported.
El-Sayed remained officially registered to vote in Michigan throughout this period, according to the magazine. A spokesman for the Michigan Department of State told Bridge that given the cancellation of his Michigan driver's license, El-Sayed would have been asked to verify his Michigan address if he had tried to vote during this period. He would not, however, have been categorically forbidden from voting.
El-Sayed has owned an apartment in Ann Arbor since 2008, allowing him to claim continuous residency in Michigan.
It's illegal to vote in more than one place ― which no one is alleging that El-Sayed did. But Americans are legally permitted to register to vote in more than one state. It's a question that legal scholars weighed in on extensively in January 2017, when President Donald Trump pointed to multiple-state registration as evidence of widespread voter fraud.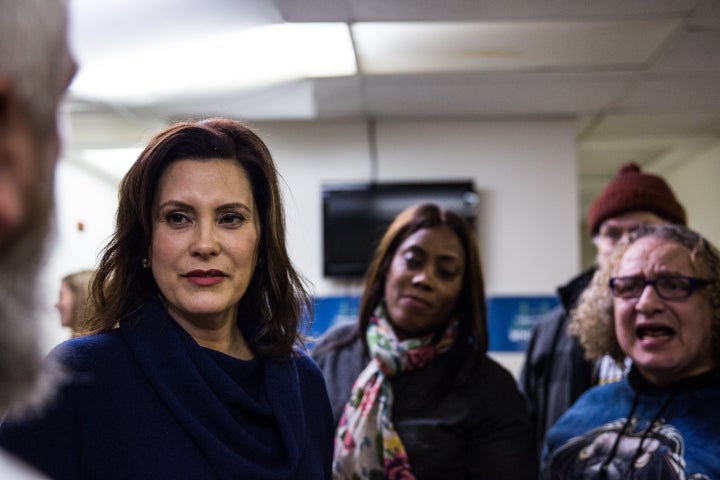 El-Sayed's campaign responded with outrage at the notion that he would be ineligible to run in Michigan.
"We have looked at this question closely and are confident Abdul El-Sayed is qualified to run for Governor of Michigan," Robert Lenhard, an attorney representing the campaign who previously served as chair of the Federal Election Commission, said Wednesday in a statement.
"Michigan law has never held that absences from the state for school or work cause you to lose your residence," Lenhard added. "This issue is just a red herring."
In a private video message to supporters, El-Sayed also addressed his attempts to vote for Sanders. Standing in front of the Detroit church where he tried to vote, El-Sayed explained that he was told twice that there would be at least a 90-minute wait to cast his ballot. El-Sayed said his duties as health director didn't allow such a time commitment.
That he apparently was still registered to vote in Ann Arbor would not have precluded him from using a provisional ballot to vote in Detroit, El-Sayed noted.
To hear El-Sayed's campaign and his backers tell it, establishment Democrats are pushing a whisper campaign about El-Sayed's eligibility out of a combination of genuine prejudice; fear that El-Sayed's Muslim and Arab heritage would hurt him against a Republican in November; and contempt for El-Sayed's left-leaning policy positions and maverick campaign style.
"The nightmare scenario here is that the strongest candidate ― with real progressive values and new ideas ― gets kneecapped by a racist, insider smear campaign, only to have the insiders' pick lose in the general election," Adam Joseph, communications director for El-Sayed's campaign, said in a statement that inverted the "nightmare scenario" imagined by an anonymous Democrat in the Bridge article.
Upstart progressive candidates often struggle to gain traction against well-funded establishment contenders. An investigation in The Intercept last week documented an elaborate system Democratic elites use to promote congressional candidates they see as more "electable" in party primaries ― even when those candidates have losing records ― and undermine others.
The El-Sayed campaign and its boosters compare the questions about El-Sayed's eligibility to President Donald Trump's "birther" campaign questioning whether President Barack Obama was born in the United States.
"Just like racists attacked President Obama years ago, when many questioned whether he was 'born in the United States' and compelled him to produce a birth certificate, the current attacks on El-Sayed's eligibility are driven by hate," Khaled Beydoun, a law professor at the University of Detroit Mercy, wrote on Facebook.
Another El-Sayed backer argued that a more apt analogy might be the way Hillary Clinton's 2008 presidential campaign subtlely insinuated that the country was not ready for someone as "foreign" as Obama.
"For a lot of us who paid attention to the 2008 presidential race, these sort of attacks feel treacherously familiar," said a senior aide to a progressive member of Congress, who spoke on condition of anonymity. "When there was too much steam gathering behind the candidate that the anointed establishment favorite didn't like, the chosen tactic wasn't to fight back and argue it on the merits, the chosen tactic was to malign Obama with some vile racist smears."
They must feel pretty threatened. Why else would they go on the attack and dog-whistle that this son of Michigan doesn't belong?

Betsey Coffia
Coffia, the Traverse City activist, considered the timing of the eligibility questions ― so many months after El-Sayed entered the race ― a testament to his success as a candidate.
"They must feel pretty threatened," she said. "Why else would they go on the attack and dog-whistle that this son of Michigan doesn't belong?"
But some Democratic voters take umbrage at El-Sayed and his allies comparing the ballot eligibility questions to the birther crusade.
Obama's birthplace was never legitimately in question, whereas critics say there are real issues with El-Sayed's eligibility. And they note that former state treasurer Robert Bowman abandoned his 2010 gubernatorial bid amid questions about his residency. 
Steve Hood, a black Democratic political consultant and talk show host based in Detroit, called any analogy to birtherism "way out of line, because nobody is being racist." 
Gary Ringer, a black firefighter and community activist in Detroit, said the retort represented a lack of "accountability."
"Everybody wants to bring up Obama and other things that aren't relevant," he said.
Neither Hood nor Ringer said they had been seriously considering voting for El-Sayed prior to the controversy. 
For Democrats, the stakes are high in Michigan, a one-time Democratic stronghold that narrowly went for Trump in the 2016 election. Now, with two-term GOP Gov. Rick Snyder leaving office and many observers predicting a blue wave in the midterm elections, Democrats are working to claw back a toehold in the state.
Although public polling is sparse in the Democratic gubernatorial primary, Gretchen Whitmer, 46, a former Democratic state Senate leader, is widely viewed as the front runner. Whitmer's mainstream progressive campaign, which has emphasized bread-and-butter issues like promoting the skilled trades and raising the minimum wage to $15, has drawn the backing of the pro-choice group EMILY's List, influential labor unions and former Gov. Jim Blanchard (D). She has raised over $3 million.
El-Sayed, who won acclaim as Detroit health director for pioneering a program that provided low-income city schoolchildren with eyeglasses, has embraced state-level single-payer health insurance.
El-Sayed's strongest support has come from backers of Sanders' presidential campaign and like-minded voters. His detailed plan to revive Michigan's struggling cities by curbing speculation and protecting homeowners from excessive property tax assessments attracted favorable coverage in the pages of the Nation. He has raised over $1.9 million.
Whitmer also was subject to a report in Bridge featuring anonymous quotes from longtime Democratic fixers complaining about her general election viability, and urging other candidates to enter the race. The grumbling prompted charges of sexism.
Asked to respond to questions about El-Sayed's eligibility, Whitmer campaign communications director Annie Ellison said in a statement: "Whitmer is not focused on chatter about who is or is not getting into the race and frankly there has been way too much distraction from how we fix our roads, grow our economy, and protect health care for Michigan families.
"Anything that distracts from how we solve problems and put people first in this state is not something she's paying attention to," Ellison added.
In a follow-up question, HuffPost asked whether Whitmer's campaign would rule out challenging El-Sayed's eligibility ahead of the April 24 ballot deadline. 
"We take Dr. El-Sayed at his word and the campaign will not be challenging anyone's eligibility," Ellison said.
However, in response to rising chatter about the controversy, Michigan Democratic Party chairman Brand Dillon on Thursday released a statement acknowledging the legitimacy of the questions about El-Sayed's eligibility and asking that he "take appropriate legal action, including asking the courts for a ruling on his eligibility as soon as possible."
"Regrettably, we feel this is the only way to put this matter to rest quickly and without ambiguity," Dillon said. "We hope the court would handle this request swiftly and diligently so all of our great candidates, including Dr. El-Sayed, can put this issue behind them and focus on the issues that really matter to the people of Michigan."
HuffPost pressed Dillon to explain why the state Democratic Party would cite the comments of attorneys quoted anonymously in Bridge rather than conduct its own analysis.
He argued that a legal analysis commissioned by the state Democratic Party would still elicit skepticism that the party is playing favorites, especially if it affirmed the idea that El-Sayed's eligibility is in doubt.
"That would only deepen cynicism that we were trying to suggest that we thought he shouldn't be [on the ballot]," Dillon said.
Michigan's partisan primaries are due to take place on Aug. 7.
This article has been updated with additional comment from Ellison, as well as with comments from Dillon, Hood and Ringer. 
Calling all HuffPost superfans!
Sign up for membership to become a founding member and help shape HuffPost's next chapter
BEFORE YOU GO
PHOTO GALLERY
U.S. State Capitol Buildings