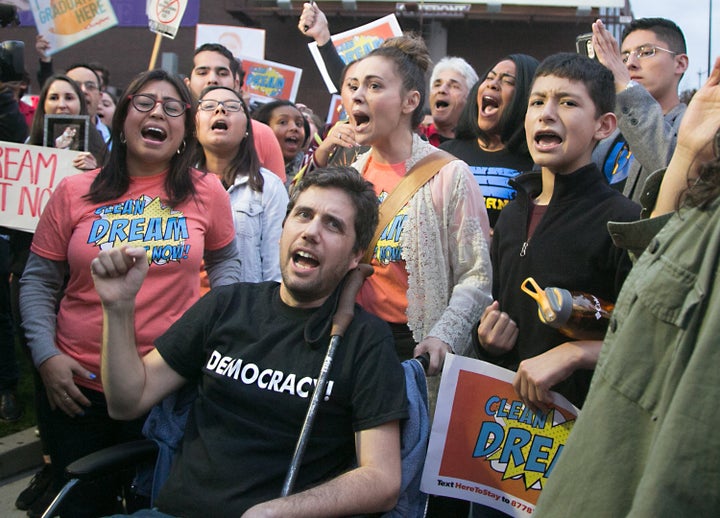 The California-based insurance company HealthNet agreed to cover a breathing assistance machine for Ady Barkan, a 34-year-old progressive activist afflicted with ALS, after his complaints about the company went viral on Twitter.
The company had initially refused to cover the costs of the machine on the grounds that it was "experimental," according to Barkan.
"I'm looking forward to hopefully sleeping better at night and breathing better at night. But I think it's outrageous that I needed to complain publicly," Barkan told HuffPost.
HealthNet did not immediately respond to a HuffPost request for comment on Barkan's version of events.
Barkan's successful efforts to pressure the company also epitomize his commitment to using his personal struggles to draw attention to larger policy problems ― in this case, flaws in private health insurance. He expressed hope that his ordeal would shed light on the difficulties facing other Americans without the benefit of his platform.
"I'm confident [HealthNet] would not have moved so quickly if I did not have a big Twitter following," he said. "I know millions of people are denied necessary care every year even though they are entitled to it. That's a pretty unjust way to run a health care system."
Barkan, a leader of the grassroots activism group Center for Popular Democracy, was diagnosed in October 2016 with ALS, or Lou Gehrig's disease ― a terminal illness with no known cure that slowly paralyzes its victims.
Barkan's doctor recently recommended he get a Trilogy breathing assistance machine to relieve ALS-driven difficulties he has developed while lying flat on his bed.
But HealthNet, Barkan's insurer, refused to cover the device, Barkan wrote in a Tuesday tweet that was retweeted over 11,000 times as of Wednesday afternoon.
If HealthNet had refused to cover the machine, it would have put Barkan on the hook for out-of-pocket costs potentially in the thousands of dollars to obtain one.
In subsequent tweets, Barkan argued that his difficulty obtaining coverage for the machine spoke to problems with the United States' private, for-profit insurance system.
"Instead of focusing on providing quality care, our system prioritizes shifting costs and maximizing profits," he wrote.
A day later, HealthNet contacted Barkan to inform him that they would cover the device, he said.
Barkan, who lives in Santa Barbara, California, gained national attention for his prominent role in December protests against the Republican tax cut bill. In repeated visits to Capitol Hill, some of which earned him arrests for acts of civil disobedience, he framed the bill as a verdict on his own life. He cited the potentially deadly harm that cuts to Medicare it was likely to set in motion would cause him ― and millions of other Americans.
A chance encounter with Sen. Jeff Flake (R-Ariz.) during a plane ride back to California made him a viral sensation. Along with other activists, he later met with Sen. Susan Collins (R-Me.).
Barkan's use of his own moving story to personalize the effects of the legislation earned him a national following.
He now has over 45,000 Twitter followers, providing him a platform to yet again leverage his personal dilemma to raise awareness of a glaring social ill ― and secure help for himself in the process.
Barkan's experience, he said, "reinforces the need to protect Medicare and Medicaid, which do not make these kinds of profit-driven decisions and which provide health care to enormous numbers of people."
In the coming months, Barkan plans to hit the road to protect those programs ― and get the country on the path to single payer health care, or "Medicare for all."
He believes that the best way to accomplish that is a "progressive tidal-wave, tsunami election in November" that ensures a Democratic takeover of Congress.
In conjunction with Center for Popular Democracy Action as well as other groups ― including the Working Families Party, Women's March and MoveOn.org ― Barkan is due to campaign for Democrats in key races.
"I'm going to be telling this story all around the country and try to mobilize volunteers and voters to resist the upcoming cuts to the safety net that [House Speaker] Paul Ryan (R-Wis.), [Senate Majority Leader] Mitch McConnell (R-Ky.) and [President] Donald Trump are planning," Barkan said.
In the near term, Barkan has been lending his voice to the campaign for passage of a so-called "clean" Dream Act, which would make permanent ― without any concessions to Republicans ― the legal protection available to undocumented immigrants who came to the U.S. as children.
He joined Dreamers in a protest outside California Sen. Dianne Feinstein's Los Angeles office last week to press the issue. And he plans to join them again for protests on Thursday and Friday at the local offices of several Republican House members from Southern California and the state's Central Valley.
Popular in the Community