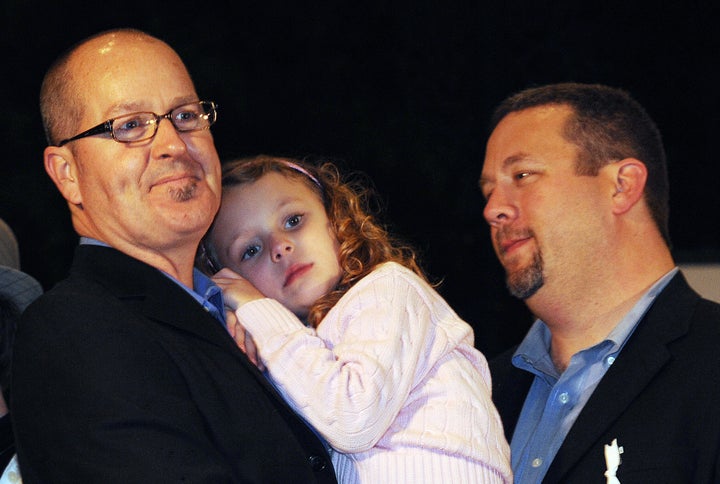 The legislation, which was sponsored by Democratic Sen. David Koehler, would have amended the state's recently passed civil unions law and allowed religious child welfare agencies to "decline an adoption or foster family home application" to a couple in a civil union if "if acceptance of that application would constitute a violation of the organization's sincerely held religious beliefs."
The Senate Executive Committee voted down the bill 7 to 6, with 1 abstention, and it is now dead.
"This is a huge victory for the LGBTQ community and families across Illinois," said Anthony Martinez, Executive Director of the Civil Rights Agenda, in a statement Wednesday. "This is also a huge win for the tens of thousands of children that are in the adoption and foster system and need loving families."
Martinez worked to mobilize opponents of the measure earlier this week. The American Civil Liberties Union, Family Equality Council and the Log Cabin Republicans all voiced their opposition to the measure Tuesday. One main issue with the legislation was whether religious agencies would be breaking anti-discrimination laws by rejecting openly gay prospective parents while taking public funds for adoption and foster care services.
"This proposal would deny loving homes for many children who are in foster care or who are awaiting placement in foster homes," Jennifer Chrisler, Executive Director of the Family Equality Council, said in a statement. "Given the need for adoptive parents in the state of Illinois there is no justification in allowing agencies using public funding to facilitate adoptions to discriminate."
Martinez told HuffPost Chicago Tuesday that his organization was concerned about the bill passing due to its sponsors. Koehler is a respected and usually progressive senator and his co-sponsor Sen. William Haine is a moderate Democrat. He said he feared the men would have the support they needed to pass SB 1123.
Sen. Haine said Tuesday that he supported SB 1123 because he felt Catholic groups should not be forced to grant adoptions to unmarried couples if it goes against their religious beliefs. Sen. Koehler's office said Wednesday they would not comment on the bill's rejection.
Calling all HuffPost superfans!
Sign up for membership to become a founding member and help shape HuffPost's next chapter