Close on the heels of the release of his acclaimed second studio album, Australian singer/songwriter Mark Wilkinson started his first U.S. tour earlier this month and has his New York City debut tomorrow night, Thursday October 17th, as part of the annual CMJ Music Marathon. Wilkinson has a 6pm showcase at Rockwood Music Hall in lower Manhattan which is open to the public and will likely be jam-packed if the recent press on him is any indication.
Let The River Run was released by MGM Distribution on August 9 and promptly rose to #2 on the Australian iTunes singer-songwriter charts, racing past Grammy-nominated artists Ed Sheeran and The Lumineers. In addition the album debuted at #2 on the Australian Independent Record charts. Wilkinson's single "Middle Ground" reached #12 on the ARIA singles charts, and was also previewed in a popular Nescafe ad campaign in June.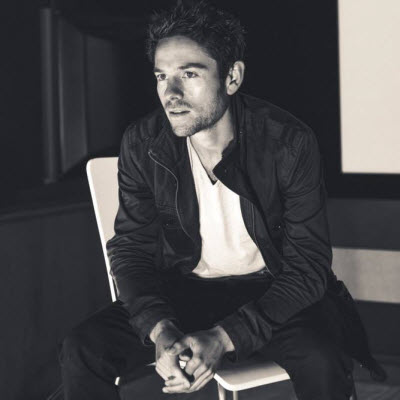 I spoke with Wilkinson last night about the new album, his American tour dates and a very special show that he's doing in Nashville next week. Let The River Run was produced by Ollie McGill of The Cat Empire and mastered at the world famous Abbey Road Studios in London. Was this the first time he had worked with McGill? "Yes it is. I'm a big fan of Ollie's band The Cat Empire and then I heard some of his production work, which sounded fantastic," Mark said. "We come from quite different backgrounds musically and stylistically, so I thought working together could test some boundaries and yield some unexpected results."
Mark's U.S. shows have been funded by a grant from the Australian Government through the Australian Council for the Arts. I posited that it must be a very interesting time to be playing the States especially with the government shutdown currently in place, not to mention the fact that support for the arts in this country is a bit sparse to say the least, especially at the moment.
"It was a little touch and go there with the U.S. Government shut down as our visas were still being processed at the time," Mark agreed. "I was pretty relieved when it was all confirmed. As far as the grant goes, it's awesome to have that kind of support from the Government. I think a lot of artists feel crippled by a lack of funding and a lack of opportunity to get their stuff heard and for Australians this is a great program to help combat that. The grant is open to any artist looking to promote their music to an overseas market. It's very competitive so I feel privileged to have been selected and to have the opportunity to play over here!"
Wilkinson counts among his influences singers David Gray, Jeff Buckley, and Tracy Chapman and more recently Passenger and Ray LaMontagne. "You can really hear the emotion in everything they sing. I love lots of different styles of music but this is the stuff that really hits me the hardest and the kind of music I strive to write myself."
The buzz around Wilkinson's live performances has been growing (he continues to sell out shows across Australia and throughout Europe, all without formal marketing support or promotional campaigns). He has sold over 40,000 records overseas through direct-to-fan interaction at live performances alone.
There has been much major label interest even prior to the U.S. shows starting earlier this month, and the show tomorrow at Rockwood Music Hall is likely to be crowded. Mark is due onstage at 6pm so the word on the street is to get there early. Additional tour dates will be announced to support the new album, including dates in Europe early next year.
REAL LIFE. REAL NEWS. REAL VOICES.
Help us tell more of the stories that matter from voices that too often remain unheard.