An investigation into former BBC journalist Martin Bashir has concluded that he "deceived and induced" Earl Charles Spencer to help him secure a major television interview with the earl's sister, Princess Diana.
Spencer told the BBC in a new interview that he believed the relationship between Diana and the journalist played a part in his sister's untimely death.
"The irony is that I met Martin Bashir on the 31st August, 1995, because exactly two years later, she died. And I do draw a line between the two events," Spencer said in an interview set to air in full Thursday evening.
Bashir's interview with Diana, which aired on Nov. 20, 1995, was a bombshell: She stated that Prince Charles had been unfaithful to her by maintaining a relationship with a former girlfriend, Camilla Parker-Bowles.
"There were three of us in this marriage," Diana said at the time, "so it was a bit crowded."
Accusations that the interview had been secured through trickery emerged in the following months, but the BBC cleared Bashir of wrongdoing in 1996, saying its editors had looked into the matter.
Fresh allegations from Spencer, however, prompted the BBC to commission a full report late last year. The outlet tapped Lord John Dyson, a former judge, to investigate.
Dyson compiled his findings in a 127-page report with accompanying documentation published Thursday, the result of interviews with 18 people ― largely BBC personnel, including Bashir. Several others, including a nanny for Prince William and Prince Harry, gave Dyson written statements.
Dyson concluded that Bashir and the BBC "fell short of the high standards of integrity and transparency which are its hallmark," and that both worked to cover up how Bashir secured the interview. The journalist made a "serious breach" of the news organization's code of conduct, Dyson wrote.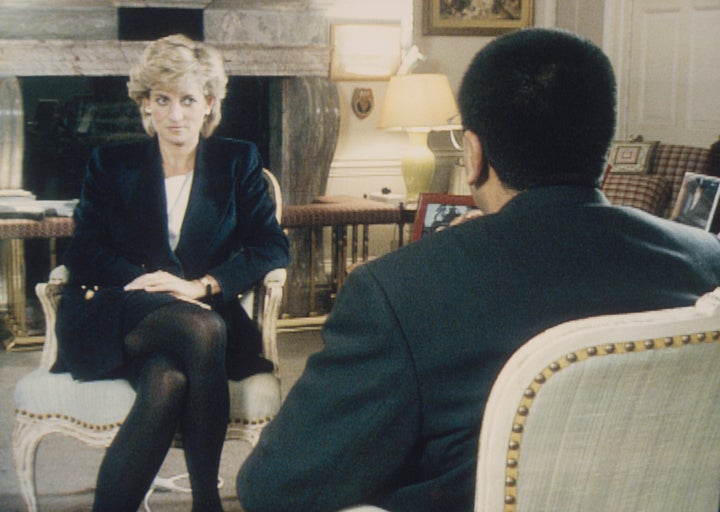 The report confirms that Bashir roped graphic designer Matt Wiessler into designing fake bank statements depicting deposits of thousands of pounds, which Wiessler believed would be used as film props. (Dyson explicitly does not blame Wiessler for his role in the deception.) The statements were made to look like they belonged to three people: Alan Waller, a former employee of Spencer who provided security on his Althorp estate; Commander Patrick Jephson, Diana's private secretary; and Commander Richard Aylard, Prince Charles' private secretary.
Bashir claimed these fake bank statements proved that people close to Diana were betraying her by accepting payments in exchange for details about her life, the report said, confirming that the journalist showed the papers to Spencer. The earl then reached out to his sister and helped arrange for her to meet with Bashir.
Although Dyson was only able to find copies of the Waller statements, he wrote that he believes Spencer's assertion that there were others. He cited a lack of credibility on Bashir's part and the fact that Spencer mentioned the Alyard and Jephson statements to another reporter in 1998.
"I found Earl Spencer a credible witness. Regrettably, I cannot say the same of Mr. Bashir," Dyson wrote.
Prince William, the Duke of Cambridge, thanked Dyson in a statement Thursday, slamming the BBC and calling on the corporation to stop "commercializ[ing]" the interview with his mother.
"It is my view that the deceitful way the interview was obtained substantially influenced what my mother said. The interview was a major contribution to making my parents' relationship worse and has since hurt countless others," William said.
Diana, in William's view, "was failed not just by a rogue reporter, but by leaders at the BBC who looked the other way rather than asking the tough questions."
Prince Harry, the Duke of Sussex, took the opportunity to remember Diana as a "resilient, brave, and unquestionably honest" woman.
"The ripple effect of a culture of exploitation and unethical practices ultimately took her life," Harry said in a separate statement from his brother's.
Some 23 million people tuned in to the interview with Diana when it aired on "Panorama," a British current events program.
Wiessler contacted BBC leadership after the interview aired; he was "worried that there may have been some impropriety in the commissioning of the statements," according to Dyson's report. His concern led to a meeting between Bashir and BBC leadership, including Tim Gardam, who was in charge of weekly programs with the news division at the time.
Bashir said he did not show the statements to Diana. He even produced a note from her, dated Dec. 22, 1995, stating that she had not been shown any documents or provided information she did not already know.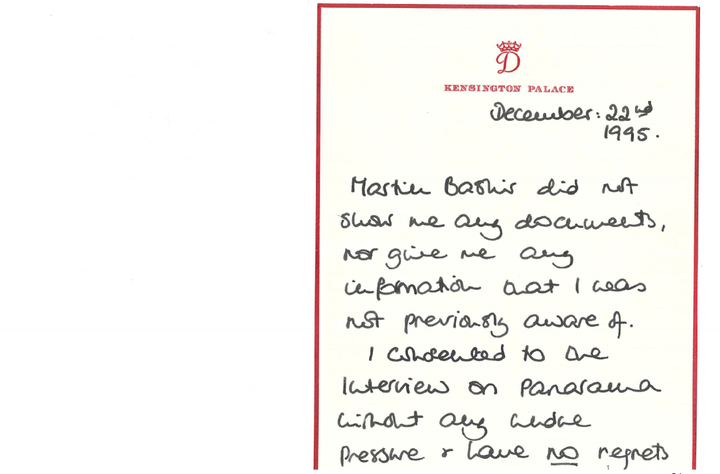 Bashir failed to mention any involvement of Diana's brother.
BBC leadership met with the journalist again when that information surfaced in early 1996, but cleared him of wrongdoing since he had not shown the documents to Diana directly. No one reached out to Spencer at the time.
The earl eventually obtained "what he considered to be proof" of the deception in late October 2020, thanks to a request made to the BBC under the United Kingdom's Freedom of Information Act 2000.
The documentation "outraged" Spencer. He said in a written statement that he believed Bashir first showed him a fake bank statement from Waller "to groom me, so that he could then get to Diana for the interview he was always secretly after." The documents appeared to showed two payments to Waller, the security employee, that had been sent through a trust allegedly set up by Alyard.
Bashir claimed the banking information on the Waller statements had been provided to him from Spencer and Diana directly ― an allegation dismissed by Dyson.
Bashir also said he had met with Diana on multiple occasions before the televised interview, including going on a five-hour drive and visiting her Kensington Palace apartments, where he says he cooked a meal. But Spencer strongly disputed the idea that Bashir established a working relationship with Diana without his help. He told Dyson that it wasn't until Bashir showed him falsified statements that he decided to make an introduction.
"I would never have mentioned the Waller things to Diana. They were of no interest to her," Spencer told Dyson. "It was the direct threat to her that I felt I had to report."
Dyson wrote that he had "no doubt" that Spencer's version of events was accurate, and suggested that Bashir fabricated the bank statements from the two private secretaries himself.
Speaking with the BBC's "Panorama" himself, Spencer suggested that he believed Bashir helped fuel Diana's insecurities, saying "it was quite clear" from his introductory meeting with Bashir and Diana that "everyone was going to be made untrustworthy." Copies of Spencer's notes from the meeting, which took place in September 1995, suggest Bashir made a number of claims about other royals. One line reads: "Prince Philip doesn't like D. at all."
Spencer included a bit more detail about Bashir's relationship with his sister in a 1998 interview, a transcript of which was included in Dyson's report. Spencer told journalist Sally Bedell Smith that "he made her so paranoid about her phone lines and her channels of communication that he destroyed several of her friendships." The identities of the friends are redacted.
"He made her worry that no one else could be trusted," Spencer said.
Notably, Dyson concluded that Diana appeared to be set on doing a television interview by late summer of 1995, saying that she would "probably have agreed to be interviewed by any experienced and reputable reporter in whom she had confidence." She was also pleased with the interview in the immediate aftermath of it, according to the report.
Bashir, 58, stepped down from his role at the BBC last week, citing ongoing health problems relating to a bout of COVID-19.
He had rejoined the news organization in 2016 as its religion editor following a stint working for American networks.
Popular in the Community