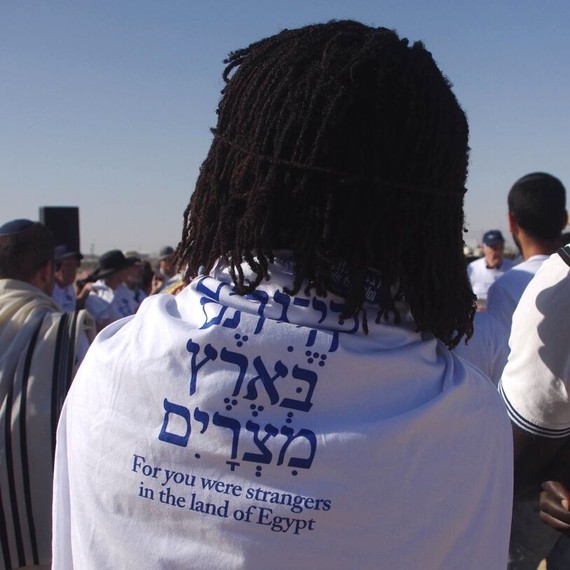 The aroma of Turkish coffee and ocean air mingle in the streets of Tel Aviv. As residents go about their daily rituals and tourists bask on warm beaches, there is a group of people who are unable to fit into either of these categories. They are forgotten and deserted; lost souls who sought asylum only to find more plight.
These people are sub-Saharan Africans who escaped to Israel from the brutality of their homelands. Most have fled from Eritrea and Sudan across the Sinai Peninsula, hoping to find safety behind Israel's serpentine metal fences. While their fight to survive has ended, their fight to live continues.
Refugee migration is one of the defining global controversies of our time. Filmmaker and lawyer Beth Toni Kruvant explores the complexities of this dilemma through her film Levinksy Park, which will make its U.S. premiere at Cinequest Film Festival in San Jose on Thursday, March 2nd. The film's namesake is a small park in southern Tel Aviv where African refugees live and congregate.
Kruvant interviews various refugees, activists and Israelis who share their perspectives about this crisis. There is a mixed opinion amid residents about these refugees; Some believe they are a burden and want them deported while others empathize with them. "The refugees in Levinsky Park are experiencing hardships every day that keep them fearful of being rounded up," Kruvant explains. "Confusion abounds because the law is unclear."
Most of Levinsky Park is told from the perspective of Mutasim Ali, an activist and Sudanese asylum seeker who has organized a rebellion against the treatment of the refugees. Many who crossed the border are given paperwork stating that they are allowed to live, but not to work, in Israel. This conundrum forces them into under-the-table work or no work at all. Others are detained in the Holot Detention Center in the Negev Desert with no prospects of release. Some have even been paid by the Israeli government to relocate, once again, to a third country.
Artist Yigal Shtayim, a first generation Israeli who is also featured in the documentary, believes they have as much of a right to live there as the millions of Jews who have fled persecution to Israel since the days of Moses. Through Facebook, Shtayim took action and co-founded Soup Levinksy, an organization that donates food, clothes, shoes and blankets to the African refugees at Levinsky Park. They provide between 500 and 700 meals a day to these people in need while also forging connections with them. Soup Levinksy is empowering these refugees and inspiring the residents to put humanity first.
"After being embroiled in filming refugees and asylum seekers in south Tel Aviv for five years, I feel directly tied to the global refugee crisis," states Kruvant. "The fight in Levinsky Park is an example of the global fight for and against refugees all over the world."
There is no easy solution to the refugee problem but Kruvant's documentary is a call to action on the issue. "There's a global crisis right now [and] instead of feeling distraught and helpless we have turned our camera directly on the asylum seekers and denizens living in south Tel Aviv to provoke constructive dialogue," Kruvant states in a press release. "People who have nothing at all facing elemental struggles in a land fraught with conflict and founded by refugees proves to be fascinating viewing."
Refugee propaganda is a tactic that governments and media worldwide have implemented for decades. They vilify the refugees as criminals who are taking jobs away from citizens. Kruvant has seen this pattern and through her camera lens, has given a voice to those who feel misrepresented. The current refugee situation in the U.S. makes her documentary all the more poignant. "We are all living in Levinsky Park now," says Kruvant.
Popular in the Community