WASHINGTON -- As the Democratic Party works to hold control of the U.S. Senate for the final two years of Barack Obama's presidency, a key strategy for November's elections seeks to tie Republican challengers to policies advocated by billionaire donors, especially brothers Charles and David Koch.
In Iowa, for example, where Republican state Sen. Joni Ernst is running for the U.S. Senate seat now held by retiring Sen. Tom Harkin (D), a recent ad from Senate Majority PAC, a super PAC supporting Democrats, says Ernst backs the same policies as the Koch brothers, whose nonprofit organizations have spent big to boost her candidacy. "Follow the money," an announcer says. "It's the oldest rule in politics."
Following the money, while made more difficult by the rise of undisclosed dark money in this year's campaign, does indeed show that billionaires are spending big. An analysis by The Huffington Post of contributions made by the nation's approximately 471 billionaires and their families found that the wealthiest sector of American society has donated $113.7 million in races for federal offices.
While both parties have received contributions from this upper-est of crusts, billionaires have largely put their money behind the Republican Party and its drive to win control of the Senate. Republican candidates and party committees have raised $18 million from billionaires and their families in the 2014 elections, compared with $8 million raised by Democrats. Leadership PACs linked to Republican lawmakers, which funnel money into party coffers or to other candidates, received an additional $926,555 from billionaires -- nearly triple the amount received by Democrats.
Billionaire Contributions To Candidates, Party Committees, PACs
Sources: Federal Election Commission, Forbes.
Republican challengers looking to win seats currently held by Democratic incumbents were the biggest recipients of contributions from billionaires. Billionaires and their families poured $214,900 into the Senate campaign of Rep. Tom Cotton (R-Ark.), who seeks to unseat two-term Sen. Mark Pryor (D). Rep. Bill Cassidy (R-La.), running against Sen. Mary Landrieu (D-La.), raised $190,900 from billionaires.
Republican candidates in close races in Alaska, Colorado, Michigan, New Hampshire and North Carolina each received more than $100,000 from billionaires. Ernst, running in one of the closest races in the country, received $27,000. Her opponent, Rep. Bruce Braley (D), has gotten nothing from billionaires.
The most important Senate Democratic candidates, while raising more than their opponents overall, have almost universally been beaten in contributions from those whose worth tops 10 figures. Only Sens. Mark Udall (Colo.) and Mark Warner (Va.) and candidate Michelle Nunn (Ga.) received more than $100,000 from billionaires. Sen. Cory Booker (D-N.J.), was the top recipient of billionaire donations, with $458,000. Sen. Ed Markey (D-Mass.) was the second Democrat, with $302,009. Both Booker and Markey won special elections in 2013 and face challenges in November. This allows them to accept double the usual limit of $5,200 from a single donor.
The leading recipient among Republicans is Senate Republican Leader Mitch McConnell (R-Ky.), facing a challenge from Democrat Alison Lundergan Grimes, the Kentucky secretary of state. McConnell raised $345,700 from billionaires.
Political party committees, which can receive larger donations than candidates, received the most money from billionaire donors. The three Republican Party committees -- the Republican National Committee, National Republican Congressional Committee and the National Republican Senatorial Committee -- each raised more than $3 million from billionaire donors, for a total of $10.1 million. The Democratic committees -- the Democratic National Committee, Democratic Congressional Campaign Committee and the Democratic Senatorial Campaign Committee -- raised a combined $4 million from billionaires.
Republicans have historically been the party of business and have long received more financial support from the wealthy and their interests. The 2014 contributions of billionaires to Republican politicians and committees shows this is still the case. There are 191 billionaires who made the majority of their contributions to Republican politicians and party committees, and 119 billionaires who did the same for Democrats. Billionaires giving to Republicans tended to give a lot more than those donating to Democrats.
Contributions from billionaires to Republicans largely came from partisan donors who made no donations to Democrats. Those billionaires who give 100 percent to Republicans make up 62 percent of all billionaire contributions to Republicans. Billionaires giving only to Democrats made up 49 percent of the donations from this class of donor.
Republicans Have Stronger Support From Billionaires Than Democrats
Sources: Federal Election Commission, Forbes.
Over the past two decades, as billionaires have proliferated and increased their political donations, the Democratic Party has adopted some of their policy priorities, including maintaining or cutting already low tax rates, and support for charter schools, limits on teacher unions and, more recently, natural gas fracking.
Billionaire donors also look to Republicans to champion their causes against the wishes of the party faithful. A number of Silicon Valley billionaires have shifted their contributions to Republicans supportive of comprehensive immigration reform, a major policy objective of the tech industry.
Facebook billionaire Sean Parker and his wife Alexandra, typically Democratic donors, have given the majority of their direct contributions in 2014 to Republican candidates who supported, at one time or another, immigration reform. These included Sen. Marco Rubio (R-Fla.), Sen. Thad Cochran (R-Miss.), Rep. Mike Simpson (R-Idaho), Rep. Pete Roskam (R-Ill.), Rep. Greg Walden (R-Ore.) and Rep. Pat Tiberi (R-Ohio).
There are, of course, billionaires whose agendas are in line with their party's base supporters. On the right, the Koch brothers and the DeVos family are some of the biggest funders of conservative causes and the Republican Party. The biggest known billionaire donor in 2014 election cycle, however, is the Democratic supporter Tom Steyer, a private equity fund founder and environmental activist.
Democratic Party super PACS have raised $66.7 million from billionaires like Steyer, compared with $18.4 million for Republican-allied super PACs.
Super PACs, perfect for billionaire money, can accept unlimited checks from the rich, so long as they remain independent from the campaigns and parties they support. The Democratic advantage stems entirely from the contributions of Steyer and former New York City Mayor Michael Bloomberg. These two billionaires account for $54.3 million of all billionaire gifts to super PACs that exclusively back Democrats in the 2014 election cycle. (Bloomberg, a political independent, also has given $500,000 to super PACs supporting Republican senators.)
Steyer has been used in attack ads hitting Democrats, much like the Koch brothers are being linked to Republican candidates. An ad by the Karl Rove-founded super PAC American Crossroads recently knocked Braley -- Ernst's opponent -- for withdrawing his support for the Keystone XL pipeline after receiving support from Steyer.
On paper, Democrats appear to have the advantage in the world of unlimited spending, but the reality is murky. Wealthy Republican donors have largely put their money, at least until now, into nonprofit organizations that don't disclose donors. The Huffington Post has documented more than $140 million in spending by these nonprofit groups through the end of August, with the vast majority spent by Republican-oriented groups.
The most active of these dark money nonprofits were those connected to the Koch brothers. The Kochs are also among the top donors to Republican candidates and party committees, with $682,100 contributed by David and Charles Koch and their immediate families. (A third brother, William Koch, has given $43,400 to Republicans.)
Donors to the Koch political network have never been fully released to the public, but leaks of recordings, documents and private plane flight records show that other billionaires are among the backers. They include major Republican donors Charles Schwab, Paul Singer, Robert Rowling, Ken Griffin, Philip Anschutz, Stephen Bechtel, Richard DeVos, Diane Hendricks, Stanley Hubbard, Ken Langone, Stephen Schwarzman, Kenny Troutt, Harold Hamm and John Menard. These donors and their families have combined to give $4.1 million to Republicans and $6.4 million to Republican-allied super PACs in the 2014 election.
The real extent of billionaire influence in the 2014 election is not likely to be known.
Before You Go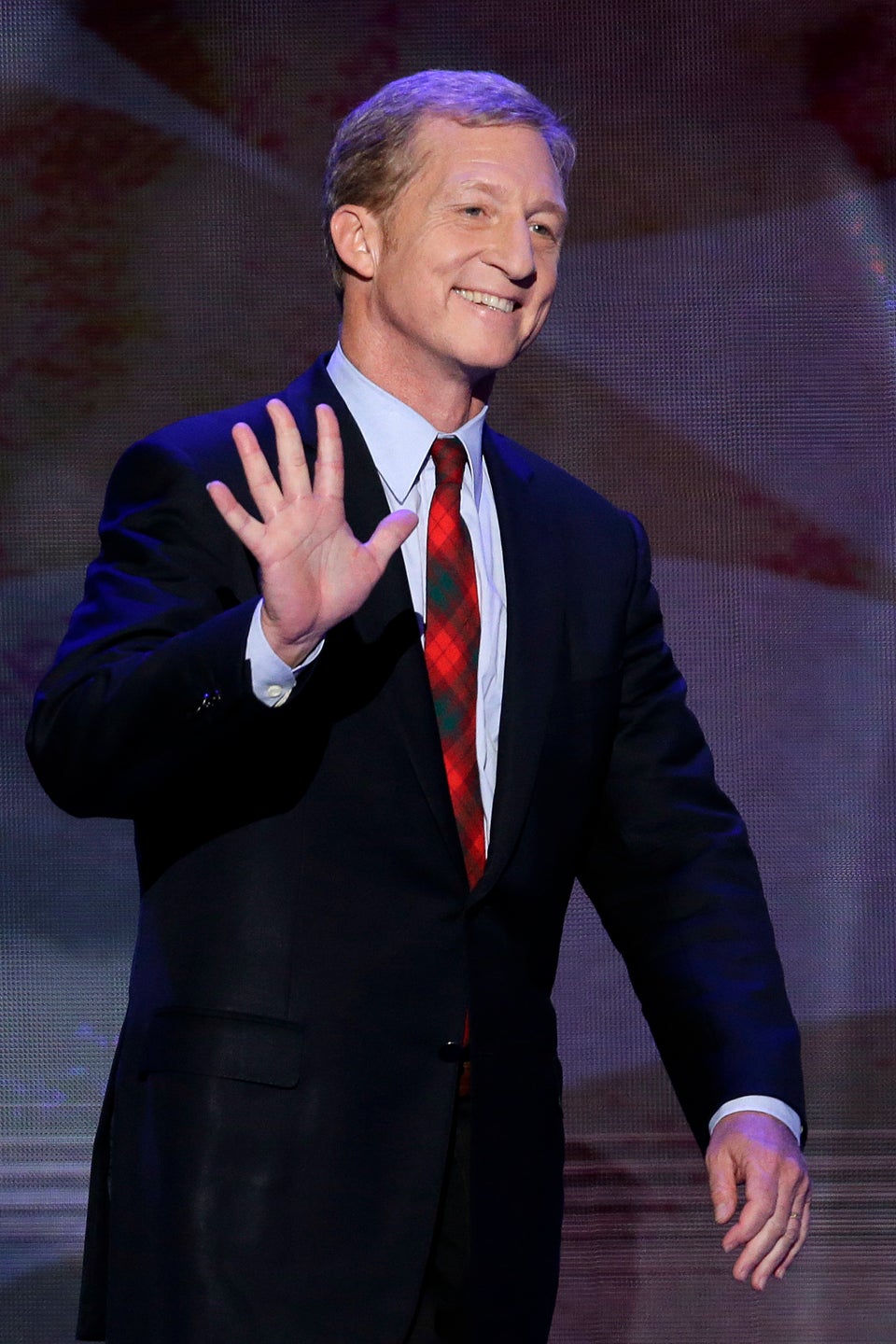 2014 Election: $500,000-Plus Super PAC Donors
Popular in the Community