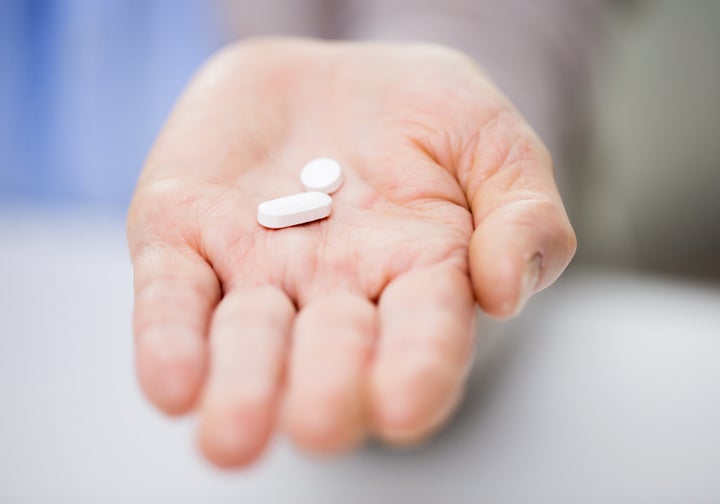 Kaitlyn was a 19-year-old student at the University of California, Berkeley when she found out she was pregnant, despite practicing safe sex. She and her partner were using a condom, and although it slipped, she also had an IUD. Kaitlyn was shellshocked when she took a test at the campus health center and learned she was seven weeks along.
Kaitlyn, who asked to use her first name, knew right away that she wanted to have an abortion, and she wanted to take the abortion pill. But as a member of the reproductive rights group on campus, she also knew the university didn't offer it. Instead, she went to a local ER for an ultrasound then got a referral to a Planned Parenthood clinic. The provider was considered out-of-network by her university insurance plan, but she was able to get some coverage from the state.
By the time everything was sorted out, Kaitlyn was no longer a candidate for the abortion pill, which must be taken fairly early on in a pregnancy. She'd spent more than $200 out of pocket, which she says was staggering given that she was a student putting herself through school. She lost about $100 in wages from her job at a local bagel shop, missed class and called out of her internship, all of which were extremely out of character for her.
"I had to go through so many steps, and I didn't need to," said Kaitlyn, who is now 21 and a recent graduate. "It was a lot of money. It was stressful. Really, it was awful."
California has among the best abortion access in the country, but none of the state's public universities provide students like Kaitlyn with on-campus abortion services of any kind.
This week, the California senate passed a bill requiring the 34 University of California and California State University campuses to provide medication abortion — often called the abortion pill — in their health care centers, ensuring it is available to students by no later than January 2022. If the bill moves through the state assembly and is signed into law by the governor, California would become the first state in the nation to pass such legislation at a time when many states are chipping away at access to the abortion pill.
The pill is actually a combination of two drugs taken over the course of several days: mifepristone and misoprostol. Together, they can safely end a pregnancy before 10 weeks gestation. Medication abortions now account for 45 percent of abortions before 9 weeks gestation nationwide, despite state-level attacks on the method. Thirty-four states require that the person providing the medication be a licensed physician, even though groups like the World Health Organization say it is safe for providers like midwives and nurse practitioners to administer, and 19 states require a clinician be present when the pills are taken — again, despite research showing telemedicine abortions are safe.
It is not, however, just the abortion pill that is restricted on American college campuses. A 2015 report on the reproductive health services available at more than 150 college health centers nationwide found just two offered medical abortion services of any kind.
The campaign behind Senate Bill 320 began two years ago, when the student advocacy group Students United for Reproductive Justice noticed Berkeley's student health center did not offer the abortion pill.
"We thought, why isn't this a service?" Adiba Khan, a sociology and public health double major who helped found the group her sophomore year, told HuffPost. They spoke to fellow students about their experiences trying to access abortion services on campus, and were surprised by the hurdles they had to jump through — even in a state like California, which has none of the major policy restrictions popular in other parts of the country.
Every month, more than 500 students at California's public universities seek the abortion pill at off-site health care providers, according to the University of California San Fransisco's Advancing New Standards in Reproductive Health. More than half of students at University of California and California State University campuses qualify as low-income, and roughly 60 percent of students would need to spend at least two hours on public transportation to access abortion services.
"When your health center has all the means to do it, but chooses not to because it's controversial, that's the issue," said Adiba Khan, who added she had no advocacy experience prior to pushing for this bill. "The whole point of a student health center is to cater just to students and to make sure services are pretty easily accessible."
The bill has not been without controversy, and anti-abortion groups such as Californians For Life have opposed it on the grounds that student health centers are not equipped to handle the procedure. Supporters of the bill argue that is not true, as a group of private funders including Tara Health Foundation and the Women's Foundation of California have agreed to pay for implementation of the policy, including training and equipment — which also means the state will not pay for the roll-out.
They have agreed to supply at least $14 million, and possibly up to $20 million, Surina Khan, CEO of the Women's Foundation of California, which helped craft the bill, told HuffPost.
"If there are health centers in universities that will need ultrasound machines, or training about how to administer medication abortion, that will all be provided for through the funder consortium's resources," Surina Khan said.
She was not surprised that funders have stepped forward in support of the bill, and believes groups would be willing to back similar efforts in other states given what a hot-button issue reproductive rights are in the United States.
"Our hope," she added, "is that this will be a model for other states to pick up."
Related
Popular in the Community