LOS ANGELES ― Californians voted to approve marijuana for recreational use on Tuesday, in what the legalization movement is hailing as its most significant accomplishment since the first states legalized it four years ago.
With the success of Proposition 64, nearly 40 million more people will soon be living in a state that has decided to tax and regulate marijuana like alcohol rather than treat it like a criminal enterprise. California now joins Colorado and Washington state ― which voted to legalize weed in 2012 ― as well as later arrivals Alaska, Oregon and Washington, D.C.
Drug policy reformers say the approval of Proposition 64 will expand the legal marijuana industry and boost its political clout while they push for nationwide change.
"This vote will dramatically accelerate the end of federal marijuana prohibition," Tom Angell, chairman of drug policy reform group Marijuana Majority, told The Huffington Post.
Kevin Sabet, president of leading anti-legalization group Smart Approaches to Marijuana, said his group was disappointed by Tuesday's results.
"This is the beginning of the conversation, not the end," Sabet said. "We will travel to California tomorrow to sit down with stakeholders... and discuss next steps."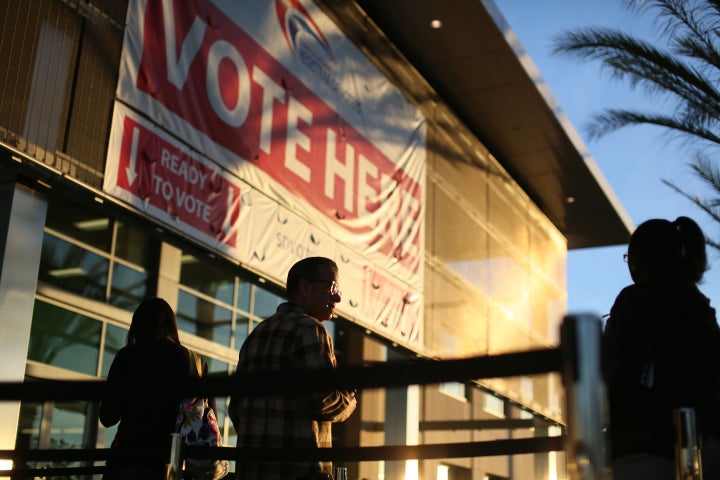 With California joining the growing ranks of legal marijuana states, marijuana policy is likely to become a much bigger issue on Capitol Hill, Angell said.
"California alone has just added 53 more U.S. House members to the list of federal lawmakers who represent places where marijuana is legal," he said. "Last year, we came only nine votes shy of winning an amendment to stop federal interference with state marijuana laws. Do the math."
California's measure allows adults 21 and older to possess up to one ounce of marijuana and grow up to six plants at home. It will also allow state-licensed retailers to sell weed to adults. Although it will be at least a year before the state begins issuing licenses, the measure gives regulators the authority to issue temporary permits to some existing medical marijuana businesses, which will be able to sell weed for recreational use until the formal system comes online
Proposition 64 outlines a 15 percent excise tax on all retail marijuana sales to help fund the forthcoming regulatory scheme. It flags additional revenue for youth substance abuse education programs, law enforcement training and environmental cleanup and restoration of public lands that have been damaged by illegal marijuana cultivation.
"California alone has just added 53 more U.S. House members to the list of federal lawmakers who represent places where marijuana is legal."
A report examining the potential benefits of the measure, released Monday by California fiscal analysts Blue Sky Consulting Group, found that legal marijuana will generate almost $1 billion annually in state and local revenue once the system is fully implemented.
While the retail, licensing and tax provisions of the law won't go into effect until Jan. 1, 2018, various provisions surrounding the personal use of marijuana will take effect on Wednesday.
Beginning Nov. 9, it will no longer be a crime under state law for adults to possess, transport, purchase or use limited amounts of weed. Adults can also begin to grow marijuana plants at home, although personal cultivation is subject to local restrictions. And individuals with prior marijuana-related convictions that wouldn't have been a crime under the new law or would have resulted in a lesser sentence can begin to petition the court to have their record cleared or changed to reflect the new law.
Fiscal analysts in the state predict that the measure will also save the state's criminal justice system as much as $100 million annually.
Proposition 64 does not make it legal to openly display or use marijuana in public, though even under current law, Californians have long held liberal views of the plant. It's not unusual to smell weed smoke in many of California's cities, even as residents frown upon the use of tobacco products in public.
The new law also authorizes the state's Department of Food and Agriculture to begin regulating the cultivation, manufacture and sale of industrial hemp.
California's outsized influence on national policy debates has long made it a prize for marijuana reformers. It's the most populous state in the nation ― with nearly 12 million more residents than second-place Texas ― has the world's sixth-largest economy and is a haven for progressive politics.
It was also the first to state to establish a legal medical marijuana program in 1996, paving the way for dozens of other states to follow. But in 2010, when California had the opportunity to become the first state to legalize recreational marijuana, voters rejected the measure.
Proposition 19 failed in part due to bad timing. It was an off-year election, and advocates believe marijuana measures receive more support during presidential election years, when there's a higher voter turnout. Many viewed the language of the measure as flawed, as it left many regulatory decisions to localities without centralized state regulations. And critics accused the measure's proponents of making unrealistic promises about potential benefits of legal weed in California, which led many voters to question the measure.
Two years later, Colorado instead led the way on legalization, becoming the first state in the U.S. ― and first government in the world ― to establish a legal and regulated marijuana marketplace. Four states, along with Washington D.C., have now legalized recreational marijuana (although D.C. continues to ban sales, unlike the state programs).
States that have established regulated marijuana programs have seen relatively few downsides so far. And though this could change in the future, the initial data appears to contradict lawmakers and law enforcers who predicted disaster when voters were considering legalization measures.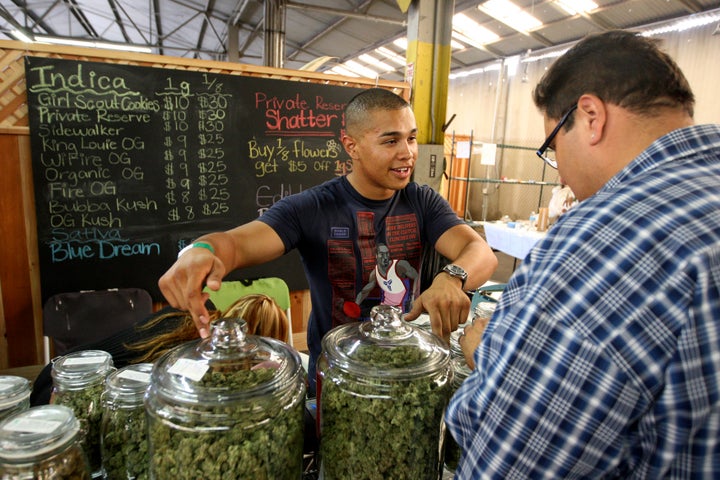 The trend of state-level legalization reflects a broader cultural shift toward acceptance of marijuana, the most commonly used illicit substance in the United States. About 20 million people reported using the substance in a one-month period, the Centers for Disease Control and Prevention said in 2013. And last year, about 47 percent of U.S. adults said they'd used marijuana during their lifetimes. Attitudes toward the plant have improved dramatically in recent years, with support for legalization reaching a high point nationwide last month.
Still, the federal government continues to ban cannabis, classifying it in Schedule I as one of the "most dangerous" drugs, alongside heroin and LSD.
States have been able to forge ahead on legalization despite the federal ban, helped in part by federal guidance that urged prosecutors to refrain from targeting marijuana operations that are legal under state law.
Even President Barack Obama has suggested the government may soon need to reassess its position. In an interview with Bill Maher that aired last week, Obama said successes in the legalization movement should lead to "a more serious conversation about how we are treating marijuana and our drug laws generally."
"If, in fact, [marijuana legalization] passed in all these states [on Tuesday], you now have about a fifth of the country that's operating under one set of laws, and four-fifths in another," said Obama. "The Justice Department, DEA, FBI ― for them to try to straddle and figure out how they're supposed to enforce laws in some places and not in others — they're gonna guard against transporting these drugs across state lines, but you've got the entire Pacific corridor where this is legal — that is not gonna be tenable."
"You're going to start to see the political clout of the marijuana industry increase."
Experts agree that California's move to legalize recreational marijuana could help tip the scales against prohibition, but it remains to be seen how much direct influence one state referendum on weed can have on the federal government's longstanding stance.
"California is not going to be what makes the federal government ― or Congress, frankly ― hyper-aware of this issue," said John Hudak, a senior fellow at the Brookings Institution who writes extensively on marijuana policy. "There is no single state that can produce that outcome, even California."
But Hudak believes the sea change may have now begun in earnest. Proposition 64 will kickstart a massive expansion of the marijuana industry, he said, which will, in turn, change the political conversation surrounding the drug.
"An industry that grows is better financed, is better capitalized and also has more and better lobbyists," said Hudak. "You're going to start to see the political clout of the marijuana industry increase. And if the industry grows, there's going to be a lot more resources and a lot more interests helping to move the needle."
This post has been updated with comment from anti-legalization group Smart Approaches to Marijuana.
Before You Go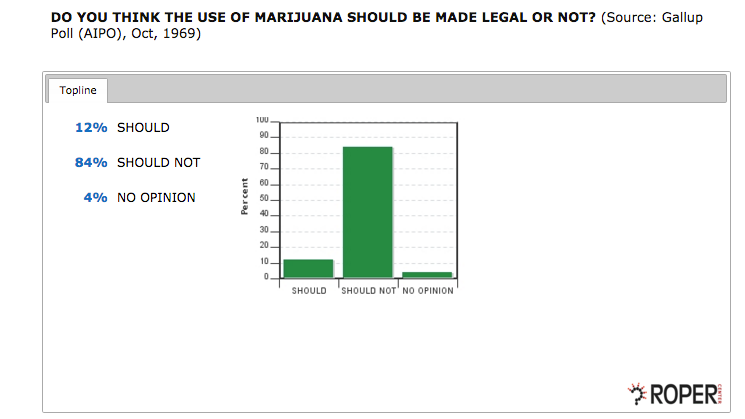 50 Years Of Marijuana Polling
Popular in the Community