Instead of its regular slate of commentary, The Capital Gazette left its opinion section blank on Friday in a powerful homage to the five staffers killed during a shooting in the newsroom one day before.
"Today, we are speechless," the page said. "This page is intentionally left blank today to commemorate victims of Thursday's shootings at our office." It then listed the names of the five victims: Robert Hiaasen, John McNamara, Gerald Fischman, Wendi Winters and Rebecca Smith.
Opinion pages across the country paid their respects to the Gazette on Friday as well.
"At this writing we can't offer the basic answers every crime-scene reporter seeks to deliver — the who, what, why, where and when of a tragedy," The Chicago Tribune wrote. "We hope to do so soon. In the meantime, we mourn these deaths in the family."
The Miami Herald listed what it views as different about this shooting compared to past ones. "Hatred for the media, the most responsible of which tell uncomfortable truths, and question authority," the paper wrote. "But journalists are excoriated as enemies of the people — to use President Trump's hateful words." It noted that Hiaasen was the brother of Carl Hiaasen, Miami Herald columnist and best-selling author.
Some papers didn't mince words, instead expressing the attack on the press in cartoon form:
Before You Go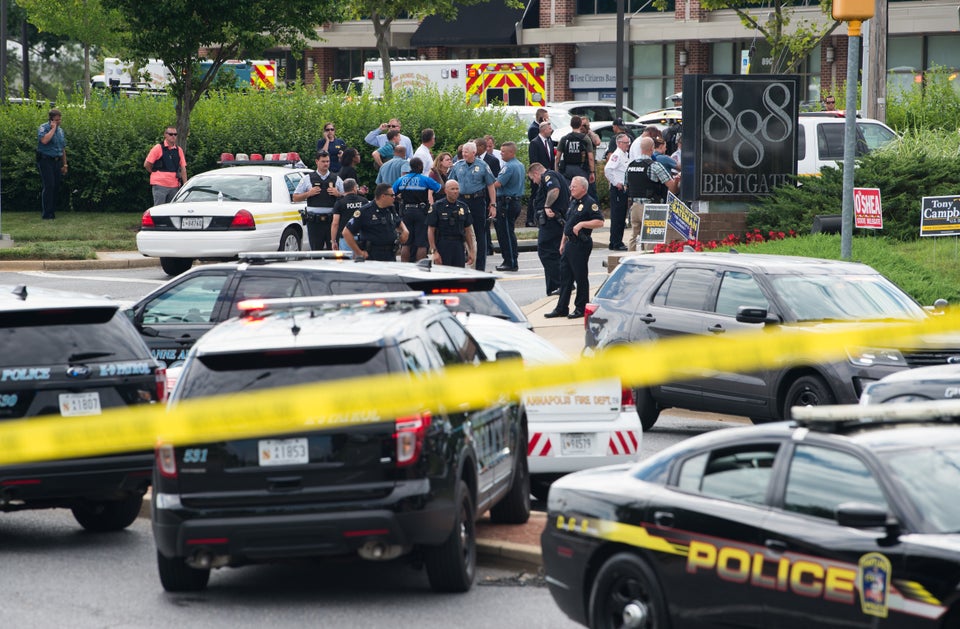 Shooting At Capital Gazette In Maryland
Popular in the Community