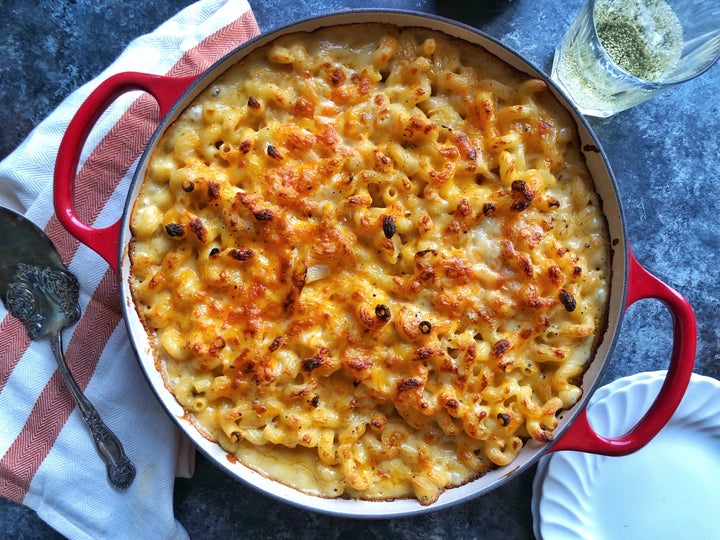 Fall is the most magical time of the year. Everyone talks a lot of game about summer, but stand outside for five minutes on a 92-degree day with 70 percent humidity and you'll remember why it's not all that.
After the scorching heat passes and before the frigid cold of winter sets in, you're experiencing a season that brings all the feels. Cooler weather lends itself to cuter outfits (layering is all the rage) and your local farmers market, which will be much more pleasant to explore, is overflowing with a stunning crimson palette of apples.
Most importantly, fall cooking is aces. Think about it: pumpkin pies, roast chickens and soul-warming pastas like this mac and cheese. I'm here to tell you that only one thing separates you from cheesy, carby nirvana: apples. This recipe takes the classic comfort food and gives an extra injection of the season by adding sautéed apples and onions with a hard apple cider reduction. It's sweet and savory and I'm pretty sure it still counts for the whole "apple a day" mantra, but don't quote me on that.
Throw the whole dish in a pan and bake it with more cheese on top and you've got yourself the recipe of the season, perfect for everything from fall entertaining to meal prep (who wouldn't want to skip that sad desk salad and eat this every day at work?). But while apples take this recipe to the next level, it's already a perfect mac and cheese at its core. Here are my commandments for achieving the mac-daddy of suppers.
All hail Velveeta. I'm all about bridging the gap between high-brow recipes and low-brow recipes, which is why nutty Gruyere and sharp cheddar are paired with the shelf-stable not-really-cheese Velveeta. Why, you may ask? While the fancier cheeses provide flavor, you simply cannot achieve the shiny and velvety texture of a perfect mac and cheese without a scoop of "liquid gold."
Let's take the mac out of mac and cheese. Elbow macaroni is great and all, but there are so many other great shapes to introduce to your mac and cheese repertoire. Case in point: cavatappi, a corkscrew-shaped macaroni. These longer noodles have grooves, making them ideal for catching all that cheese sauce.
Get baked. Give your meal some texture by popping it in the oven. Golden cheese and crispy noodles add a little crunch while also giving some time for the pasta to soak in some of the cheese sauce for extra richness. It's so much better than just scooping it out of the pot.
Get ready to fall in love with mac and cheese all over again.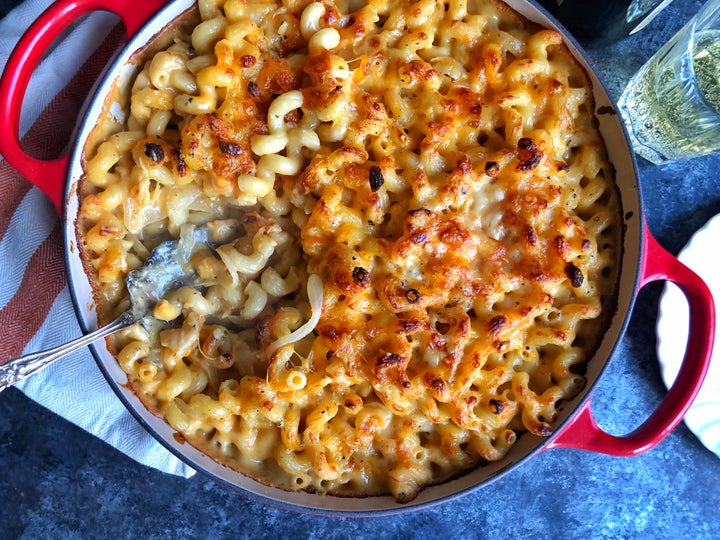 Caramelized Apple Mac And Cheese
Yield: 8 to 10 servings
Prep Time: 30 minutes
Cook Time: 45 minutes
Total Time: 1 hour and 15 minutes
Kosher salt, to taste
1 pound cavatappi pasta
8 ounces sharp cheddar, grated
8 ounces Gruyère, grated
6 tablespoons unsalted butter
2 garlic cloves, thinly sliced
1 yellow onion, thinly sliced
2 Honeycrisp apples, cored and thinly sliced
1 1/2 cups hard cider
1/4 cup all-purpose flour
3 cups whole milk
4 ounces Velveeta
1 tablespoon rosemary, minced
1 tablespoon sage leaves, minced
1 tablespoon thyme leaves, minced
1 teaspoon freshly grated nutmeg
1 teaspoon lemon zest
Freshly ground black pepper, to taste
Bring a large pot of salted water to a boil. Add the cavatappi and cook until al dente, 8 minutes. Drain in a colander and set aside. In a medium bowl, toss the cheeses together (not including the Velveeta) and set aside.
Preheat the oven to 500 F. In a 6-quart Dutch oven, heat the butter over medium-high heat. Add the garlic, onion and apples, and cook until softened and caramelized, 18 to 20 minutes (but this time may vary).
Pour in the hard cider and cook, stirring to scrape the brown bits off the bottom of the pot, until the cider has evaporated, 8 to 10 minutes. Sprinkle the flour over the mixture, tossing to evenly coat all the contents of the pot, 1 to 2 minutes. Slowly pour in the milk, stirring constantly, until incorporated without any lumps. Bring to a simmer and cook, stirring often, until thickened, 5 minutes.
Add all but 1 cup of the cheese mixture with the Velveeta, rosemary, sage, thyme, nutmeg, lemon zest and black pepper. Stir until the cheese has melted and is incorporated, 1 minute. Add the cooked pasta and toss to coat, then remove from the heat and adjust seasoning with salt and pepper.
Transfer to a 9-by-13-inch baking dish and sprinkle with the remaining shredded cheese. Bake until the cheese is bubbly and golden, 8 to 10 minutes, then serve.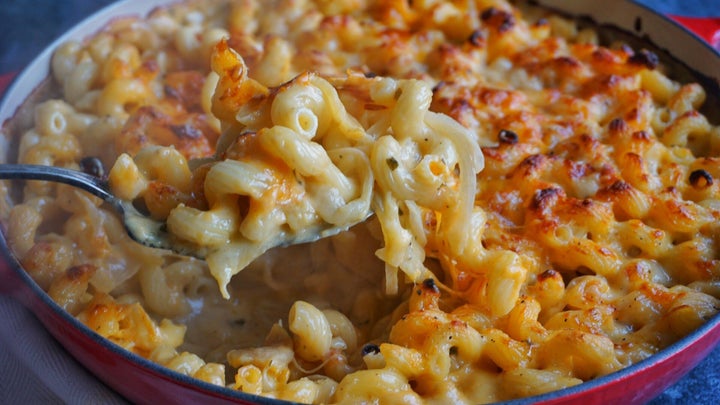 Support HuffPost
A No-B.S. Guide To Life
Before You Go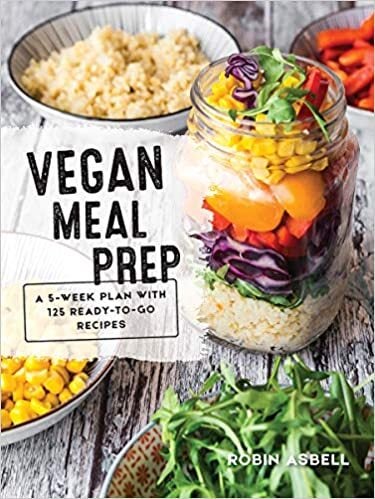 The Best Meal Prep Cookbooks
Popular in the Community