WASHINGTON -- Catherine Hanaway wants to make Missouri safe again.
The former U.S. attorney, who is running as a Republican in the state's gubernatorial race, on Friday released a short, straightforward campaign advertisement describing how she plans to restore law and order to an unruly state.
"Crime is out of control in Missouri," Hanaway says in the ad, "and career politicians are to blame."
Hanaway's TV spot cites the "riots" that occurred in Ferguson, Missouri, after 18-year-old Michael Brown was shot and killed by a white police officer in 2014. It also mentions the "lawlessness at Mizzou," a reference to protests against racial inequality at the University of Missouri in 2015.
At one point, the ad cites rising crime rates in St. Louis and Kansas City, saying murders have increased by 18 percent and 42 percent in those cities, respectively. (The figures are year-over-year increases between 2014 and 2015.)
"The riots in Ferguson, protests at Mizzou and spiking murder rates in Missouri's major cities all symbolize an utter failure of leadership by our current leaders," Hanaway told The Huffington Post in an email. "No one wants to move to unsafe neighborhoods or move jobs to unsafe areas. As an experienced prosecutor, I will make Missouri safer by restoring law and order to our streets and economically stronger by reforming our economic policies."
But what's missing from Hanaway's ad is the context behind the events in Ferguson and at Mizzou. The Ferguson protests were explicitly a reaction to police violence in black communities, as well as ongoing, systemic corruption and abuses of power. The protests at Mizzou didn't happen out of the blue; they came after a series of racially charged incidents -- including white students allegedly shouting racial slurs at their black peers and someone drawing a swastika in feces in a dorm bathroom.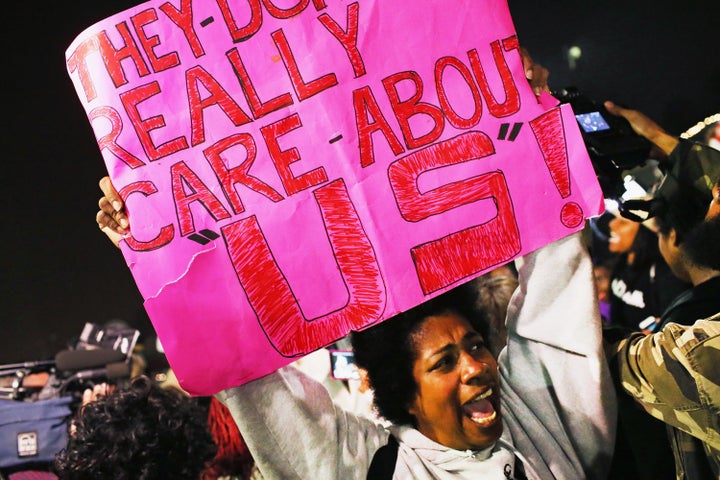 It's become common to hear certain public officials claim there's a link between rising crime rates and the Black Lives Matter movement, or to suggest that crime is up in some places because of protests against racial inequality and police violence in general.
People who suggest these things are related can often be heard promoting the idea of a so-called "Ferguson effect" -- the theory that murder rates are on the rise in some U.S. cities because police are afraid to "do their jobs" amid an atmosphere of heightened public scrutiny. This idea is disputed, to say the least. A separate but related theory -- that the past couple of years have seen the rise of a "war on cops" -- has essentially no basis in reality. (Hanaway endorsed the idea of the "Ferguson effect" in a February interview.)
Hanaway, who would be Missouri's first female governor, has said that during her time as the federal U.S. Attorney in St. Louis, she prosecuted more than 4,000 crimes. She's also said she will strengthen community policing to protect citizens and the police, uphold Missouri's "constitutional carry" measure allowing people without felonies to carry concealed weapons without a permit, and institute harsher penalties for violence against police officers. 
Calling all HuffPost superfans!
Sign up for membership to become a founding member and help shape HuffPost's next chapter
BEFORE YOU GO
PHOTO GALLERY
Police Brutality