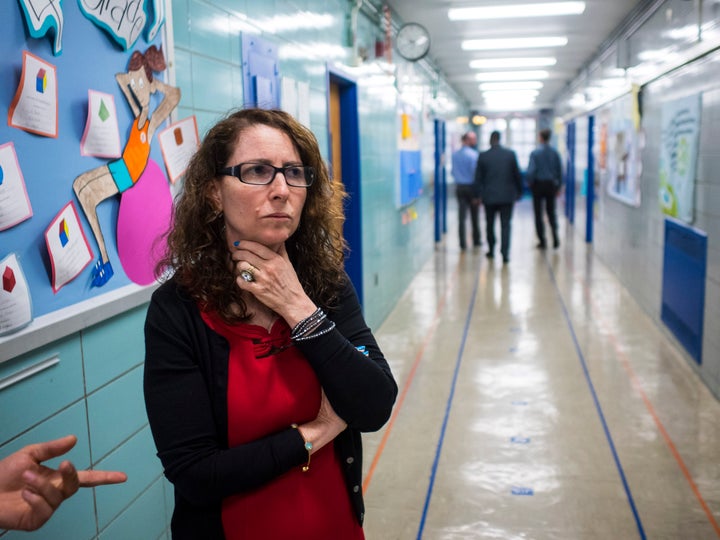 Success Academy, a chain of high-performing charter schools, came under fire in October 2015 after revelations emerged that one of its principals had drawn up and distributed a "got to go" list of problematic students. Nine of the 16 students on the list eventually left the school after facing continuous suspensions and harsh punishments. The incident sparked a federal complaint against the New York-based charter network, and fueled concerns from critics that it was pushing out its most vulnerable students.
Success Academy is just one example of a charter school network that has been dogged with controversies over methods of discipline. However, its practices raise questions about whether charter schools -- institutions that are publicly funded but independently operated -- punish students more harshly than traditional public schools. A new report released Wednesday from the UCLA Civil Rights Project seeks to answer these questions.
Through analyzing public data submitted to the Office of Civil Rights in 2011-2012 from over 5,000 charter schools, UCLA researchers determined that charter schools punish students with out-of-school suspensions slightly more than traditional public schools. In many schools, these suspensions disproportionately target black students and students with disabilities. Researchers recommend that charter schools -- like regular public schools -- work to reduce these numbers and instead embrace discipline methods that support students with behavioral issues.
During the 2011-2012 school year, charter schools suspended 7.8 percent of all of their students, whereas traditional public schools suspended 6.7 percent of all students enrolled. Since that time, the negative impact of school suspensions has become more widely publicized, with groups like the American Academy of Pediatrics recommending that schools reserve the practice for extreme circumstances. A number of large school districts like Chicago and Denver have introduced policies designed to curb harsh discipline.
"The choice is not between chaos on the one hand and very strict discipline on the other," said Daniel Losen, author of the report and director of the Center for Civil Rights Remedies, an initiative at the Civil Rights Project. "There are lots of things in between that teachers can learn."
Some of the data submitted to the Office of Civil Rights is incomplete. A number of charter schools reported that they didn't have any student suspensions, though state data proved otherwise. Law requires schools to report these numbers.
"This raises questions about whether charter schools may be violating civil rights law by not reporting the data on whom they exclude from school on disciplinary grounds," noted researchers.
The news wasn't all bad. Far more charter schools suspended low numbers of students than those that suspended many.
"One can reasonably infer that, like noncharter schools, there are likely many effective charter schools that reserve suspension as a measure of last resort," notes the report.
On the other end of the spectrum, though, some schools clearly misuse the practice. Nearly 400 charter schools suspended a quarter of their student body at least once during 2011-2012.
And as states around the country gear up to implemented the Every Student Succeeds Act, the major federal law replacing the George W. Bush-era No Child Left Behind Act, Losen called on states to pay attention to these numbers. Under the new law, states are required to lower the number of schools overusing harsh discipline. Charter schools are also beholden to these requirements, unless a state specifically passes a law exempting them.
"There should be no exemptions or excuses for charter schools," said the report.
Some groups have pushed back against the report's data. The Center for Reinventing Public Education, a research center out of University of Washington, said the report "creates more confusion than clarity." Comparisons between individual charter schools and public school districts are not necessarily representative, the group argues.
"Our expert panel agreed that comparisons must be apples to apples -- among individual schools, not between schools and whole districts; among schools serving the same grade levels and demographic groups; and among schools in communities with similar rates of student attendance and school completion," said a statement from CRPE director Robin Lake. "Research must not simply compare averages but analyze the relative contribution of school practices and other factors. It is misleading to make crude charter-district comparisons about discipline outcomes, just as it for achievement test scores."
"For some children, that may be a school with strict rules; for other children, that may be a school that is less strict," he added.
This article has been updated to include statements from CRPE and the National Association of Charter School Authorizers.
Rebecca Klein covers the challenges faced in school discipline, school segregation, and the achievement gap in K-12 education. In particular, she is drilling down into the programs and innovations that are trying to solve these problems. Tips? Email Rebecca.Klein@huffingtonpost.com.
Popular in the Community