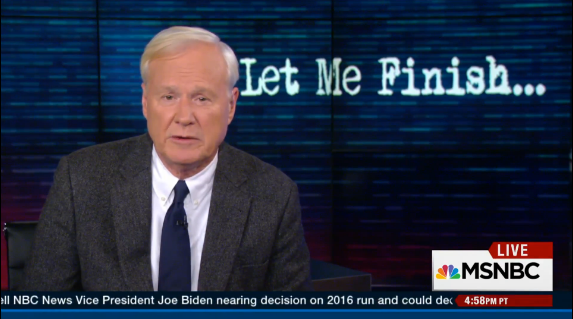 MSNBC host Chris Matthews criticized Republican presidential candidate Jeb Bush for saying his brother, former President George W. Bush, kept the American people safe.
"He didn't," Matthews said on "Hardball" Monday. "He did a good job rallying the country after we were hit, a quick job of tracking down the killers to Afghanistan, from there it all came apart with his war of choice against Iraq."
Matthews argued that Republicans couldn't blame Democratic presidential front-runner and former Secretary of State Hillary Clinton for the Sept. 11, 2012, attack on the American consulate in Benghazi, Libya. He said the trail of blame should lead the Republicans back to none other than George W. Bush. 
"Three years later and they continue to hunt her down ... on the groundless argument that someone must be to blame," he said of Clinton. "Well, you follow that argument, and the trail on 9/11, and you end up with George W. Bush."
Matthews even pointed out that Republican presidential front-runner Donald Trump was the one to call Jeb Bush out on his assertion that his brother "kept us safe." While Trump has said that he doesn't blame George W. Bush for the 9/11 attacks, he has said that it is dishonest of Jeb Bush to make such a claim.
"I'm not blaming anybody," Trump said in a "Fox News Sunday" interview. "But the World Trade Center came down. When he said we were safe, that's not safe. We lost 3,000 people. It was one of the greatest -- probably the greatest catastrophe in this country."
Others have also argued that Americans were not safe during the aftermath of Hurricane Katrina and the wars in Afghanistan and Iraq, which all occurred when George W. Bush was president.
Watch the clip from "Hardball" below.
REAL LIFE. REAL NEWS. REAL VOICES.
Help us tell more of the stories that matter from voices that too often remain unheard.