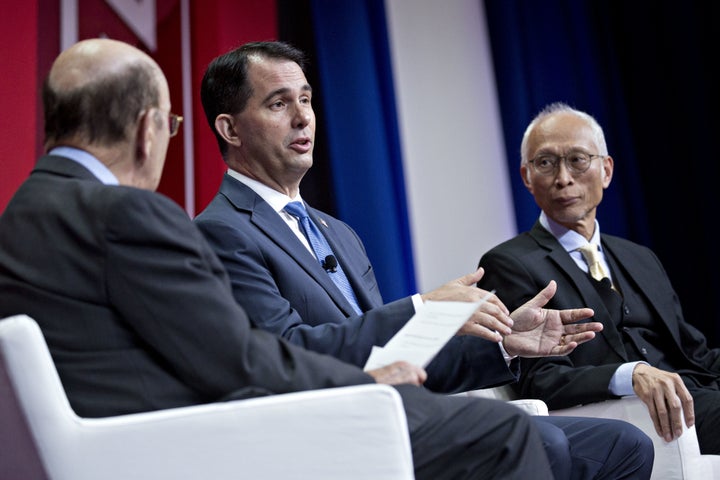 President Donald Trump's trip to Wisconsin on Thursday should be a highlight of Gov. Scott Walker's (R) re-election bid ― the two are attending the groundbreaking of a facility that could eventually employ 13,000 people in a key swing county in the state's southeast corner.
But the $3 billion package to lure Taiwanese manufacturer Foxconn, which observers once thought would be a centerpiece of Walker's run for a third term, has instead become a potential liability. It is unpopular in public opinion polling, and Walker's potential Democratic opponents are lining up to attack it. They hope it could be the key to finally toppling Walker, who has crushed the state's union movement and survived two Democratic attempts to oust him.
"I hear about it all the time, everywhere I go in the state," said Kelda Roys, a former state assemblyman backed by EMILY's List in the crowded primary to challenge Walker. "People are hopping mad about this deal, which they realize Scott Walker negotiated to benefit his political future, not them."
Republicans say they're confident that the gathering of Walker and Trump in the Racine County village of Mount Pleasant on Thursday afternoon will be the start of a turnaround in opinion about the deal. They argue the massive new facility ― it will have as much floor space as 130 Walmarts, if things go according to plan ― proves Walker's reforms have worked, and any fight over the economy will only help his bid for a third term.
Democratic Rep. Mark Pocan, who represents the Madison area, said polling and focus groups indicate the deal is deeply unpopular, with residents of rural areas Democrats struggled to win in 2016 questioning why state cash is flowing into a Taiwanese company's coffers.
"He's prioritizing a foreign corporation over education," Pocan said. "He's subsidizing a foreign corporation over rebuilding local roads."
"They're just fleecing us," said gubernatorial candidate Mahlon Mitchell, the head of the state's professional firefighters' union. "There's no way it's going to help the entire state."
When the deal was announced at the White House last July, Republicans imagined it as a top achievement for Walker and Trump, the embodiment of Trump's make-it-in-America agenda to revive manufacturing. But Wisconsin voters are far from sold.
"The assumption was that this was going to be a pure win for Walker, but it hasn't worked out that way for him," said Charles Franklin, director of the Marquette University Law School poll, adding: "The Walker campaign knows they need to sell this project."
The latest Marquette poll, released last week, found just 40 percent of Wisconsin voters thought the state was getting its money's worth on the deal, while 46 percent did not. While a majority of voters said the plant would probably help the Milwaukee-area economy, just 29 percent said they thought business near them would benefit, and 61 percent thought the deal wouldn't help businesses in their area.
The farther voters get from southeast Wisconsin, the less they like the deal. Among Republicans in the swingy Green Bay media market, just 32 percent think the deal will help local businesses, while 55 percent do not. The numbers are even worse in western Wisconsin: Just 18 percent of Republicans think the deal will help local businesses, and 73 percent do not.
Walker's allies are dismissive of the Democratic attacks.
"This is pure politics, and Democrats are so desperate to regain power that they will oppose anything Gov. Walker is for, including thousands of family-supporting jobs and a transformational investment in the state's economy," Wisconsin GOP spokeswoman Alec Zimmerman said. "Foxconn's investment will help hard-working families in communities all across the state and those benefits have only just begun."
Republicans believe any discussion of the state's economy is a fight Walker can win, citing an unemployment rate below 3 percent and a slew of tax cuts the governor has championed over his eight years in office. They also note that Democratic state Rep. Dana Wachs ― one of the deal's fiercest opponents ― has dropped out of the governor's race.
Foxconn also seems aware of criticism that the deal favors Milwaukee. On Wednesday, the company announced $14 million worth of construction contracts ― and made sure to note that two of the subcontractors were located outside of Green Bay, and in the state's northwestern corner.
While the main argument Democrats make against the Foxconn deal is economic, they're also citing eminent domain and environmental concerns. Roys has met with a family losing their home to the deal, and environmental groups have run Facebook ads warning of the factory's impact on the Great Lakes.
While the state's Democrats are divided among the eight candidates, the party has been able to unite around attacking the Foxconn deal. Not a single member of the Democratic primary field supports it. One candidate ― former state Democratic Party Chair Matt Flynn ― is planning a protest outside Thursday's groundbreaking.
"I think we should be as responsible in getting out of or mitigating the Foxconn deal as were irresponsible in getting into it," Roys said, without declaring she would kill the deal.
Franklin, at the Marquette poll, noted there could be a danger for Democrats who attack the deal too aggressively, or who over-promise.
"How does a Democrat criticize Foxconn without opposing 13,000 jobs?" he said.
Popular in the Community