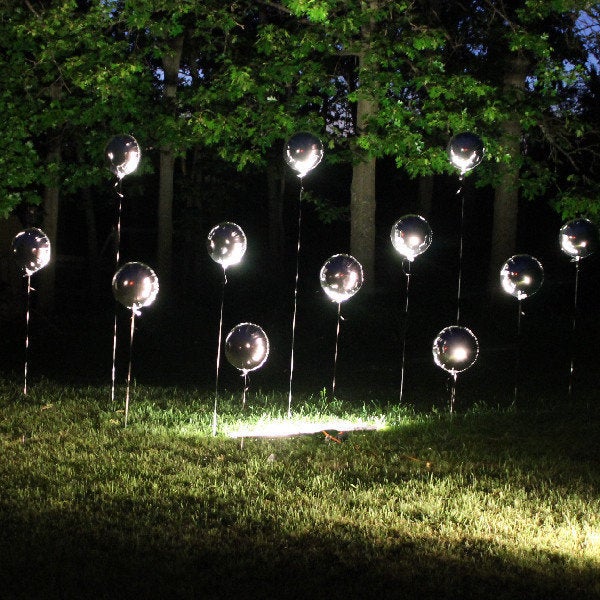 If you're heading to DLECTRICITY, the new Detroit art festival turning Midtown into a canvas for light art this weekend, make sure to step slightly off the main drag for spectacular installations, discreet gems and ephemeral events.
Art Detroit Now collaborated with Midtown Detroit, Inc. to select 35 international, national and local projects from more than 200 submissions, producing the festival and offering artist stipends with a total budget of $600,000. The gathering of light art projects along the Woodward Avenue corridor will be on display Friday and Saturday.
"This is more about the experience of simply being in the midst of all this light art," said Marsha Miro, who headed up the festival's curatorial committee and is the founding director of the Museum of Contemporary Art Detroit. "You can really have an adventure as you make this journey [along Woodward]."
While some might think to skip the northernmost stop, located an entire block east of Woodward(!), the site is worth the trek. Art adventurers can find "Contour1" by heading toward the lit-up Kresge-Ford Building at John R Street and Ferry Avenue, where lighting designers Robert White and Brienne Willcock have installed a forest of 550 silver Mylar balloons in the College for Creative Studies sculpture garden. Lit from below and suspended at different heights, the balloons will reflect the new, existing and incidental light.
"We wanted the balloons to be a sort of community ... we've strung them all separately they can move independently from each other," said Willcock. "We do so much interior stuff ... but this is sort of up to nature."
The duo has designed the lighting for architectural projects nationally and locally with the Ypsilanti-based firm Illuminart. (You may recognize White's older work in the stunning Light Tunnel in the McNamara Terminal at the airport.) But White, who attended CCS, now teaches there and designed the campus' lighting several years ago, said they enjoyed the freedoms and challenges of doing "art for joy's sake" and helping people see Detroit in a new way.
They're hoping to create "a little sense of tranquility in a busy downtown area," White said.
"Reflective light is so beautiful ... but it's something we overlook," added Willcock. "We hope people will see things a little differently, even it's just for a moment, like when you pass a mirror quickly."
PHOTO GALLERY
DLECTRICITY Light Art Festival In Detroit
"Contour1," which people will affect as they walk through it, is not the only interactive work at DLECTRICITY to draw viewers in as participants.
"YOUR TEXT HERE" will project audience-submitted text messages onto a space at Woodward and Willis Street. Children can crawl into the glowing tents of "Frontier Town" and make their own shadow stories. At Warren and Woodward, the playful, glowing sculpture called "menotme" will respond to touch with purs, giggles and burps. Hackerspace OmniCorpDetroit and bike manufacturer Shinola will host a Light Bike Workshop Saturday and then lead participants and their glowing bikes on a 3.75 mile ride, becoming part of the show for other festival-goers.
Other projects work closely with the buildings they use as canvas, like "Knowledge is Power," a repeating 3D video mapping performance telling the story of human learning throughout history at the main branch of the Detroit library, where an inscription above the door bears the slogan used as the work's title.
"You get the sense of art and architecture and history all wrapped up in technology," Miro said. "Whether complicated scientifically or complicated artistically, both contribute to the way we understand things and help us enter art at different places."
A little over a mile off the beaten path at Grand River Avenue and Warren, the city's light art museum Kunsthalle Detroit has its own show opening Friday night. "Sunlight on Cold Water," a two-month rotating survey of 18 artists' work, is the first iteration of museum founder Tate Osten's vision of a Midwest biennial of light art and design.
The exhibition traces the beginnings of light art, going back to the experiments of Man Ray and Bauhaus photographer László Moholy-Nagy, to the present work of established contemporary artists like Ultra Violet, the Andy Warhol companion, whose work has continually evolved since her time at the Factory. "To me, light is the spirit," the artist recently told The Huffington Post.
"We offer a larger picture of light art's development through the 20th and 21st centuries," Osten said.
The exhibit stands on its own but can also provide context for those entranced by the flashing lights of the more experiential DLECTRICITY.
"Artists have used light in art for as long as there's been art, really," Miro acknowledged. "Taking it into the landscape, from a small scale and taking it to this huge environmental canvas is what's relatively new about it, that's the result of the technology that's developed in the last 25 years."
Miro, artists, and Sue Mosey, Midtown Detroit, Inc. president, have said DLECTRICITY will cast a positive sheen on the city and contribute to the neighborhood's revitalization. Osten takes it a step further, noting the transformational power of the medium.
"To make (Detroit) really vibrant … light is the means, light art."
DLECTRICITY takes place Friday, October 5, 7 p.m. to 12 a.m. and Saturday, October 6, 7 p.m. to 2 a.m. Plan your route with their map, showing parking, shuttle stops, projects, and where to look for the light bike parade. For more light art in Detroit, take a glimpse at recent local exhibits, like "Joshua White and Gary Panter's Light Show" at MOCAD, "Light Fiction" at Kunsthalle Detroit and "Moonbeams for Motown" at the Detroit Institute of Arts.
Calling all HuffPost superfans!
Sign up for membership to become a founding member and help shape HuffPost's next chapter
BEFORE YOU GO