President Donald Trump took a break from dealing with the turmoil in his administration to lash out once again at actor Alec Baldwin in an early-morning Twitter rant.
"Anybody over this guy," said Baldwin. "It doesn't matter. We have to get rid of him."
Baldwin's comments apparently struck a nerve for Trump, whose administration is reeling from a string of setbacks this week, including the departure of one of his closest confidants, Hope Hicks. He's also been criticized for appearing to cave to the NRA just a day after he promised to tackle gun control.
The president responded to Baldwin's comments with a rambling error-strewn post, in which he twice misspelled the actor's name, as well as the word "dying."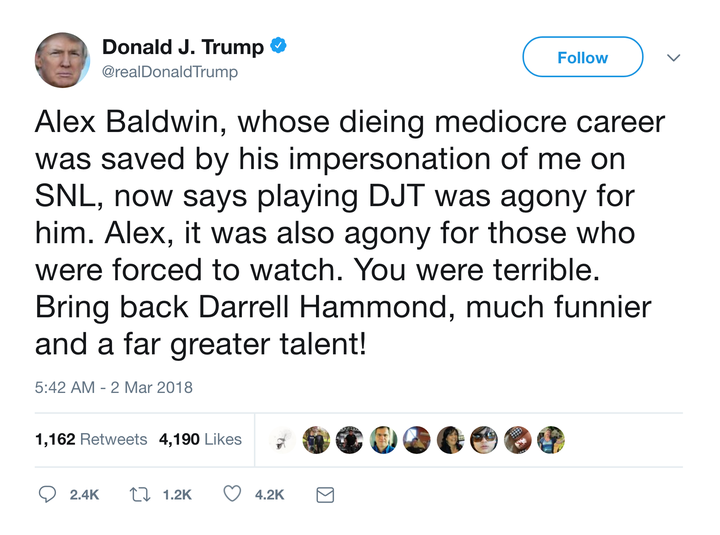 The tweet remained live for around 10 minutes before it was deleted. Trump quickly replaced it with this correctly spelled post:
Hammond has yet to respond, but Baldwin hit back first with this tweet:
Baldwin then imagined what Trump's Presidential Library might look like:
Criticizing Baldwin has become something of a habit for Trump. He repeatedly tore into Baldwin over his "SNL" portrayal during the 2016 election campaign and has been taking regular shots at the actor ever since.
Popular in the Community