President Donald Trump responded to a question about the rise of anti-Semitism by bragging about the Electoral College votes he won in the 2016 election.
Trump was asked about the increase in open displays of anti-Semitism and xenophobia in the U.S. during a joint press conference with Israeli Prime Minister Benjamin Netanyahu on Wednesday. An Israeli reporter asked what Trump would say to those in the Jewish community who "believe and feel that your administration is playing with xenophobia and maybe racist tones."
"Well, I just want to say that we are, you know, very honored by the victory that we had: 306 Electoral College votes," Trump said. "We were not supposed to crack 220. You know that, right? There was no way to 221, but then they said there's no way to 270."
Trump went on to say that "we are going to have peace in this country," vowing to stop crime and "long-simmering racism and every other thing that's going on." He also mentioned his daughter Ivanka and her family ― including her husband, Jared Kushner, a senior adviser to the president ― who are Orthodox Jews.
Trump has repeatedly bragged about his election win since November, calling his Electoral College victory "historic" (it wasn't) and saying he would have won the popular vote in more states had it not been for so-called voter fraud, though there is no evidence to support that claim.
Many reporters covering the 2016 election faced a constant barrage of anti-Semitic attacks from Trump supporters, and reports of anti-Semitic, racist and anti-immigrant incidents increased in schools in the weeks after Trump won the election.
Anti-Semitism was prevalent throughout Trump's presidential campaign. In July 2016, he tweeted a blatantly anti-Semitic image to attack his rival, former Secretary of State Hillary Clinton. The closing ad of his campaign featured anti-Semitic overtones. And Trump has surrounded himself with aides and advisers known for espousing anti-Semitic views.
Trump embraced an anti-Semitic slogan in his inaugural address, using the phrase "America first" even after the Anti-Defamation League, a nonprofit that fights against anti-Semitism and other forms of bigotry, asked him not to.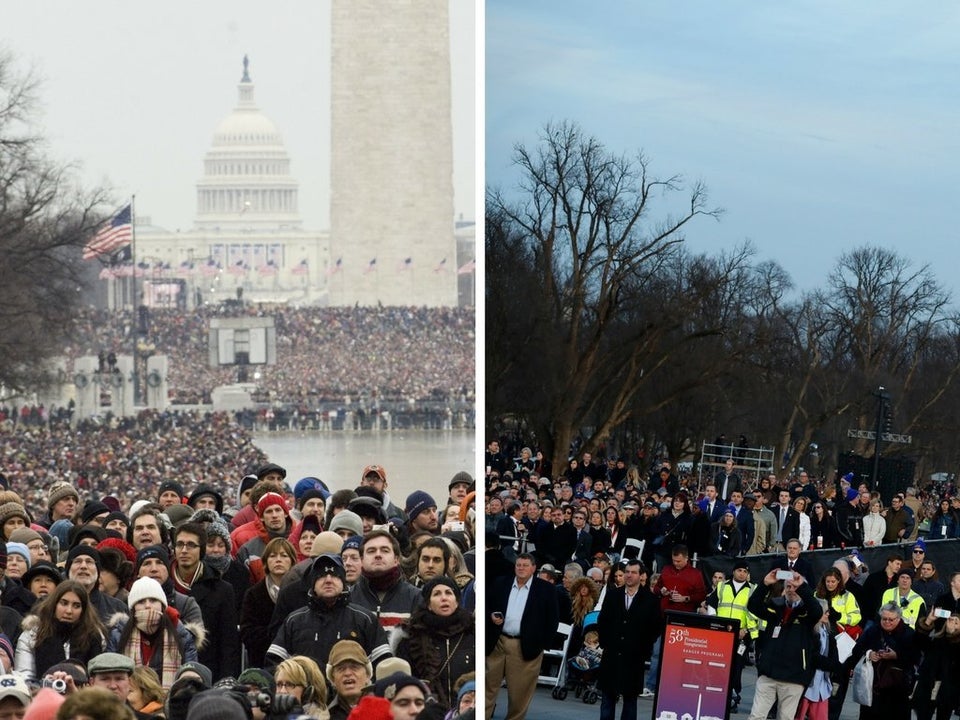 Obama /Trump Inauguration Crowds