Twitter applied a warning label early Friday on President Donald Trump's latest tweet about the death of George Floyd, which it said violated rules against glorifying violence.
Trump called people protesting the death of Floyd, who died in Minneapolis on Monday after a police officer knelt on his neck, "THUGS" and threatened to send troops. "Any difficulty and we will assume control but, when the looting starts, the shooting starts," tweeted the president.
Protests have erupted nationwide over Floyd's death with demonstrators in Minneapolis setting buildings on fire and warring with police.
Twitter's label, below, said the platform had "determined that it may be in the public's interest for the Tweet to remain accessible."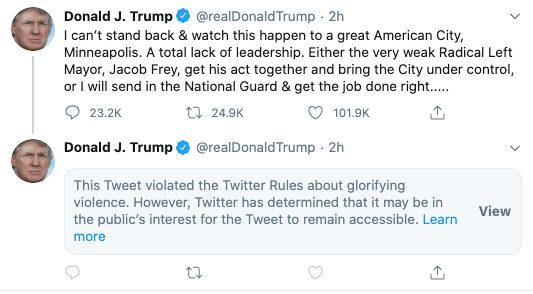 Users are still able to click through to see Trump's post: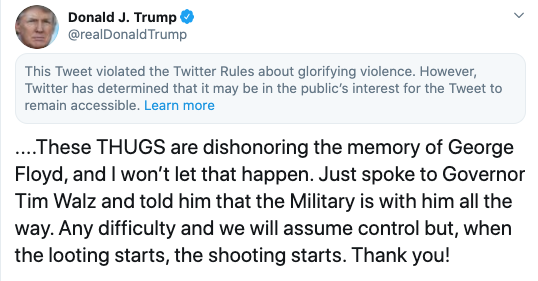 Trump seemingly responded to the label later Friday morning, with a tweet complaining Twitter doesn't challenge "lies & propaganda" from "China or the Radical Left Democratic Party."
He suggested that Section 230 — the section of the Communications Decency Act that shields social media platforms from liability for what people post on them — be revoked. "Until then," he wrote, it should be regulated. Trump signed an executive order Thursday that aims to weaken those legal protections.
The official White House account then posted the text of Trump's initial offending post. That too was marked with the "glorifying violence" warning: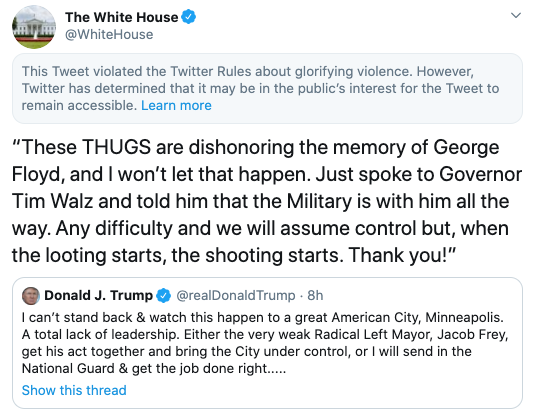 Trump hit back and accused the platform of "stifling free speech."
Then, on Thursday, he signed the executive order in a bid to weaken legal protections for social media companies by pushing the liability for what gets posted onto them.
Twitter confirmed Friday that it had "placed a public interest notice" on Trump's George Floyd post:
It followed a growing backlash from other prominent users of the platform, including comedian Patton Oswalt, a fierce critic of the president:
Liza Hearon contributed reporting.
Popular in the Community