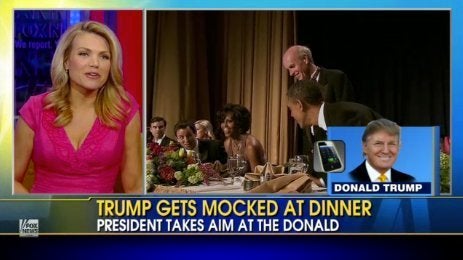 "Well, I really understood what I was getting into, I didn't know that I'd be virtually the sole focus," he said. "But I was certainly in a certain way having a good time listening."
Nevertheless, the billionaire and potential candidate said he found the annual event to be "inappropriate in certain respects." And, despite Meyers drawing laughs and positive reviews with his remarks, Trump said he thought "his delivery frankly was not good," calling the "Saturday Night Live" star a "stutterer."
The AP relays some of the jokes made at Trump's expense on Saturday night:
The president said Trump has shown the acumen of a future president, from firing Gary Busey on a recent episode of "Celebrity Apprentice" to focusing so much time on conspiracy theories about Obama's birthplace.

After a week when Obama released his long-form Hawaii birth certificate, he said Trump could now focus on the serious issues, from whether the moon landing actually happened to "where are Biggie and Tupac?"

"No one is prouder to put this birth certificate matter to rest than 'the Donald,'" Obama said, referring to Trump's claims the same day that he was responsible for solving the issue.

For Trump's decision to fire actor Busey instead of rock singer Meat Loaf from his TV show earlier this month, Obama quipped: "These are the types of decisions that would keep me up at night. Well handled, sir."

Trump chuckled at some of the earlier jokes, but was clearly less amused as comedian Seth Meyers picked up where Obama left off.

"Donald Trump often talks about running as a Republican, which is surprising," said the Saturday Night Live actor, entrusted with providing some of the comedy for the evening. "I just assumed he was running as a joke."

Trump stared icily at Meyers as he continued to criticize the real estate tycoon.
"I had no idea it would be to that extent, where you know, it was just joke after joke after joke," Trump said on Sunday morning. "It was almost like, is there anyone else they could talk about?"
In a twist of irony, Trump told ABC News upon arriving to the White House Correspondents' Dinner that he didn't anticipate the president would address him in his speech.
Popular in the Community