Nothing says "Happy birthday to me!" like spending the day in your birthday suit.
Dwyane Wade celebrated his 39th birthday alongside wife Gabrielle Union, and shared a spicy snapshot of the day with his Instagram followers, much to the displeasure of his kids.
"Birthday behavior‼️" the former NBA star captioned a photo of himself appearing naked behind Union. "39 is already looking up."
Not missing a beat, three of Wade's children appeared in the comments to address their dad's "behavior."
Zaire, 18, simply wrote, "This isn't what I wanted to wake up to," with a green, nauseated-looking emoji.

Zaya, 13, offered an "Ayooooo chill, I just got on," while 2-year-old Kaavia (who, uh, clearly had some assistance with her comment) wrote: "Thought I had more time before his midlife crisis."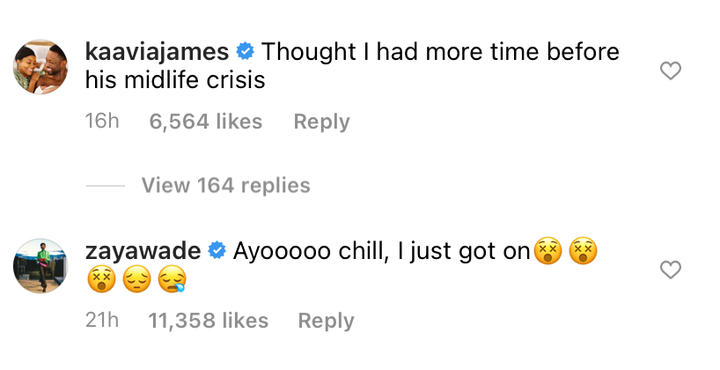 Oh, the joy of being a celebrity and getting publicly roasted by your own offspring.
Despite their remarks on his naked birthday post, Wade's kids also honored their dad with more heartfelt posts over the weekend. In Zaire's post, he wrote that he loves Wade "deeper than the surface" while Zaya wrote that her dad was "39 years young."
For Union's part, she also honored Wade's birthday with a few posts, writing in one: "You make every day beautiful and fun and the way you protect our peace makes me swoon. I love loving you."
Popular in the Community