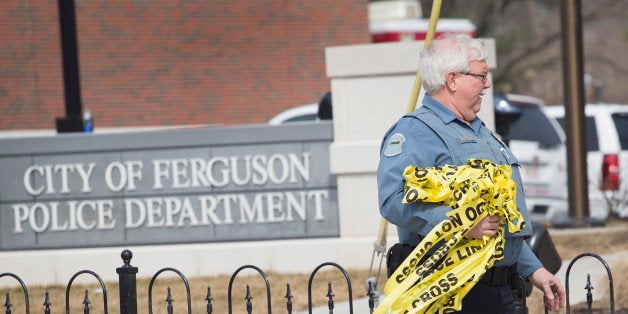 FERGUSON, Mo. -- As reporters flocked back to this St. Louis suburb following the ambush shooting of two officers outside the police department overnight, residents, law enforcement and protesters were on edge. Many said they were angered that a gunman's bullets may threaten to interrupt a community on the cusp of significant change.
The shooter -- described by Attorney General Eric Holder as " damn punk" -- remained at large Thursday night. Both officers were treated for their wounds and released from the hospital on Thursday. Police raided a Ferguson home searching for witnesses to the shooting.
Missouri Gov. Jay Nixon traveled to the city, and the Missouri State Highway Patrol and the St. Louis County Police Department took over policing the ongoing protests. Candidates for a seat on Ferguson's city council were holding a debate Thursday night and there was a plan for a prayer vigil at 8 p.m. local time.
The officers were shot just after midnight Thursday during a protest that followed the resignation of Ferguson Police Chief Tom Jackson. Jackson is the sixth person out of a job since last week's scathing Justice Department report on how the city police department and municipal court had been turned into a cash cow, mostly on the backs of black residents. The Justice Department investigation came in the wake of a Ferguson officer's killing of unarmed teenager Michael Brown in August.
Portland Robinson, 52, a black woman from nearby Normandy, said she supported the protests, but didn't understand why someone would ambush police officers after the resignation of Jackson and other officials.
"This has got to stop. The police were innocent. What if they had killed them, then what?" Robinson asked in an interview. "Blood is still red."
Robinson was in Ferguson to grab lunch at a Subway near the police station, which had been closed because it was part of a crime scene. She said she remembers when things were really bad for black residents. Black men weren't supposed to go to Ferguson at night because the police would "get them," she said. Now, she said she worries the shooting will further divide the community.
"Shooting is just going to cause more division between the blacks and the whites. St. Louis has always has been divided," Robinson said. "We don't need any more of this."
A man who gave his name as Pastor Jim, who lives about 1 1/2 hours from Ferguson in St. Francois County, drove to the city to pray with residents after hearing about the shooting on the radio.
"I come up here to speak peace and pray with people who want prayer, people's concerns, for the police, and just pray for the people that are just walking around," said Pastor Jim, who declined to provide his last name because he didn't want people to think he was looking for recognition. "Everyone's spirit has been broken. They need their spirit lifted up."
Willie Clay, 59, from nearby Northwoods, was in Ferguson capturing footage of the crime scene on Thursday.
"The police were only doing their job," Clay said. "The troublemakers infiltrate the protesters that are honestly protesting. The other people come in just to stir the pot and contribute to trouble. Those situations shouldn't be tolerated."
"We're Americans and we're trying to fit in," Clay said. "People still think we don't fit in." Clay, who said he'll turn 60 on Friday, said he wants to see things improve in his lifetime.
"I hope things get better," Clay said. "I never thought I'd see a black president. But hey, here we are."
Before You Go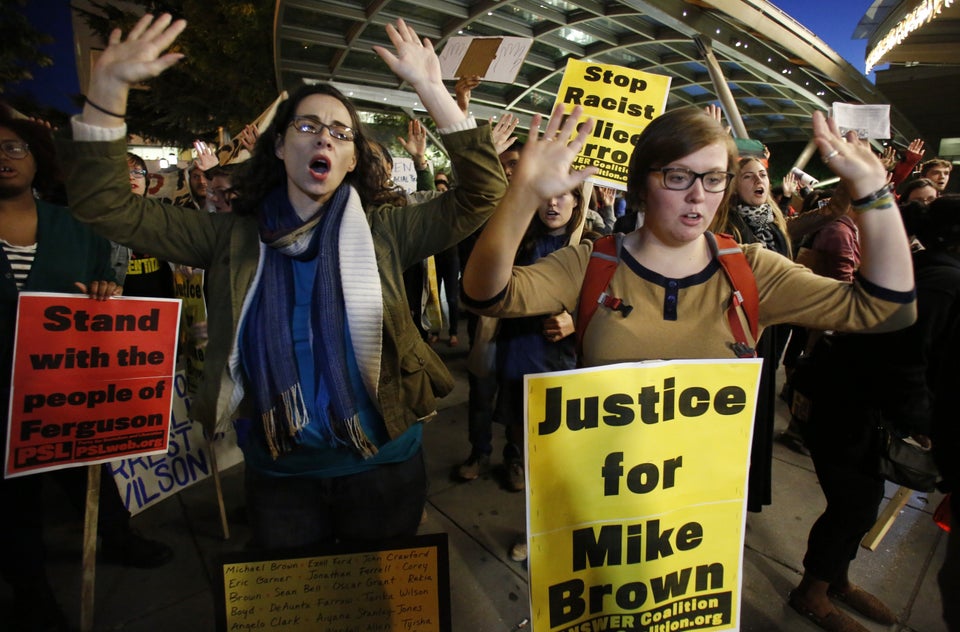 Ferguson
Popular in the Community