I've noticed very reactionary posts all over my Facebook newsfeed, read a variety of blogs and heard various responses to the Ebola outbreak ranging from compassionate and intellectual to reactionary, ignorant and racist. This deluge makes me cry. It makes me angry. It makes me want to do something. But, I don't have any medical training so what could I possibly do to help?
After all, Sierra Leone is one of the countries hardest hit by Ebola, with over 6,000 reported cases, according to recent CDC statistics. And of course, there is no organization named "Silicon Valley Executives Without Borders," probably because people around the world would mostly prefer we stayed right here, within the safe confines of our tech bubble, having conversations about stock options and drinking overpriced lattes.
But as it turns out, there are a few things that the literate and technical elite can do. There are things anyone of any age or situation in life who cares about this issue can do. Behind the grim numbers and widespread global panic about Ebola, is a country struggling to keep itself from slipping further behind. Sierra Leone has spent the last 12 years rebuilding after a decade of bloody civil war that decimated the education system and much of the governmental infrastructure. Sierra Leone currently has an illiteracy rate of more than 50 percent. However, it is also a tenacious country, whose people refuse to give up on progress. One of the leaders of change and innovation in Sierra Leone is native daughter, Dr. Bidemi Carrol.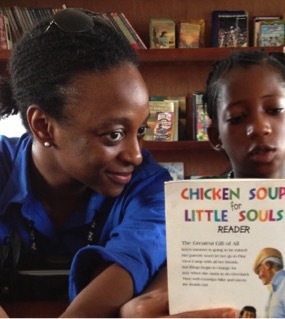 Bidemi is an education specialist who founded The Learning Foundation, an organization that starts libraries in middle schools in Sierra Leone. Bidemi holds an M.A. in Economics and Ph.D. in Education from Stanford University. After being educated in the US, she returned to Sierra Leone because she noticed that most change and innovation was happening at the community level, through grassroots efforts of volunteers and she was determined to be a part of it. Bidemi says "Education is the most important lever for permanent change in developing countries like Sierra Leone." Bidemi Carrol is partnered with organizations working to promote literacy and numeracy, including African Library Project.
I'm on the board of African Library Project and I was touched and motivated by what Bidemi had to share. Speaking to a group of African Library Project (ALP) volunteers, book drive organizers and donors at the home of ALP founder Chris Bradshaw, Bidemi mentioned that she has seen a quadrupling of enrollment at primary schools and a doubling of enrollment at high school, with a parity of boys and girls at primary levels. "But," she relates, "much of this progress has been stymied by Ebola."
Initially, when Sierra Leone closed schools, it was projected that they'd reopen in September. But as the epidemic worsened, schools remained closed and Bidemi says it is now uncertain as to when they'll be able to reopen. Children cannot gather in libraries or schools because of a prohibition on public gatherings, but they are being encouraged to take books home where possible. The ministry of instruction in Sierra Leone is attempting to deliver curriculum over radio, but only about half the households have radio access. "During this educational lull, girls are the hardest hit," says Bidemi. "They're at risk of early marriage or of being consumed by domestic duties, and school, when in session, provides a respite and sometimes an escape from this life. Girls and women are also responsible for caring for the ill, so they're more strongly impacted by the virus."
Education is not the only gap. Agricultural production has stopped, as has the ability to distribute food effectively, causing food prices to skyrocket. People are going hungry. Why focus on education when basic needs aren't being met? As Bidemi explains, "The future of the children and of Sierra Leone hinges on education, which gives children the opportunity to learn, explore and succeed beyond the challenges of the current day." Chernor Bah said something similar in a recent New York Times op-ed, saying "Closed schools also mean more children will fall into illiteracy, which is already too high, and leave the society more vulnerable to future health crises. Sierra Leone's Ebola victims include a disproportionate share who could not read the billboards and other public messages advising them how to stay safe."
Getting involved in both short and long term efforts to make a difference in these countries brings us together and helps us to conquer both Ebola and our fear. Some organizations addressing the needs head on, include:
As it turns out, the most important traits for changing the world include a sense of compassion and a drive to action. With those in high gear, you can help from your living room.
Calling all HuffPost superfans!
Sign up for membership to become a founding member and help shape HuffPost's next chapter