WASHINGTON -- The Senate began stepping back from the "nuclear" brink Tuesday as leaders were said to be close to cutting a deal to approve seven of President Barack Obama's long-blocked nominees.
The deal, which was negotiated primarily between Senate Majority Leader Harry Reid (D-Nev.) and Sen. John McCain (R-Ariz.), was described by a Senate Democratic aide as one in which the Republican Party will allow votes to confirm the seven executive nominees, provided that Obama replaces his two nominees to the National Labor Relations Board with two other names. Those nominees would have a commitment "in writing" from GOP leadership to get a vote, the Democratic aide said.
As an indication that the deal will hold, the Senate voted 71 to 29 Tuesday morning, with 17 Republicans in support, to end the filibuster on Richard Cordray's nomination to lead the Consumer Financial Protection Bureau.
Getting replacements for the NLRB nominees is, more or less, a face-saving measure for the GOP leadership. Republicans had argued that the nominees, Sharon Block and Richard Griffin, were irrevocably tainted because Obama elevated them as recess appointments, which were ruled unconstitutional by the U.S. Court of Appeals for the D.C. Circuit. Democrats countered that such taint would have been wiped away had Block and Griffin received a clean vote by the Senate.
When asked about such claims, a top Republican Senate aide remained unsatisfied, arguing that to consider their nominations at this point would be to "codify" the president's ability to make "recess appointments illegally."
Having the president submit two new names was a way around the impasse. The Senate must confirm the new NLRB nominees by Aug. 27 or the body would be made effectively inoperable, as it would lack a quorum to conduct business. Since the Senate is due to recess at the start of next month, the deadline is even tighter.
Under the proposed deal between the two parties, which the Democratic aide cautioned was "not final yet" as of 11:00 a.m., Reid would also retain the right to consider rules reform in the future. There are "no conditions or restrictions on future action whatsoever," the aide said. Another aide confirmed that position.
The outlines of the deal started to emerge Monday night after senators emerged from a remarkable three and a half hour private session in the Old Senate Chamber, with many Republicans telling reporters the last issue for them was the NLRB nominees.
But by Tuesday morning, a Democratic source said that Sen. John McCain (R-Ariz.) had gathered enough GOP support to push ahead, and Reid confirmed on the Senate floor during his opening remarks that the two sides were close. He especially singled out McCain for praise.
"I hope that everyone learned the lesson last night that it sure helps to sit down and talk to each other," Reid said, allowing that there were still a couple of details to nail down.
Indeed, a Democratic aide said Reid had stopped talking to Minority Leader Mitch McConnell (R-Ky.) in favor of the Arizonan, who was also one of the bipartisan senators who forestalled a GOP push to exercise the nuclear option in 2005.
Although the GOP position represents something of a capitulation, Reid was careful not to gloat.
"This is not a time to flex muscles," Reid said before hailing McCain's assistance.
Response from White House press secretary Jay Carney was also measured, as Carney declined to weigh in on the tentative Senate deal, despite it representing a huge win for the administration.
"Any agreement that there might be between senators has yet to be formally announced, so we will not get ahead of such an announcement if and when it comes," Carney said during his daily briefing.
White House chief of staff Denis McDonough met with Reid's staff on Monday as negotiations were underway, but Carney insisted that McDonough was not involved in any Senate deal-making and was only there to help answer questions. He gave a nod to McCain to helping usher through a final agreement.
McCain deserves "significant credit" for his work to bring both sides together, Carney said.
After the procedural vote to invoke cloture on Cordray -- essentially breaking the filibuster of his nomination -- the Senate is expected to move to debate passage of his nomination. Similar steps will follow on the other six nominees, with each cloture vote along the way being an opportunity to test the strength of the new deal.
Jennifer Bendery contributed reporting.
This article has been updated to include the vote totals on cloture for Cordray's nomination and comments from White House press secretary Jay Carney.
Before You Go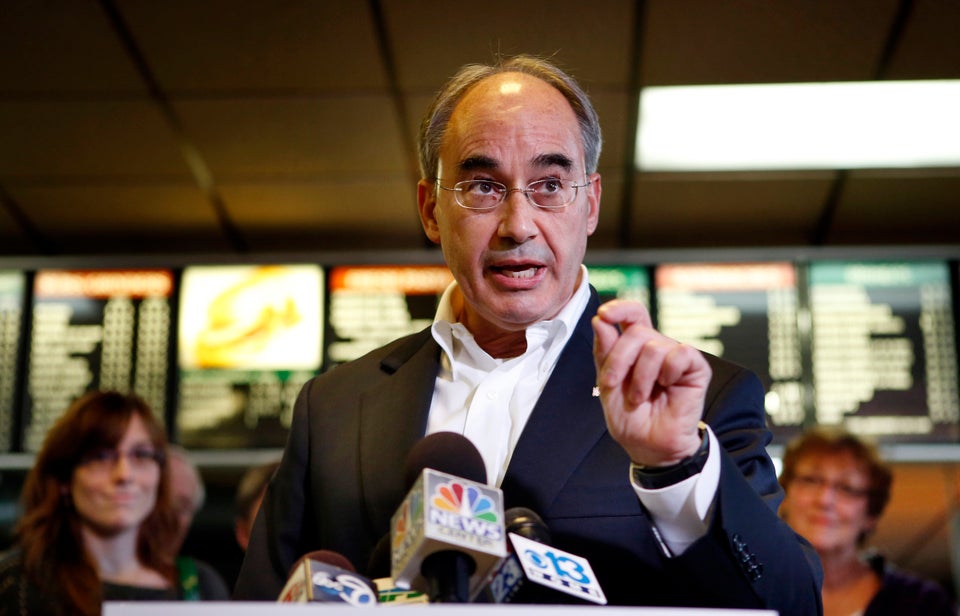 Great Political Names
Popular in the Community