A Florida church will no longer serve as a polling location after its pastor put up a sign on Election Day that suggested Christians shouldn't vote for Democrats.
Pasco County Supervisor of Elections Brian Corley told HuffPost that he received hundreds of complaints on Nov. 6 about the controversial sign at New Port Richey's Grace of God Church.
The sign, handwritten in marker on white paper, read, "Don't vote for Democrats on Tuesday and sing, 'Oh how I love Jesus' on Sunday."
Corley said the church's senior pastor, Al Carlisle, put up the sign and refused the supervisor's requests to take it down.
Corley said it's "not unlawful" but highly "inappropriate" for a polling place to display prominent political signage to "instigate voters" in a particular precinct. As a result, he has decided not to use Grace of God Church as a polling location as long as Carlisle is its pastor.
"I'm not going to continue using a polling place where we have the proprietor mocking one political party or another," Corley said.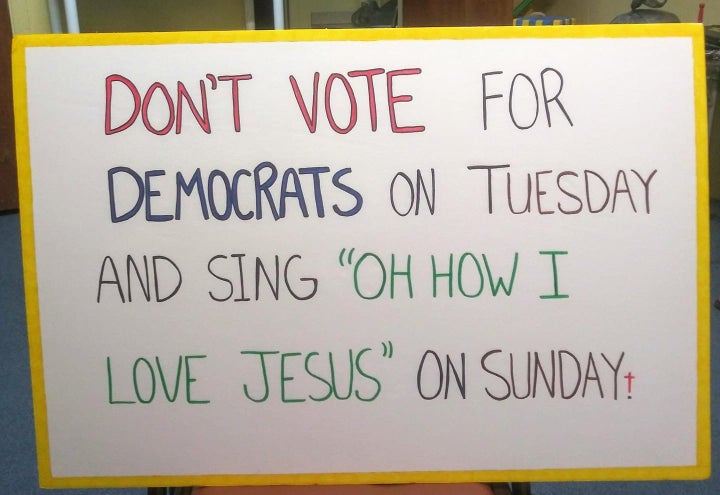 Carlisle told Bay News 9 that he saw the sign as an opportunity to "be a witness" and to "share the truth of God's word."
"I'm not telling you not to vote Democrat. I'm not telling you to vote Republican," Carlisle told the station. "It's directed at those who profess to be Christians. There is a line drawn in the sand by Jesus that we ought not cross."
He told the Tampa Bay Times that he takes issue with progressive stances on abortion rights and on supporting the LGBTQ community. He also reportedly opposed Democrats' stances on immigration.
Carlisle suggested that people who hold these progressive stances can't claim to be Christian.
"I'm not saying don't (vote Democrat)," he told the newspaper. "I'm saying don't be a contradiction."
In fact, American Christians hold diverse views on these issues.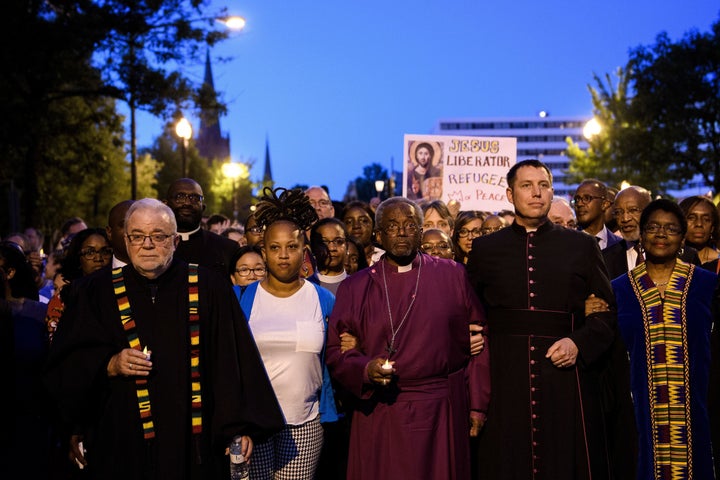 Christian leaders have been involved in the abortion rights movement for decades, with many saying that their faith inspires them to support a woman's right to autonomy over her body. Over the past few years, several Christian denominations and individual churches have become more affirming of queer love and identity. LGBTQ Christians have long served as lay leaders, ministers and bishops of churches.
Corley said he was unable to remove the sign on Election Day because it was on private property, outside the 100-foot perimeter around polling places, inside of which Florida prohibits electioneering. He added that there are no laws barring polling locations in Florida from campaigning on Election Day.
Still, Corley said, the sign was "completely unnecessary, unwarranted and inappropriate." He added that complaints about the sign clogged up his office's phone lines on a day when his staff was trying to focus on other issues voters were having at the polls.
Corley told HuffPost that changing the polling location for this neighborhood will cost several thousand taxpayer dollars, since his staff will have to devote time to locating a new building and notifying voters of the change.
But Corley said he believes it's not fair to his constituents to continue using Grace of God Church.
"[The pastor] has any other day of the year to do this, but not [Election Day]. That's not the day for political grandstanding," Corley told HuffPost.
Before You Go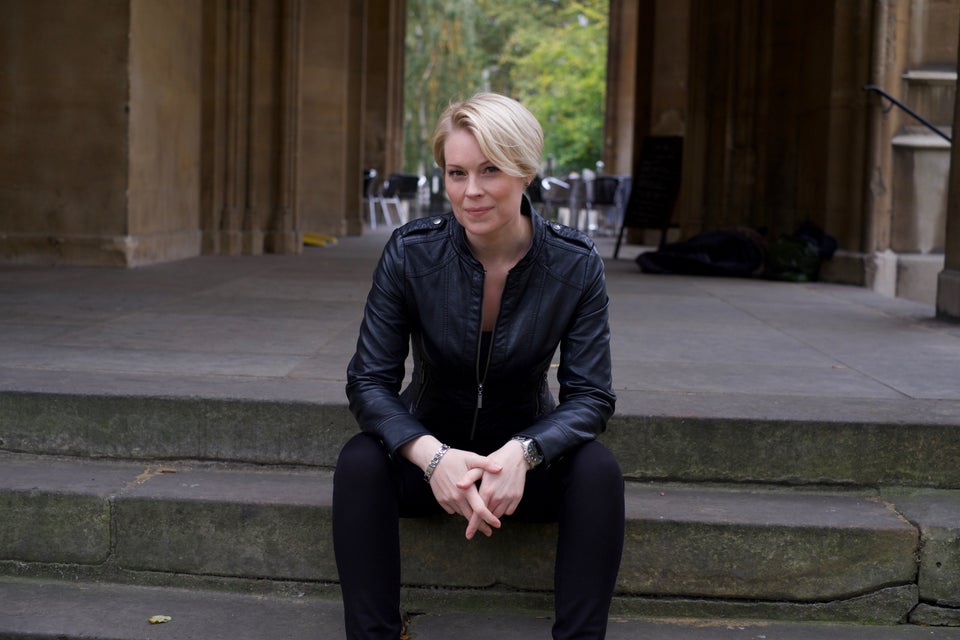 15 Moments In Queer Religious History That Give Us Hope
Popular in the Community