 Florida took center stage in the 2012 elections, when voters around the state had to wait in line at the polls for up to nine hours. Gov. Rick Scott (R) initially denied that there was any problem, saying it was "very good" that people were getting out to vote.
But a new study shows that tens of thousands of people were actually discouraged from voting because of the long lines.
According to an analysis by Theodore Allen, an associate professor of industrial engineering at Ohio State University, as many as 49,000 individuals in Central Florida did not vote because of the problems at the polls.
About 19,000 of those people would have backed former GOP nominee Mitt Romney, while the rest would have gone for President Barack Obama, according to Allen.
The Orlando Sentinel, which published the results of Allen's research, notes that those findings suggest "that Obama's margin over Romney in Florida could have been roughly 11,000 votes higher than it was, based just on Central Florida results. Obama carried the state by 74,309 votes out of more than 8.4 million cast."
Since the elections, Scott has admitted that his state still has its share of electoral problems. In a December interview with CNN, Scott said "we've got to restore confidence in our elections," pointing to three issues: the length of ballots, size of polling places and the number of days for early voting.
Indeed, Allen's research also found that the long ballots that confronted many Florida voters led to longer lines, which resulted in suppressing turnout. Black and Hispanic voters were disproportionately disenfranchised.
The GOP-controlled legislature reduced the number of days available for early voting from 14 to eight for the 2012 elections, meaning voters were trying to cast their ballots in a shorter window, which resulted in longer lines.
Scott refused to extend early voting hours even as problems at the polls gained more attention. Former Florida Gov. Charlie Crist, who was a Republican while in office but is now a Democrat,- called his position "indefensible."
Democratic state lawmakers in Florida have introduced legislation to address the long lines and expand early voting hours. There have also been several efforts at the federal level, and Obama has said it is imperative to "fix" problems at the polls.
Before You Go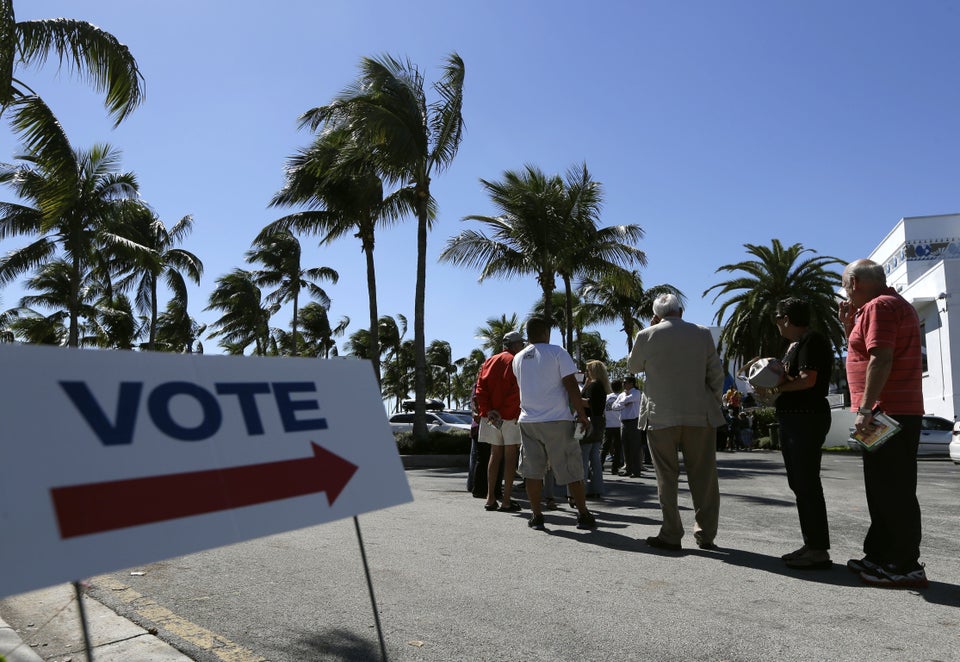 Long Lines For Miami Early Voting
Popular in the Community