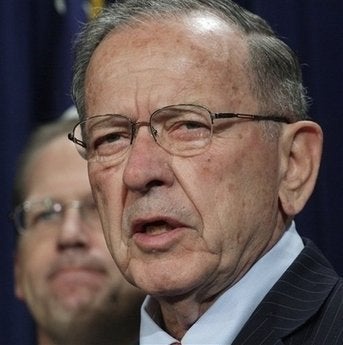 Often, when a politician gets indicted, the range of options narrow. But for Alaska Sen. Ted Stevens, who was hit with seven indictments by a federal grand jury Tuesday, the immediate political future, at least, still appears to be entirely up to him. While Alaska Republicans have only a month to figure out what to do before their primary on August 26, most observers are still waiting to see what Uncle Ted's next move will be.
That hands-off approach to the Stevens scandal is typified by one of the Senator's most credible primary opponents, onetime State Representative Dave Cuddy. "It is hard to know what will happen in the Republican primary," he told the Huffington Post. "It certainly feels to me like Sen. Stevens could not win if he makes the general election, but I'm not sitting here assuming I can be the Republican nominee."
When Cuddy ran against Stevens in 1996, he netted 27 percent of the vote, and he has yet to commission an internal poll this year. The Hill reported Tuesday night that an independent poll showed him holding 21 percent of the primary vote.
Still, Cuddy doesn't seem particularly eager to press hard for any advantage arising from Tuesday's developments, either. Asked if he would call on Sen. Stevens to either pledge to run in the general election or bow out before the primary, Cuddy said: "I don't want to presume to tell Ted what to do. There's so much going on. ... I can't even begin to presume what he needs to do to put himself in the best bargaining position [legally]."
Will he begin making his case directly to top party operatives in the state that now is the time to switch allegiances? "If the Republicans come to understand that Ted can't beat [Democrat and Anchorage Mayor] Mark Begich, then they'll nominate me," he said. "And if they can't bring themselves to believe that, they will renominate Sen. Stevens. There's no point in my trying to convince them either way. But if the polls start showing that, they're realists and I think they'll come around. ... But right now they're paralyzed to some extent. They can't believe he could lose."
Another self-financed Republican, Vic Vickers, has pledged to spend $750,000 of his own money on the race, and is calling on Stevens to step down -- though such ferocity could derive from the fact that, as of now, he barely registers at all in the polls.
Begich, meanwhile, is also taking a hands-off attitude to the emerging controversy surrounding the Stevens indictment, merely putting out a brief statement that read: "The indictment of Senator Ted Stevens is a sad day for Alaska and for the senator after his 40 years of service to our state. The people of Alaska are resilient and strong. I have great faith in our state and our people, and we will continue to move forward."
Overall, Democrats and independent observers have long felt that Stevens's seat could be a potential pickup for Begich and the Democrats. Meanwhile, the state Republican Party faces a number of internal fissures of its own that may impair its ability to respond swiftly to the shifting political grounds. For starters, state party chair Randy Ruedrich is reportedly not on speaking terms with Gov. Sarah Palin -- representing a larger divide between old-school operatives loyal to Stevens and Rep. Don Young, and the new breed of reformist Republicans who are pushing for greater transparency in the state's politics.
"There is a strong sense of estrangement in the party," said political consultant and longtime Stevens friend David Dittman. But he said he is not giving up on Stevens yet, either. "Uncle Ted, he frankly doesn't have a dishonest bone in his body," Dittman said. "It's the appearance that's so damning. The last thing he would do is to behave improperly."
Dittman went on to hypothesize that the suspected corruption, in which Stevens is accused of receiving a preferable rate on a home renovations from a business that he also lobbied for in the Senate, was more innocent than it may appear.
"If someone asked me to watch their yard while they're out of town, and I happened to notice their grass was growing too long and I cut it -- say they came back and brought me a pie. I wouldn't turn it down, and I wouldn't say that I [did the favor] in order to get that reward. I think in this case, the [company] doing renovations on the Senator's house simply appreciated what he's done for Alaska, and decided to surprise him and do something for him. [Maybe] they put in a refrigerator. ... At the time, it was probably much more innocent. ... Knowing the Senator, that's just the way I see it."
Meanwhile, Stevens's campaign refused comment for most of Tuesday before putting out a brief statement.
"Senator Stevens' campaign for re-election is continuing to move full steam ahead," wrote Stevens-for-Senate spokesman Aaron Saunders. "Our office has been flooded today with calls and emails from supporters urging the Senator to press on. The message from them is clear: Alaska needs Ted Stevens in the U.S. Senate."
But whether the Alaska GOP and the Republican National Senatorial Committee needs Ted Stevens is another question entirely.
Calling all HuffPost superfans!
Sign up for membership to become a founding member and help shape HuffPost's next chapter