Four years ago, on August 11-12, 2010, the U.S. Department of Education (ED) held its first-ever Bullying Prevention Summit, kick-starting the latest era of attention and action toward bullying. Tomorrow, ED will hold its fourth summit, once again bringing together the bullying prevention community. For the first three summits, and the White House Bullying Prevention Conference in 2011, I played an active leadership role in planning and executing the summits. Now as an outsider--attending the summit as a participant, not a convener--I would like to take this opportunity to critically reflect on our progress, or lack thereof, in the last four years.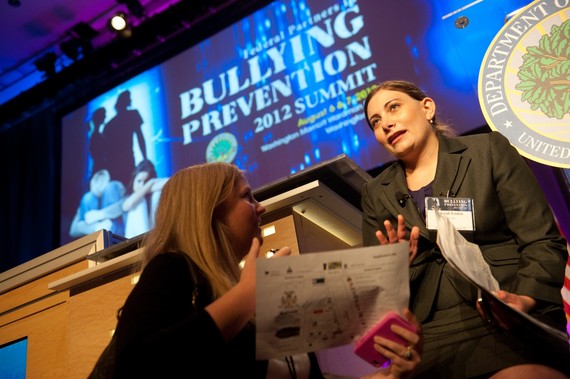 When then Assistant Deputy Secretary Kevin Jennings first envisioned a federal bullying prevention summit to bring together the leaders of diverse sectors, from education to law enforcement, to have a serious conversation on bullying, the country was not paying much attention to the issue. Sure, many organizations, from GLSEN to PACER were deep into advocacy, raising awareness, providing information, and pursuing legislation, but since the initial outcry for the need for bullying prevention in 1999, following the massacre at Columbine High School, these conversations were an overlooked murmur in the vast education policy landscape. With his longstanding passion for the issue, Jennings was determined to bring the issue to the forefront and do so in an informed and collaborative process. And luckily, he put his faith in a fresh-faced graduate student--me--to help him bring it to fruition.
Though the first summit did garner press coverage and live-streaming on C-SPAN, inspired many of the attending organizations to engage in bullying prevention activities, and informed federal efforts, Jennings' goal of starting the national conversation about bullying was propelled by a tragic series of suicides that occurred in September, 2010. Of course, I have to point out, bullying alone does not cause suicide, but regardless this connection reignited the national conversation. The nation's outcry for better prevention inspired the White House to host another bullying prevention conference only 7 short months after the original summit. Many often forget that in fact, ED and its partners at 8 other federal agencies were already engaged in this conversation. Regardless, with the pressure of the nation behind them, the many players in the bullying prevention field had both huge expectations and motivation to change the discourse.
How that awareness has been translated into action is unclear. Federal statistics suggest that our progress toward actually reducing the number of youth who report being bullied is minimal. From 2005 to 2011 (the latest year for which data are available from the federally collected School Crime Supplement), rates were fairly stable, hovering around 30% of youth age 12-18. On the federally collected Youth Risk Behavior Surveillance System (which has only collected data on bullying since 2009, so no definitive trend conclusions can be made), rates for bullying have been consistently at 20% for 2009, 2011, and 2013 (2013 was slightly lower at 19.6) for students in 9th to 12th grades. Of course, these data may not reflect current realities given their lag in being reported, but it does raise the question, are our efforts actually making a difference where they count?
There are many barriers to achieving this goal. At the 2010 summit we identified three primary issues that were impeding bullying prevention efforts: (1) the definition of bullying; (2) the impact of bullying prevention policies; and (3) the lack of effecting bullying prevention programs. Unfortunately, these are the same questions being raised today, despite efforts to address these issues. The CDC, with help from ED, convened a panel to help define bullying, but debates still remain in research, policy, and practice. Laws continue to be passed with increasingly punitive consequences without evidence of their effectiveness or potential impact. And despite the influx of many tools claiming to be the "solution to bullying," there are still relatively few programs that have shown significant impacts on bullying rates for all students in K-12.
In the last four years we have changed the conversation and brought the issue of bullying to the forefront. But we need to stop just talking about bullying and engaging in superficial action. We need to learn from lessons of the past that simply saying, "just say no to bullying," is likely as ineffective as saying, "just say no to drugs," was in the 80s and 90s. We need to stop making assumptions about bullying - like that it is an "epidemic" or that cyberbullying is more prevalent than other forms (it's not) - and addressing the issue for what it is.
Four years in, we must shift our goal from conversation to action. I eagerly await this year's summit.
Calling all HuffPost superfans!
Sign up for membership to become a founding member and help shape HuffPost's next chapter